The Howfiv advanced creative writing course is carefully designed and structured by Sir Syed Kazim Ali, a well-known English language teacher in Pakistan, to teach students fundamental writing skills, including paragraphs, blogs, articles, stories, and essays. It provides a thorough and robust foundation for the advanced writing skills that students, parents, and professionals need to reach their full potential. The course is a step-by-step guide to help students understand and practice paragraphs, stories, and essays from the basic to the advanced level. Whether you are a parent, student, or professional, if you want to learn writing or take your writing skills to the next level, the Howfiv advanced creative writing course is for you. In Pakistan, Howfiv Advanced Creative Writing Course helps you set your ideas in motion, get them published, and start earning your writing. Let's Start Writing Creatively with Sir Syed Kazim Ali and Miss Amreen Mir.
Howfiv's advanced creative English writing course equips you with written communication skills that help you give your thoughts words confidently, fluently, and grammatically correct. As the course is designed and taught by Sir Syed Kazim Ali, the best creative English writing coach globally, this course leads you towards an enhanced understanding of how novels, essays, and stories are written. From developing an initial idea to writing the final draft, this course covers all aspects of blog, article, essay, and story writing to the advanced level. Above all, Sir Syed Kazim Ali helps you get your work published online and supports you get recognized worldwide. At the successful completion of the course, all creative writers are hired and start getting paid for blogging.
Who is Sir Syed Kazim Ali? The Best CSS, PMS English Teacher in Pakistan
Writing has become an important life skill in today's fast-paced emerging global community. Its importance can be gauged from the fact that all the leading institutes worldwide today, from Oxford to Harvard, Cambridge to Stanford University, and so forth, have introduced various specialization and short courses for content writing. Moreover, the emerging trends have provided multiple opportunities for different content writers to secure their place in the recruitment industry. The concept of blogging is a revamped form of content writing. The rise in social media has set new trends for writers with a brighter future. Whether it is a casual document, a structured business report, a survey, a work application, a press release, or a message of condolence, everybody needs to write to connect with others, regardless of their profession or occupation. If you get the response you want from your reader, it is all down to your writing skills. Apart from these, writing allows you to engage a much broader audience in various ways and for a more extended period. A write-up, written carefully and coherently, has the power to convenience readers and feed their innate. In simple words, it is only writing that helps transfer information, knowledge, viewpoints, and ideas and help people have their due place in society.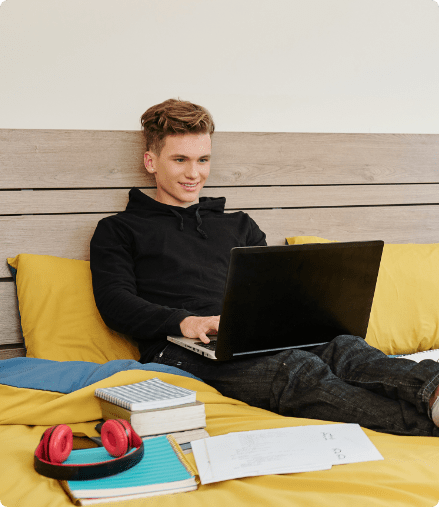 For whom writing has become a compulsion, nowadays?
Whether you are a college or university student, a parent, a professional, a teacher, a journalist, or a competitive student, learning writing English has become a compulsion for every sage person. Effective writing is a huge battle because it necessitates much more than just proper grammar. You must learn sentence structure, expand the vocabulary, and improve other fundamental writing skills to get the attraction you owe and place among the community you deserve. For the following, writing has become a must.
Competitive Students:
Writing has become a significant hurdle in shattering students' dreams of cracking an entrance exam, such as MCAT, IELTS, TOEFL, GAT, SAT, GRE, NMDCAT, or ECAT, and qualifying for a competitive exam, such as CSS, PMS, FPSC, PPSC, etc. Students usually fail to articulate their thoughts as per the examiner's demands; thus, for them, fetching qualifying marks seems a hard nut to crack. If students transfer their ideas grammatically correct, fluently, and confidently to the examiners, their chances of success become certain. So, today every student, irrespective of their course, diploma, certification, and degree, must give learning writing a serious thought because it not only help them qualify for an exam and help them start earning through blogging.
Researchers and PhD seekers:
It requires presenting a unique project with its thesis to be presented before portraying the final project. If your thesis is well-crafted and well-drafted, it will add a bonus to your overall performance. So, if you are an M.A or M.S student, writing has also become crucial for you to have a better future.
Professionals:
Your colleagues and boss would better perceive your message if you have good writing skills. Others would be able to comprehend your concepts and feelings if you write direct messages. It has become evident in the modern world that professionals with better writing skills always have an edge and a chance to give their seats and designation a promotion they wish. So, if you have got a job in a renowned national or an international organization, it is writing that can take you to the zenith of fame among your colleagues.
Parents (especially Mothers):
A learned mother plays a more vital role in strengthening her generation to be productive in the community. A mother can idealize parenting and help many mothers empower their motherhood by bringing a positive change in society. A mother, who knows the art of writing, can quickly transfer this art in her offspring, making his/her chances of better performance more. So, learning written communication helps you build a better generation and society if you are a mother or father.
Graduates (especially pursuing a degree in Mass communication/International Relations):
Writing is a powerful medium for awareness. For graduates wanting to write about various issues and current affairs can never attain their targets unless they learn writing. In European countries, writing courses have become an essential degree part for Mass Com and I.R students.
Howfiv brings an exciting opportunity for all those who seek to learn writing coherently, effectively, and correctly. It helps you to put what you have learned into practice and enables your writing mode from the reading mode. The course is intended to assist you in expressing your opinions, emotions, perspectives, and concepts. Sir Syed Kazim Ali, a well-known English language coach both nationally and internationally, has planned the course. This course teaches you grammar, sentence structure, and how to put your thoughts into sentences and create SEO-based content, which has been the E-Commodity since 2010. The details of the course are following:
KEY FACTS
Course Name
Howfiv Advanced Creative Writing Course
Orientation Registration Deadline
Thursday, June 10, 2021
Course Starts on
After 2 days of Orientation
Registration Deadline
Wednesday, June 9, 2021
Course Length
Depends on the Student (Usually 2 Months)
Lecture Modality
Online via Zoom
Lectures per Week
3 to 4 (2 Hours Lecture)
Available Seats
20
Creative Writing Coaches
1- Sir Syed Kazim Ali
2- Miss Amreen Mir
The fee of the Course
Rs. 10,000/Month
Howfiv Advanced Creative Writing Course
What will You Learn (Course Structure)?
Howfiv Advanced Creative Writing Course is a one-of-a-kind programme intended to assist enthusiastic English learners who want to become accomplished bloggers or have an indelible impression on society. You will learn how to formulate ideas, arrange them, giving them terms and coherence, and gain national and international attention by getting the most impressions, mentions, and social shares with Sir Syed Kazim Ali and his student Amreen Mir – Pakistan's top-earning blogger and journalist. The course will help you improve your proficiency, consistency, and appropriate use of English written communication skills in just two months. You raise your standards and achieve a significant edge in your preferred profession or education. This course will provide you with the knowledge and trust necessary to stand out and be listed on Google. Furthermore, once you successfully make your identity known on Google, the course opens up an infinite number of opportunities for you to be employed at freelancing sites, schools and universities, newspapers and magazines, advertisement firms, and multinational corporations. The course's full description can be found below:
1- The Writing Process
What is sentence structuring?
What level of grammar do you need to start writing?
How to use contemporary vocabulary appropriately?
How to get focus & organize thoughts?
How to get ideas & collect information?
How to establish a thesis?
What is your audience, and how to grab its attention?
How to organize your thoughts coherently?
How to write catchy titles and teasers?
How to start and end blogs?
2- English Language Focus
Grammar & Sentence Structuring (Basic to Advanced)
Sentence Varieties & Sentence fragments (Basic to Advanced)
Structural & Clauses Contraction (Basic to Advanced)
Agreement Mistakes (Basic to Advanced)
Pronoun-Antecedent Agreement (Basic to Advanced)
Verbs Tense Shifts (Basic to Advanced)
Adverbials (Basic to Advanced)
Conjunctions & Connections (Basic to Advanced)
Misplaced Modifiers & Adjustments
Faulty Parallelism & Adjustments
Verbal Concepts, Errors & Usage
Academic Diction, Mood & Tone
Journalistic Diction, Mood & Tone
Story Diction, Mood & Tone
Articles, Demonstratives, Modifiers & Quantifiers Usage
Punctuation & Punctuation Expressions
Tenses, Voices & Narration
Conditional (All Types – Rules, Errors, and Usage)
Auxiliaries & Modals (Rules, Errors, and Usage)
Prepositions (Rules, Errors, and Usage)
Phrases & Clauses (Basic to Advanced)
Advanced Usage of Phrases & Clauses
Sentence Analysis, Transformation & Synthesis
All English grammar concepts have been enclosed into MCQs available for registered students only.
3- Vocabulary Usage Focus
750 Modern Vocabulary Words (Appropriate Usage)
500 Plus Idioms & Phrases (Appropriate Usage)
500 Confusing Words (Appropriate Usage)
350 Phrasal Verbs (Appropriate Usage)
150 Proverbs (Appropriate Usage)
300 English Expressions (Appropriate Usage)
250 Smilies & Metaphors
200 Uncommon Words & Phrases
500 Most Used Synonyms
500 Most Used Antonyms
500 One-word Substitutions
All vocabulary has been enclosed into MCQs available for registered students only.
4- The Elements of Writing
How to plan thoughts, ideas, viewpoints, and experiences?
How to organize them coherently and relevantly?
How to build and develop unity?
How to begin and end attractively?
What is a paragraph?
How to connect sentences & paragraphs?
What are connection and transition words?
What are effective sentences, and how to write them?
How to write with references?
What are diction and tone?
How to write figuratively?
5- Types of Write-ups (Blogs, Articles, and Stories)
Illustrative Type
Narrative Type
Descriptive Type
Analytical Type
Definition Type
Division & Classification Type
Comparison & Contrast Type
Cause & Effect Type
Argumentative Type
Review & Branding Type
Story Type
Journalistic Type
6- Strategy for Writing
Understanding the content ecosystem
The Strategic Context (7A-Framework)
Mapping the content ideas
Conveying your stance
Using various sources to supplement your write-ups
Using Creative Technologies
Utilizing writer's toolbox: Editing and proofreading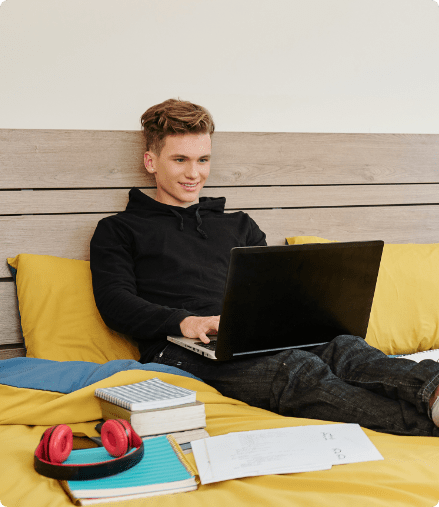 What are Entry Requirements?
The course is designed for students, professionals, teachers, competitive aspirants, and house makers alike. Whether you have started writing or looking to become a highly paid blogger and qualifying for a competitive exam, this course is for you.
No prior knowledge or expertise is necessary if you know the basics of grammar because this course starts with the basics before your start writing like a professional.
The only requirement that this course demands are dedication, practice, and punctuality.
At the end of the period, you will be provided with the facility to get your thoughts and blogs published at websites, where thousands of curious readers will help you win your due recognition.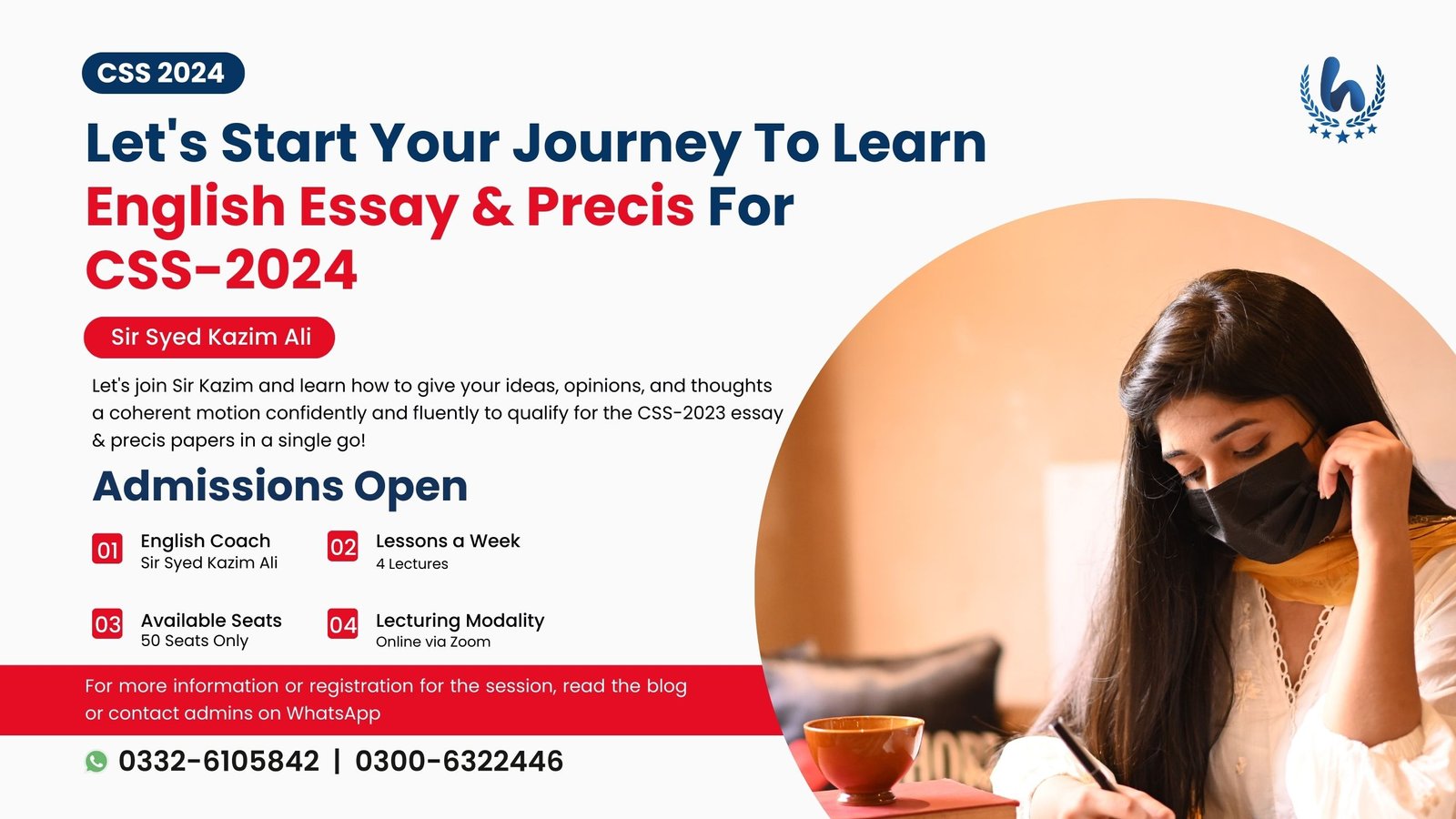 How to Register?
Any interested, passionate English writing learner can register himself or herself for the Howfiv's Online Blog Writing Course by filling in the form available at the Howfiv website – click here to open the form
Here, among the available options, you need to select "Advanced English Course for Writers Registration"
How can You Start Earning?
As soon as you end the course and get at least 5 of your write-ups published at any authority website (National or International), such as Howfiv or Cssprepforum, Howfiv hires you by considering the quality of the content and writing style.
Who is Sir Syed Kazim Ali?
Sir Syed Kazim Ali has been the best English teacher for CSS and PMS and professional bloggers, writers, and content creators for years. He is one of the English teachers who has recognized himself globally because of his masterful English language command. The best part of him is that he is the only CSS, PMS English teacher, in Pakistan, whose success result is above 90%. He has introduced a unique coaching style that equips anybody with writing skills within 2 to 3 months. As a top English language coach nationwide, Sir Syed Kazim Ali helps his students reach their full potential at a pace that suits them. He knows that CSS aspirants' approach to learning the English language is different. And over the years, he has developed a unique teaching methodology, which helps his students crack English essay and precis papers. The way he explains and simplifies the concepts no other English teacher across Pakistan can do. He has successfully taught hundreds of successful students preparing for entrance or competitive exams such as MDCAT, GAT, SAT, GMAT, GRE, CSS, FPSC, PMS, etc. His online creative English writing session gives you the skills and confidence to get the best possible exam results. He focuses on your exam's critical areas, helps identify your strengths and weaknesses, and equips you with the writing skills you need to correctly and confidently express your thoughts and opinions.
Let's read more about Sir Syed Kazim Ali.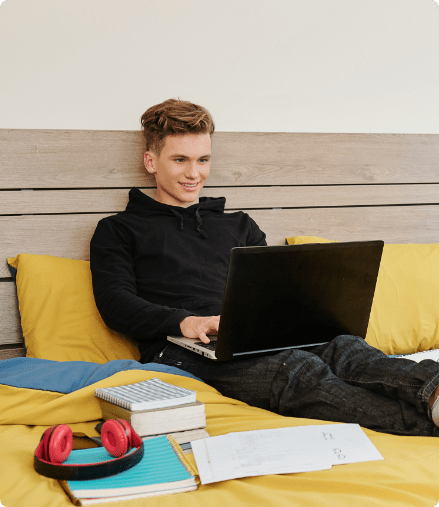 Available Online Courses