What is Punjab PMS 2021 and How to Prepare and Qualify for PMS Punjab 2021 | How to Prepare and Qualify for PMS Punjab 2021 | Let's Prepare for PMS Punjab in 3 Months | The best PMS English Teacher | The Best PMS GK Teachers and Books | PMS Punjab 2021 Update
Qualifying for the PMS Punjab requires an aspirant to trust in them and have faith in Almighty Allah. PMS Punjab exam revolves around three main subjects: essay, precis, and general knowledge. Whoever qualifies these papers cracks PMS Punjab in a single go, and whoever doesn't give these papers their due importance doesn't qualify for the exam or remains unallocated. Like thousands of aspirants, I was also among those who went straight to the highly advertised academies and PMS qualifiers to prepare themselves for the exam. Like other PMS aspirants, I also spent lakhs buying recommended books, notes, and journals, but they did not assist me in understanding how to crack the PMS exam. But thanks to Sir Syed Kazim Ali, who didn't only prepare me enough to crack AD FIA, AD NBP, AD I.B, PMA Long Course, and PAF GD Pilot but also taught and helped me to qualify for the PMS exam with flying colours in the same year. After qualifying for dream exams, I concluded that not we, but coaches – like Sir Syed Kazim Ali, Sir Rameez Ch., Miss Bakhtawar, and Miss Nirmal – can help us qualify for an exam and step into an office that we dream of always. Many aspirants and juniors ask me to provide them tips and tricks to qualify for the PMS exams, and my answer is the same as usual: I can be a qualified officer, but I am not a qualified teacher. Moreover, the culture of giving tips and tricks by qualifiers has destroyed the future of millions in Pakistan. However, in this detailed PMS guidance article, I have thrown light on the following questions;
What is the best way to qualify for the PMS Punjab exam?
How to prepare for the PMS GK paper and how to crack it?
How much time an aspirant requires to prepare himself for the PMS Punjab, PMS KPK, and PMS Sindh?
Who is the best PMS English essay and precis teacher in Pakistan?
How does a 30-questions drill that Sir Kazim helps his PMS students prepare?
What are the most expected essays for PMS Punjab, KPK PMS, and CCE PMS?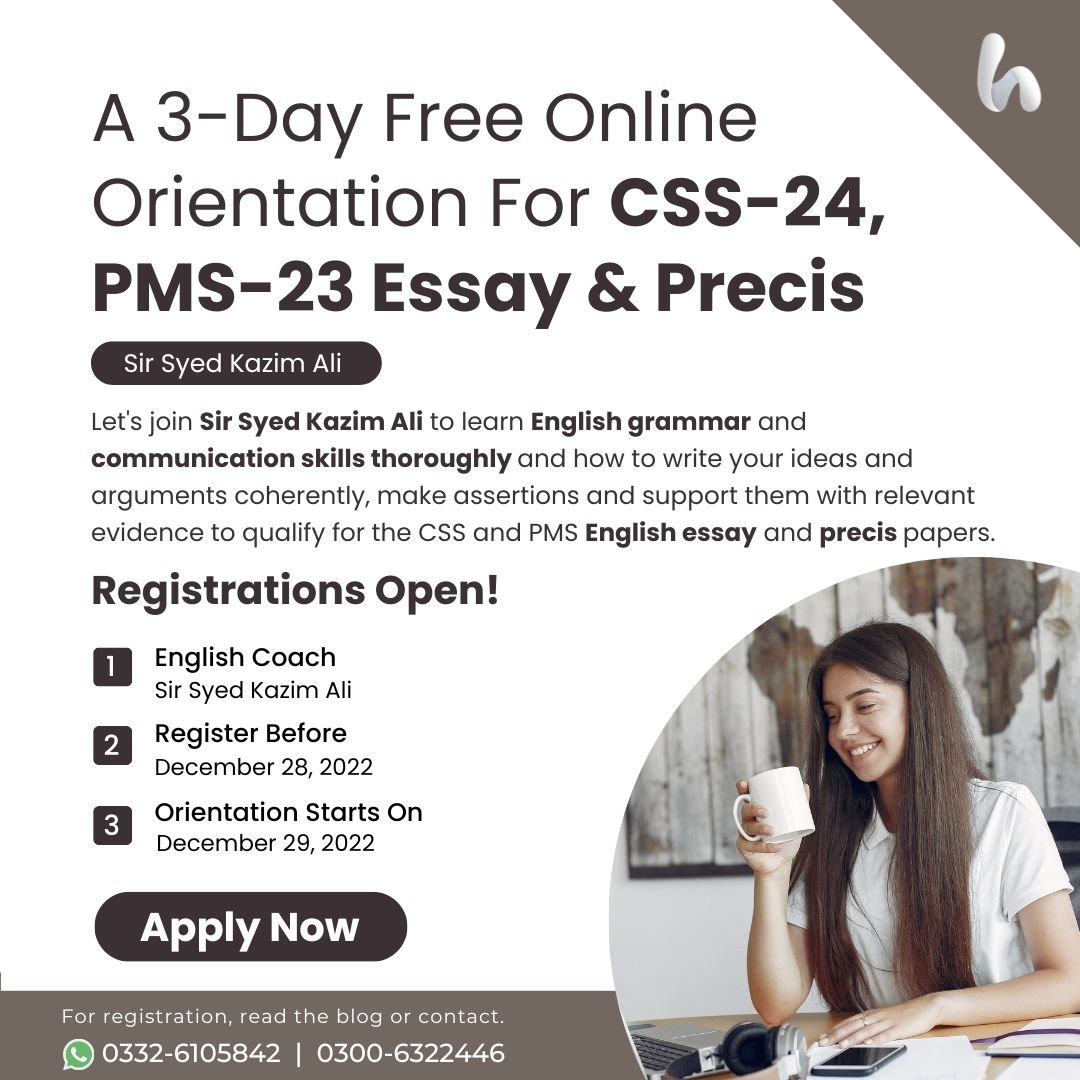 What is the best way to qualify for the PMS Punjab exam?
Whether it is Punjab, Sindh, or KPK, PMS exams demand the same approach that a CSS aspirant has, although PMS papers checkers are not as strict as CSS papers checkers. If you know how to present your opinion on a particular topic that distinguishes you among thousands of aspirants, you usually make it through. To me, whoever starts PMS preparation with English precis and essay papers and learns written communication skills always makes his way to cracking PMS exam.
If you do not know how to write fluently and confidently on the given topic, first learn English writing from any experienced teacher, rather than a qualifier. During your journey of learning English writing, spare some extra time for the GK (General Knowledge) paper as it has been the bone of contention for millions for years. To crack general knowledge, you need to give this subject its due importance and time. GK paper preparation usually takes the same time English writing takes, usually three months.
In the PMS exam, Pakistan Affairs, Current Affairs, and Islamiat papers demand selective study rather than thorough study. If you are a CSS aspirant, you will crack these papers easily. And if you are good at English writing, you can easily fetch up to 70 to 75 marks on each paper. But suppose you have just started preparing for the PMS exam. In that case, you only need to prepare a 30-questions drill created by Sir Syed Kazim Ali and Sir Rameez Ch. I, along with my colleagues and fellows, only follow and prepare that drill. Almost all of us successfully scored good marks, and even Zaineb was the person who scored 78 in P.A.
For the PMS Urdu paper, as all of you know, the only person who can help you prepare for this paper is Miss Bakhtawar Zulfiqar, an officer who has topped FPSC, PPSC and has been Pakistan's best GK, Pol. Science, Law, and Urdu coach. Her strategy to make PMS aspirants prepare for the paper in one or two months is miraculous. Unfortunately, there are several notes and books available in the market, but honestly speaking, they are no less than scrap. To conclude, English writing plays a pivotal role in qualifying for the PMS exams and in allocation.
What makes you crack and stand atop in the PMS exam?
Unlike the CSS exam, many students usually qualify for the PMS exam each year. In comparison, the number of seats is always limited to 40 to 80 seats, whereas the qualifiers sometimes cross 300 to 600. So, there has always been a tough competition among the written qualifiers. The only way to stand yourself among the top 20 to top 30 is written communication, writing style. The more the written expression, the more the chance to secure the seat. Above all, in the PMS exam, you have to compete with thousands and those aspirants who unluckily fail to qualify for the CSS exam because of some marks or a paper. Thus, I must suggest you focus on your writing or learn how to give your words a unique and attractive flow. Despite qualifying for the written part of the PMS exam successfully, I have seen hundreds who remained unallocated. Whoever, among you, is senior or knows the CSS, PMS exams allocation criteria understands the importance of English communication skills.
How to prepare for the PMS GK paper and how to crack it?
The maximum failure always comes from the GK paper. What All you need to snatch the seat is to prepare, memorize, and cram the GK part of the PMS exam. The PMS GK paper is slightly different from the One Paper 100 Marks MCQs exams. In the PMS GK paper, examiners touch almost 20 subjects, which are the following;
Pakistan Affairs
Current Affairs (Pakistan)
Current Affair (South Asia & Asia)
Current Affairs (International)
General Knowledge (Pakistan)
General Knowledge (World)
Everyday Science
Islamiat
Computer Science
I.Q
Basic Arithmetic
General Geography (Pakistan)
General Geography (World)
Constitutional Law (Pakistan)
International Law
Political Science
International Relations
Pakistan's Economy
Indo-Pak history
Public Administration
Islamic History
The PMS examiner usually takes 4 to 5, sometimes up to 10 MCQs, from the subjects mentioned above. To cover all these subjects, you have two options. First, buy all these books or any GK book and start preparing for the subject blindly, which I never recommend; unfortunately, no such quality books in the market help students prepare for the subject thoroughly. Second, you need to consult a GK specialist, who must have years of teaching experience, not PMS qualifiers, like me. In my case, I stick to only those 14,000 to 16,000 MCQs that Sir Kazim gave me. As Sir Kazim has developed Pakistan's largest preparatory website, he knows better than any officer or publisher about the PMS GK paper. It was he who helped me score 73 in the PMS GK paper, so whenever anybody, whether my family members, my friends, or my juniors, asks me for the PMS GK, I recommend them; whatever Sir Kazim asks you to prepare, just go for it.
In conclusion, to crack the PMS GK paper, I always recommend the Howfiv website because it has thousands of exam-relevant practice questions. If you do not know where to start and what to prepare, then there is currently no match of Miss Bakhtawar, Sir Badar, and Miss Nirmal (Howfiv's team who created those 14,000 to 16,000 GK related MCQs) for the GK part of the PMS exam in Pakistan. It would help if you took guidance from them on how to crack the GK subject.
How much time an aspirant requires to prepare himself for the PMS Punjab, PMS KPK, and PMS Sindh?
It is indeed a question, which is searched and asked by every PMS aspirant across Pakistan. There is no definite answer to this question as aptitude, writing style, English command, general knowledge, and absorption and picking power of an aspirant varies from one to another. An average aspirant, dedicated and passionate, with no command of English writing and GK usually takes five to six month to prepare himself enough to qualify for the PMS exam. On the other hand, an aspirant who has prepared himself for the CSS or PMS exam earlier or has a good grip on English communication can prepare for the exam in at least three months. An aspirant, a new-bee to this preparation, usually gets himself trapped by academies, officers, qualifiers, social media, and publishers and needs even years to qualify for the written part only. Hence, qualifying for the CSS and PMS exams in Pakistan demands rationality, dedication, passion, and appropriate guidance, sometimes months of coaching, not time alone.
Who is the best PMS English essay and precis teacher in Pakistan?
It is again not the new question asked and searched by millions of competitive aspirants daily. I, coupled with many other officers, aspirants, and qualifiers, have already answered this question in detail. Whether you ask the same question from Google or any qualifier or sensible aspirant, the answer is the same Sir Syed Kazim Ali. At the moment, there is not even a single English teacher in Pakistan who can touch the level of Sir Kazim's coaching. And he needs no introduction at all. Apart from Sir Syed Kazim Ali, the other teachers I recommend, in case Sir Kazim does not have time to teach, are Sir Muzafar Bukhari and Sir Razi Abidi. Although there is now an extensive list of self-proclaimed English coaches, especially on YouTube and Facebook, none can help aspirants translate their thoughts into English.
If your English basics are too weak, below an F.Sc. student, you must visit Sir Muzafar Bukhari before joining Sir Kazim. Suppose you are very dedicated and knows the fundamentals of English grammar and writing. In that case, you must join Sir Kazim to learn English grammar and written communication from elementary to the advanced level. Above all, the best thing about Sir Kazim is he teaches online and can be accessed from all over the country. Because of his strict rules and demanding testing schedule, he is well-known among aspirants. We were 70 plus when we joined him, but we were 4 when the session ended; all others, who scored less than 70 in the tests, were expelled from the session. And all of us are successful in our lives.
What is a 30-questions drill that Sir Kazim helps his PMS students prepare?
The 30-questions drill by Sir Kazim is a unique way to prepare for the PMS exam. While teaching English writing, he makes his students write on different topics, and miraculously, those topics cover Pakistan Affairs, Current Affairs, Essay, Political Science, Islamiat 100 per cent. For years, he has been teaching the same topics, and each year no question comes out of those 30 topics because he helps students cover these topics in a 360 degree. Additionally, the 30-questions drill is set for each paper separately to help students focus on the exam targeted area rather than pushing them into the vortex of information.
To sum up, qualifying for the PMS exam, Punjab, KPK, Sindh, etc., requires hard work and dedication but qualifying and allocating for the PMS demands English expression, GK, and heaps of passion. PMS aspirants usually start preparation just before a month or two, which has been the worst practice and always leads aspirants towards failure. If you are a dedicated competitive aspirant, you have to start your preparation right now. At least give three months to English essay and precis papers and a serious study to GK paper, along with other compulsory and optional papers. Punjabi, Political Science, Social Work, and Public Administration have been the ever scoring subjects in the PMS exam.
Last but not least, if you are lucky enough to get yourself enrolled in Sir Kazim's Online PMS English Learning Session, prepare everything he asks you to prepare. To join Sir Kazim, each of you has to display the traits of an aspirant. I hope I have answered all of the questions in detail. If you have any query related to the PMS exam, you can ask in the comments section, and I or any other officer or qualifiers will address them as soon as possible. I wish you all the best, and we all are waiting for you open-heartedly in the government of Punjab, Pakistan.
Available Online Courses
In order to enrol yourself in Sir Kazim's Online PMS English essay, precis, and GK Prep Session, contact Sir Kazim's admin at what's app 0332-6105842.
Who is Sir Syed Kazim Ali?
Sir Syed Kazim Ali has been the best English teacher for CSS and PMS and professional bloggers, writers, and content creators for years. He is one of the English teachers who has recognized himself globally because of his masterful English language command. The best part of him is that he is the only CSS, PMS English teacher, in Pakistan, whose success result is above 90%. He has introduced a unique coaching style that equips anybody with writing skills within 2 to 3 months. As a top English language coach nationwide, Sir Syed Kazim Ali helps his students reach their full potential at a pace that suits them. He knows that CSS aspirants' approach to learning the English language is different. And over the years, he has developed a unique teaching methodology, which helps his students crack English essay and precis papers. The way he explains and simplifies the concepts no other English teacher across Pakistan can do. He has successfully taught hundreds of successful students preparing for entrance or competitive exams such as MDCAT, GAT, SAT, GMAT, GRE, CSS, FPSC, PMS, etc. His online creative English writing session gives you the skills and confidence to get the best possible exam results. He focuses on your exam's critical areas, helps identify your strengths and weaknesses, and equips you with the writing skills you need to correctly and confidently express your thoughts and opinions.
About Sir Ali Raza
Sir Ali Raza is one of the most renowned officer, who didn't only qualified AD FIA, AD NBP, AD IB, AD MOD, and PMS but also qualified and got himself allocated in PAF as GD Piolt. He has been guiding thousands on how to prepare for the CSS, PMS exams and their screening tests.
Are you looking to learn English communication skills to qualify for the CSS and PMS English essay & Precis papers? Let's join Sir Syed Kazim Ali and learn how to give your ideas and thoughts words, fluently and confidently.

CSS & PMS 2024 Extensive English Course