Written by Anum Saba
In this era of rapid transition, fast-growing globalization, and an increase in uncertainty, all countries, no matter developed or developing, are searching for governance that can coup up with digitalization and help them sustain high socio-economic gains. As the governance theory is becoming dominant over political theory, many deny it, but China is its living example in this change. The public policymaking model is the basis of the implementation of governance in China to transform the intellectuals system of democracy.
Governance is derived from Latin meaning regulation, direction, and execution. Until the 1990s, it was referred to as political and administrative activities; however, it is now used in socio-economic politics.
For the first time, in history, during the crises in Africa in 1998, the World Bank used the term "Crises in Governance." Since then, it is widely used for post-colonial and developing countries to describe their political status. Until now, works on it bring five primary prepositions which are as follows.
Governance referred to institutions, but it's not beyond government. It maintains that the government is not the power focus alone, but it is possible to become a power centre through public and private institutions' exercise of power.
To tackle socio-economic issues, it identifies the boundaries and responsibilities. In the modern world, societies, the states are transferring their obligations to the civil sector. Consequently, the boundaries between the State and society and between public and private sectors are increasingly blurred in reference to their responsibilities.
Collective actions performed by institutions identify the power dependency between them. To state, every organization depends upon its organizations in order to achieve its purpose. It needs to negotiate and achieve goals with the collaboration of others, and the goals don't rely on the resources of actors but also on the rules and environment of the plan.
Its main focus is on the emphasis on the importance of autonomous self-governing networks of actors. The self-governing network has some authority to issue orders in some spheres and work with the government in these actors.
Governance, on its own, has the capability to work without the command and relying on governance. To manage public affairs, there are other tools and techniques to manage them, and the government should manage them by using their abilities.
There have been many definitions of governance, but the most prominent and definitive is from the Commission on Global Governance. According to it "Governance is the sum of the many ways individuals and institutions, public and private, manage their common affairs. It is a continuing process through which conflicting or diverse interests may be accommodated, and cooperative action may be taken. It includes formal institutions and regimes empowered to enforce compliance, as well as informal arrangements that people and institutions either have agreed to or perceive to be in their interest." There are four essential features of governance: it is not a chain of rules, but a process, that is not based on control, bur condonation, not a formal institution, but continuous collaboration.
It can be said that governance is exercising authority, with the main aim, to regulate law and order and help the public in its range. Its focus on to increase the public interest through the power of the different system and relations. In the context of Political Science, political administration lies in this term. Social order and political administration in a defined way fall into it. There seems no difference between governance and government, but they are different. There are two main differences between them.
First of all, the most crucial is that governance requires authority; it doesn't come from the government's organs. However, the State is necessary for the government. The government needs a public institution, but governance can be public, private, or even a collaboration of both. Governance is an association between political and civil society, public and private, the government and non-government institutions. It is decentralized, contracting, management based on market principles, and the cooperation between the public and private. So, governance is broader rather than the government.
Second, is the management of power. Power in government intuitions runs from top to bottom; however, it collaborates in affairs, negotiation, partnership, and common goals in governance. It depends upon the authority of collaborative work rather than the authority of the government. It is multidirectional rather than unidirectional.
To summarize, good governance refers to public administration that in turn maximizes the public interests. One of the major factors is its cooperation with the public and private sectors. There are six essentials for good governance:
It refers to the obedience of social order and authority voluntarily. It has no direct contact with crucial laws, and they are not legitimated. Only those legitimated that is for public interest within a definite group. The higher the legitimacy, the higher the extent of good governance. However, it requires good administrative bodies to manage conflicts among the citizens and the state.
It refers to the political information which has to be disclosed to the public. All the information which is that it is essential for the public is publicized for their interests. The public should be able to participate in dull communication so that they can make it more effective—the higher level of transparency results in a higher level of good governance.
It means that hold everyone accountable to their own deeds irrespective of their power or position. It means that the administration must fulfil its duties, it is responsible for. They must be held accountable if they don't perform their duties well or unable to perform them. The higher level of accountability made governance good. It must have laws and ethics to enhance the accountability of both institutions and individuals.
It means that rule of law has the highest degree in public administration that should be observed by public and institutions, and no one is supreme in the eye of law. The ultimate goal of the law is to protect the laws of citizens. It can be impossible without a sound legal system.
It is closely related to accountability. It means that administrative bodies must immediately respond to public bodies on their issues and insecurities and resolve their issues. They should discuss the issue with the public and respond to them in the best possible ways.
It refers to management policy. Effective public administration is essential for good governance. Inefficient and ineffective management is of no use in good governance.
Good governance is the main principle for active and efficient public and state participation in all matters. Good governance is more applicable than good government. It is indispensable for companies and committees, has unavoidable significances for democratization, and is a breakaway from the traditional dominant system.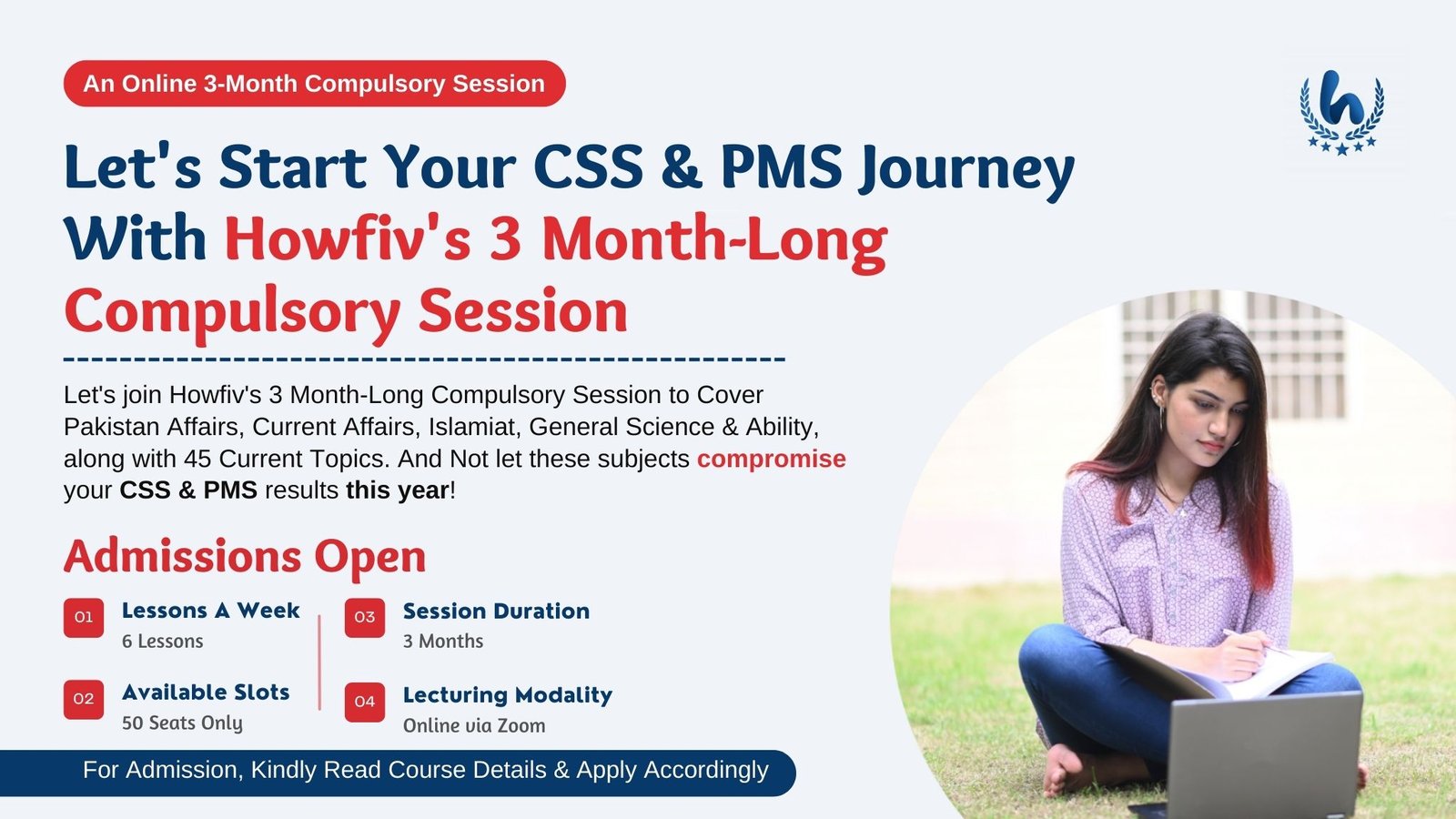 About the writer:
Miss Anum Saba is one of the bonafide students of Sir Syed Kazim Ali. She has completed her 4.5 month-course on Online Creative English Writing and Advanced Grammar under his patronage. Having done graduation in computer science and courses in creative English writing, she loves writing blogs and articles on various topics: current affairs, everyday science, technology, beauty, cooking, and entertainment.
Name of the Student: Miss Anum Saba
Qualifications: BSCS
Total Articles/Blogs: 24
English Coach: Sir Syed Kazim Ali
Course Taken: Creative English Writing & Article Writing
Like other competitive students, If you have a story to tell, guidance to help, knowledge to educate, or a perspective that can help CSS aspirants daily, welcome to CSSPrepForum. It is free to get your opinions, viewpoints, judgements, and thinking published, whether it is a blog, article, essay, application, letter, precis, comprehension, MCQs, or anything that helps competitive youth of Pakistan. CSSPrepForum is a place that let you connect with thousands of competitive readers, and helps your voice heard across the community. Let's start writing and get your voice heard to those who are looking for you. Email Your Write-ups at csspreps@gmail.com
At CSSPrepForum, many famous writers, lecturers, and aspirants get their write-ups published daily, and we upload CSS solved papers, CSS Solved essays, Solved Past Papers of FPSC, PPSC, NTS, and all other competitive exams, and current affairs blogs daily. Let's connect us and get an instant update and notification through
Facebook | Twitter | Instagram
Articles and news that you might love to read!