Written By Faiqa Fiyaz
Who is the best English teacher in Pakistan; who is the best English grammarian in Pakistan; and who is the best CSS English teacher who knows teaching, creative writing; are some of the questions that make nearly every competitive aspirant search on Google when he or she decides to give the CSS exam a try. A significant number of aspirants, being beginners, get trapped, straight away, by fascinating ads, billboards, and DMCs displayed everywhere, from social media to the main roads, and help FPSC to make CSS results drop to a frightful level.

Before getting an appointment in Ashford as an English writing coach – in London, I was among the same, who were ready 24/7 to listen to every person who either had given an attempt or qualified it. I was used to sleeping like an A.C, waking up like an FSP, walking like an ASP, reading like a topper. No, I was not like that kind of person, I was, instead, made such a person by listening to qualifiers and reading their interviews that made me believe in "CSS is the end of my life." I know this is of no use to tell aspirants how to save from getting failed, yet I decided to write an article that might help some people like me. My article is a tribute to the best English teacher who didn't only help me crack the CSS essay and precis papers but also taught me the way of teaching and writing, which helped me secure a job that is desired by many but got by a few. So, like other aspirants, I also have a story that starts with imagination and ends in an unending depression.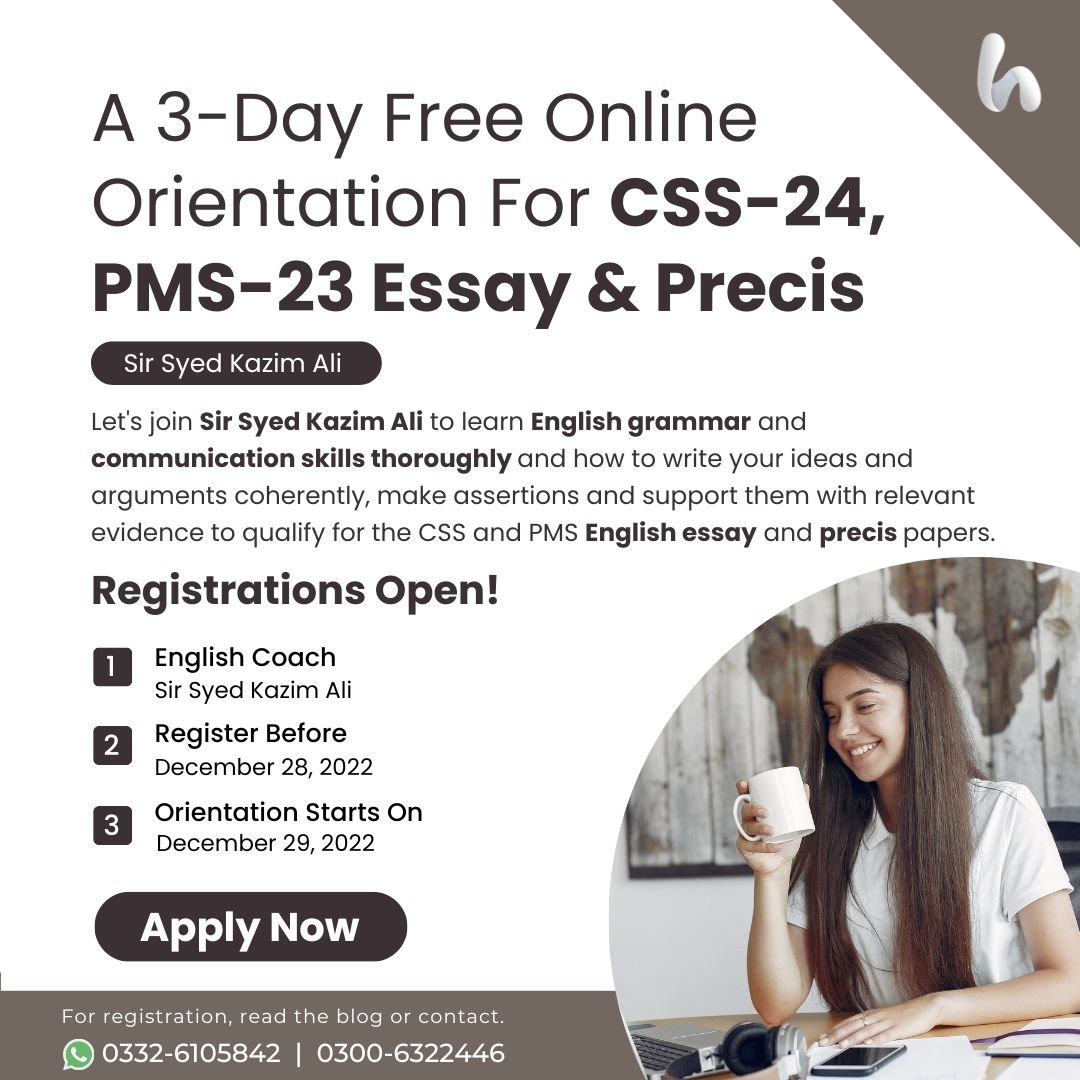 To qualify for the CSS exam, step into Pakistan's most prestigious services academy (CSA), and join bureaucracy was the dream that had eaten away my appetite, sleep, and mental health. Against the will of my parents, I was stubbornly declining all the marriage proposals that came to my home. How could I score only eight (8) marks in English essays and 34 in Precis papers while having an M.S from a top-ranked university? Both of the questions were hunting me mentally, slowly and steadily. It was the last chance given to me by my father, as I was the most beloved kid in the home.
Having belonged to a well-established family, I – unlike others – could move to other cities to find an English teacher who might help me qualify for CSS English papers in the exam. To learn the art of essay writing took me to Lahore, a city filled with mercenary mentors who were, and are, never in an apt to say no to money. I joined an academy that was, and is still, considered the house of civil servants. The evening class there was full of students except one or two; everybody was interested in listening to stories, rather than learning the art of essay writing. Within no time I came to know that I had wasted money by joining the academy because I was in search of an English teacher, not of a CSS qualifier; as, my first attempt sucked because of qualifiers. The clock was ticking fast, and I already had wasted two months of the given time. I was hell curious and didn't find any ray of hope because every renowned teacher I joined just told me whether my essay was well-written or not.
They never told me how to write in a flow, how to give words to my thoughts, what is an expression, how to write fluently, and how to start an essay. Psychologically dispersed and disturbed, like other serious aspirants, I desperately asked seniors, cousins, and teachers about anybody who could hold my hand to teach me the way I want. After getting no appropriate answer and the worst academic experiences of my life, I started filtering Google, Bingo, and each page of the CSS forum to find the best English teacher in Pakistan. There a name, Sir Syed Kazim Ali, was prominent and from international students' feedbacks to Pakistani students' feedbacks, Google was displaying the same name. No doubt, the only person who could claim the credit for my success is Sir Syed Kazim Ali. He was the only person – amongst all of the teachers I joined before him – who guided me, taught me, and put me on the track to success. He helped me qualify my English essay and precis papers in CE-18, 51, and 68 marks respectively. I do not say that except for Sir Syed Kazim Ali there is no good English teacher in Pakistan, but I have explained the sufferings I had while running after advertised teachers, mentors, and academies. The reasons why everybody – across the world – is praising Sir Syed Kazim Ali's teaching style are the following.
1- Grammar Coaching
2- Vocabulary Building
3- Writing Techniques and Essays
Grammar Coaching
English grammar plays a crucial role when it comes to differentiating between an ordinary and an extraordinary writer. Although I have memorized Wren and Martin, Raymond Murphy, Sterling, Michel Shawan, and Martin Hewing's books thoroughly, I didn't stop committing mistakes while writing sentences like a pro. The Grammar Sir Syed Kazim Ali taught me was far beyond Michel Shawan and Raymond Murphy's grammar. It took me nearly three months to go through the entire English grammar with Sir Syed Kazim Ali. As an advanced English language teacher, Sir Syed Kazim Ali grammar lectures are perfectly intended for serious competitive students in Pakistan. He helps students revise some of the more difficult points of grammar that students will have already studied, such as adjective clauses, appositives, interrupters, articles, capitalization and punctuation rules. In his three-month-long extensive English grammar session, he teaches 157 rules based on non-native senses by focusing on his students' weak areas. His taught grammatical patterns help students write sentences coherently, fluently, and confidently. His detailed lectures on grammatical contrasts, modal verbs, tenses with senses, and sentence articulation are known among thousands of Pakistani and international students. In a nutshell, in that three-month grammar session, I was taught grammar from basic to the advanced level in a way that I had prepared my own English grammar notes that are still helping me teach my students. Now I am a very popular creative English writing teacher in London.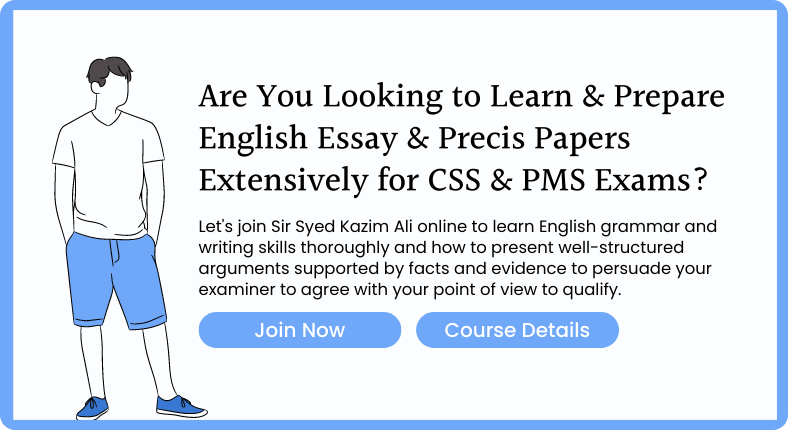 Vocabulary Building
Next to grammar, the way Sir Syed Kazim Ali teaches his students to concentrate on the right and appropriate use of words sit him top among national and international English language teachers. According to him, words are the basic components of English communication, so the understanding of their function is of paramount importance. It is a fact that in Pakistan English teachers do not make their students concentrate on the structure of a language; in consequence, competitive students who even score higher in Precis paper hardly score above 30 in their essay papers. The way Sir Syed Kazim Ali teaches the importance of appropriate vocabulary through his 500 to 700 vocabulary words is outstanding. He teaches students how to avoid writing words that are not grammatically appropriate – although they look correct to learners – contextually loose, and expressively ambiguous. So, I must say Sir Syed Kazim Ali's vocabulary is a thousand times better than vocabulary from GRE, GMAT, and other books.
Writing Techniques and Essays
The practice of writing suitable words, words to a paragraph and a paragraph to a comprehensive and coherent essay is an art that has never been taught to Pakistani students in colleges and universities, especially in academies offering CSS and PMS preparation. Contrarily, we must know the fact that the better the paragraph, the better the chances to qualify an English essay. Sir Syed Kazim Ali's way of teaching writing techniques helps students write fluently. His writing lectures are divided into two parts: teaching writing techniques and evaluating writings word for word. In the first 2 months, parallel to grammar and vocabulary coaching, he teaches students all the essential components of persuasive and laconic writing that helps his students write sentences leading to paragraphs. The first part of his coaching consists of teaching students fundamental and complex sentence structures (17 structures that can give any of our thoughts words appropriately) with extensive practice and testing. The other part of his writing coaching is to help students develop thoughts, gather information, write freely. In this part, he teaches students the advanced writing process, which can be easily gripped by extensive practice and evaluation. Last but not least, he makes his students write too much that at the end of four to five-month, every one of his students starts writing grammatically correct and persuasive.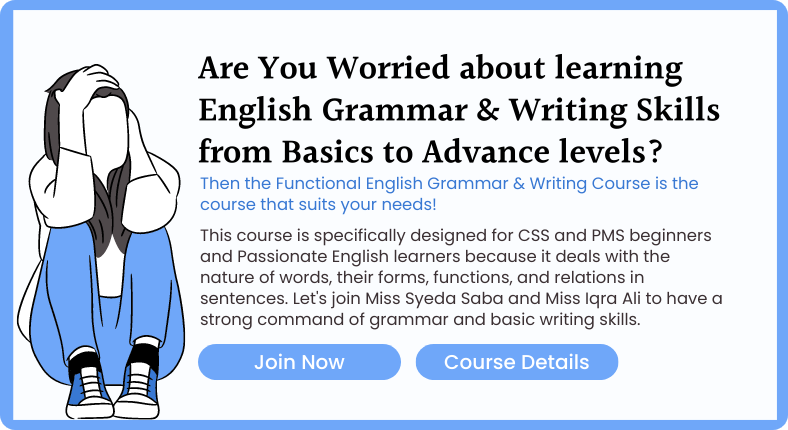 Sir Syed Kazim Ali, the best English teacher in Pakistan, is capable enough of letting students learn and have complete command over writing skills within months. He earned his repute among GRE, GAT, GMAT, IELTS, and Creative Writing students across the world by introducing a new style of providing coaching. He does not make students go through the rules only; the other teachers do in Pakistan. He works on each of his students writing strengths and weaknesses by explaining them rules from basic to the advanced level. He efficiently teaches how to start a paragraph by telling what could be the opening lines and how we take a stance and then prove it with notable examples. To me, he is the only available English teacher in Pakistan, who teaches how to make a statement stressful by telling students dozens of stress structures. And the way he teaches how to make questions, put viewpoints, write active and passive voice in a paragraph and essay writing, and the way he imparts students writing difficult structure start with wh-family is beyond imaginations.
To conclude, I must suggest students and aspirants give time to learn English written communication skills before starting preparing for other optional and compulsory subjects. If you know writing your opinions and thoughts, you can crack all other subjects within two months easily because other subjects only require your viewpoints. To me, Sir Syed Kazim Ali, co-founder of Howfiv – the world's 3rd largest LMS – is the best English teacher in Pakistan for CSS essays and precis papers, and he is the right choice for serious aspirants who really want to give their thoughts words. He knows how to turn natives into creative writers within months. Joining Sir Syed Kazim Ali Online English learning session was the decision that made me successful and helped me give my life a new try. I learn not only English writing communication, which made me a famous creative writer at multiple forums and turned me into the best English communication coach, but also the way of having a successful life.
Let's read more about Sir Syed Kazim Ali.
CSS 2022 Solved Pakistan Affairs Past Papers
The following are the CSS 2022 Pakistan Affairs solved past papers questions. These questions have been evaluated and checked by Pakistan's top Pakistan Affairs and Current Affairs coaches, who are either lecturers or officers and scored the highest marks in this paper. They include Miss Saba Baloch (CSS-2021), Miss Aimeen Mirza (CSS 2018), Miss Nirmal Hasni (DD NAB), Sir Rameez Ch. (Lecturer & Deputy Director), and Miss Zaineb Azam (the highest scorer – 76). Moreover, these questions have been attempted on the same pattern taught by Sir Syed Kazim Ali to his students who have been scoring the highest marks for years.
CSS 2021 Solved Pakistan Affairs Questions