CSS 2016 Solved Essay | Is Gender Equality a Myth? | CSS and PMS Solved Essays by Sir Syed Kazim Ali Students
Safina Zahoor attempts the essay on the given pattern, which Sir Syed Kazim Ali teaches his students, who have consistently been qualifying their CSS and PMS essays. Sir Syed Kazim Ali has been Pakistan's top English writing and CSS, PMS essay and precis coach with the highest success rate of his students. The essay is uploaded to help other competitive aspirants learn and practice essay writing techniques and patterns.

Outline
Introduction
Debunking the word gender
Strands of gender equality

Equality in the social domain
Equality in the political domain
Equality in the economic domain

Contextualizing gender equality as a myth

Case Study of Tanzania
Case study of India

What are the facets fabricating gender equality as a myth?
✓ Social factors.
Engendered health and education system
Case in point: The Global literacy rate of eighty-nine per cent versus the female literacy rate of eighty-two per cent- Global Gender Index, 2021
Polluted ideology about gender discourse coupled with patriarchy
Case in point: Double marginalization and the cult of domesticity- an argument by Susan Cruea from American doctrine of the 19th century
✓ Political factors
Under-representation of women and the third gender in legislation
Case in point: Twenty per cent representation of women in the National Assembly and zero representation of the third gender- Pildat (Pakistan Institute of Legislative Development and Transparency)
Disadvantaged in the political domain for Leadership roles
Case in point: Very few women heads of the state- PEW Research Report
✓ Economic factors
Uneven employment opportunities
Case in point: Female labour force participation rate of 48 per cent versus the male labour force participation of 74.8 per cent- World Bank
Disproportionate system of wages
Case in point: Women earn 25 per cent less than men, on average, for the same work- PEW research report
Why is gender equality a distant dream in Pakistan?
Pronounced gender-based violence in society
Case in point: Seventy per cent of women in Pakistan suffer from some form of abuse, and an estimated 5000 women were killed from domestic violence in 2021- Human Right Watch report
Low participation of women in the electoral process
Case in point: Five per cent of votes were cast in Shangla and 9.94 per cent in North Waziristan in the general election 2018- Report Election Commission Pakistan
Inappropriate distribution of inheritance
Case in point: Only 40.81 per cent of women get a share in inheritance in Pakistan- IPRI (International Property Rights Index)
What are some efforts being made to make the grade of gender equality?
Four United Nations conferences on women
Feminist efforts
How can gender equality be metamorphosed into reality?
To set the seal on the provision of education to women
To make customs, rites, and rituals women-friendly
To give women a due share in the national decision-making process
To eradicate the feminization of poverty by recruiting in due proportion
To galvanize the society for women's empowerment
To establish the constructive role of media in breaking gender stereotypes
To sew up pro-women laws in both letter and spirit
Critical analysis
Conclusion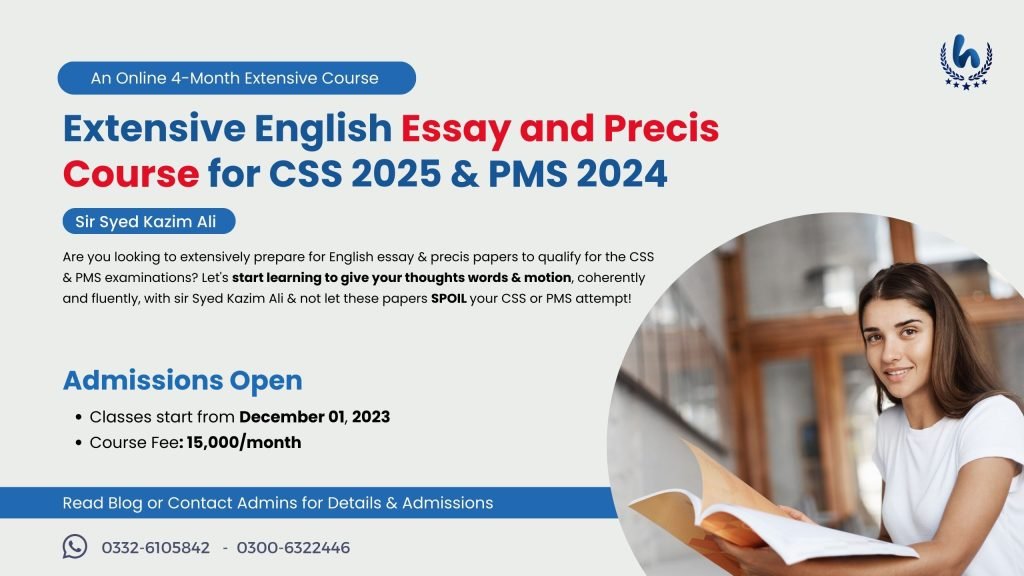 The dawn of the 21st century has renewed the intensity of the efforts to ensure gender equality. However, the world has achieved progress toward gender equality and women empowerment under the Millennium Development Goals; women and girls continue to bear the brunt of adverse economic and political impacts and aggravate existing gender disparities worldwide. Around 2.4 billion working-age women are not afforded equal opportunities, and 178 countries maintain legal barriers that prevent their full socioeconomic and political participation, according to the World Bank Report 2022. A cursory glance at the international arena reveals that women are disadvantaged, suppressed, and subjugated owing to the engendered health and education system, under-representation in legislation, and uneven employment opportunities. Sad to relate, Pakistan is not a way down the ladder. Despite some efforts to empower women, the pronounced gender-based violence in society, low participation in the electoral process, and inappropriate distribution of inheritance show that gender equality, by and large, remains an elusive dream in Pakistan. It is aptly evident by the report of the World Economic Forum that ranks Pakistan 153 out of 156 countries on the gender parity index 2021. Keeping in mind that gender inequality is a global phenomenon, United Nations has taken steps to tackle the situation head-on. Nevertheless, the emancipation of women still requires concrete steps, including setting a seal on the provision of education, eradicating feminization of poverty, and sewing up pro-women laws in both letter and spirit. The essay calls attention to how gender equality is still a distant dream affecting women from all walks of life. Moreover, it highlights women's plight in Pakistan and proposes adequate steps to break the shackles of gender inequality worldwide.
Before elucidating gender equality as a myth, it is essential to debunk the word gender. Gender entails the social construction of binary sex, men and women, and their associated roles delineated by society. Locally defined masculinity and femininity attributes are practised and socialized by social institutions. The biological sexes are represented, valued, and channelled into different roles in various culturally dependent ways; women are expected to dress in a typically feminine way and be polite, accommodating, nurturing, and homemakers. In contrast, men are expected to be strong, aggressive, bold, and breadwinners. As a result, they are stereotyped and are expected to behave and perform according to their set roles constructed by society over the decades.
Setting the scale for binary sex, cultures came into conflict with the emergence of the third sex into the limelight. As it rejects traditional categories of gender and sexuality, it suggests that it is meaningless to talk about men and women in general. Judith Butler, The Feminist, cited, "Gender is beyond sexuality as biological; therefore, there can be many identities besides men and women like the ones the LGBTQ." Thereby, the word gender embraces the queer, the LGBTQs, and allows them to define the identity of their choice. Hence, the word gender demonstrates a socially categorized group of individuals based on their traits, be it a male, female, or one belonging to the odds.
With the above emanation of a specified catalogue of individuals, the need to particularize the roles and the rights of the gender has renewed intensity in the 21st century. Stipulating the rights of each gender has raised the question of gender equality. According to UNICEF, gender equality implies that all gender enjoy the same rights, resources, opportunities, and protection. Therefore, the first strand of gender equality calls for the equal role of men and women in decision-making. Similarly, the second strand referred to a political domain that stresses no gender discrimination in appointing the head of the states and women parliamentarians. Gender equality in the economic fields makes the third strand. It implies equal pay for equal work, equal job requirements for men and women, and a safe working environment for everyone. Thus, the three strands are crucial to understanding the framework of gender equality worldwide.
Having discussed what gender equality entails, it is imperative to deep-dive into how the global ship is far away from realizing the dream of gender equality. Tanzania, for instance, is one of those countries, where women suffer more than men in the structural adjustment programs. In the early 1990s, the country received an IMF loan to deal with the imminent balance of payment crisis. It led the government to cut back on social standings. The same year, the country's maternal mortality rate nearly doubled. So even the conditions associated with loans unevenly impact genders, with women bearing the major brunt of such loans.

Similarly, India, the 5th largest economy in the world, continues to discriminate against women from all walks of life. The plight of women is embedded in the patriarchal mindset. Practices like Sati have undermined the worth of women as an individual. Although the essential strands of gender equality have shown some progress, selective abortion of female fetuses leads to fewer girls being born in the country. Feticide and premature death of girls due to neglect add up to an estimated 63 million women missing from the population. The very reason why India ranks 135th out of 146 countries in the gender parity index, report 2022. This is to say, women are victims of inhumane practices, and the chains of patriarchy are too strong to be broken. Thus, the sufferings of women show that gender equality, by and large, remains an elusive dream worldwide.
The world has witnessed women's plight in socio-political and economic domains. Therefore, gender equality has occupied the major head in Millennium's development goals. The world is working to empower women. However, the deeply rooted marginalization in developing and developed countries has raised many concerns. The following paragraphs highlight major facets that fabricate gender quality as a myth.
In the first place, the engendered health and education system has put women at a considerable disadvantage. Health and education account for the chief necessities of human life, but women significantly suffer the world over when it comes to basic health facilities and education. Subsequently, women live through major health issues, such as anaemia, cancer, and other reproductive problems. Similarly, the situation is not better on the educational front. The Global literacy rate of eighty-nine per cent versus the female literacy rate of eighty-two per cent is a glaring example in this regard. Thus, gender-based inequalities in the health and education sectors are major contributors to women's plight and attest to gender equality as a myth.
Apart from this, Polluted ideology about gender discourse coupled with patriarchy has limited the space for women in the social domains. Women are more likely to be subdued by traditions and cultures. They are considered subordinates of the men and are not accorded any say in the decision-making. Moreover, their roles are restricted to homemaking. Susan Cruea criticizes the prevailing idea of the cult of domesticity by concluding that the social system is designed to limit women's sphere of influence in homes and families. Thus, men, the breadwinner, hold prestigious positions and women remain grappled in the clutches of patriarchy and gender discourses.
Not just in the social sphere, women continue to be discriminated in the political front. Women are not given due importance regarding their inclusion in the legislature. Being low in effectiveness, they cannot make a significant change in the pattern of socio-political development. Consequently, countries like Pakistan, with only 20 per cent of women in legislation, are more prone to discriminative practices in every sphere of life-PILDAT. Patriarchal mindset and feudalistic approach, hence, become the major hurdles for women to contest elections independently. Gender equality is, thus, just a hallucination in the political arena.
Moreover, women are disadvantaged in terms of leadership roles. They are not given due roles owing to the false perception that women are emotionally volatile. Only twenty-one per cent of government ministers is women. Besides this, only ten countries have a women head of state, PEW report. Even the United States of America, a country claimed to be the champion of human rights, is yet to see a woman as head of the state. With an annual increase of just 0.52 per cent points, gender parity in political leadership will not be achieved before 2077, United Nations Women report. Therefore, women become victims of gender inequality even in terms of political participation.
Similarly, the plight of women is no different in the economic sphere. Women get fewer employment opportunities compared to men. Both men and women were created equal and are shaping society in their perspective; therefore, sanity demands equal access to resources. However, women have extremely limited work opportunities and are not preferred for higher roles in the firm. According to the World Bank, the female labour force participation rate is fourth-eight per cent as compared to males with 74.8 per cent. Consequently, they have narrow access to financial services such as loans and micro-financing. This alarming situation shows how women suffer heavily in terms of economic opportunities.
A highly engendered wage system has also added to the women's plight. The system is skewed in favour of men. Men get paid much more than women for the same work and effort. According to the PEW research report, women are paid twenty-five per cent less than men for the same amount of work. Moreover, companies continue to violate maternity leave policies; either they do not pay them or ask them to resign. This is exceptionally demotivating for the women. Hence, wage differentiation based on gender is another manifestation of gender inequality.
Women are disadvantaged and suppressed in every corner of the world. Regrettably, Pakistan vociferously acknowledges the worst condition of women. Gender norms are still regressive in Pakistani society. For instance, the pronounced gender-based violence. It includes physical, psychological, and sexual violence, dowry-related violence, marital rape, and female genital mutilation. According to Human Right Watch report, Seventy per cent of women in Pakistan suffer from some form of abuse, and an estimated 5000 women were killed by domestic violence in 2021. The figures represent an alarming state for women. As a result, women are more prone to domestic violence and are affected socially, politically, and economically. Hence, gender-based violence is another manifestation of growing gender inequality in Pakistan.
By the same token, the low participation of women in the electoral process restricts them from playing their part in a democratic process. The men in Pakistani society supervise women; therefore, they do not have any say in political affairs. They are even restricted from the basic right to vote. According to Election Commission Pakistan, only five per cent of votes were cast in Shangla and 9.94 per cent in North Waziristan in the general election of 2018. Subsequently, women lag in the political realm; Pakistan's liberty and basic human rights are threatened to a much larger extent. Hence, it can be aptly stated that women in Pakistan are intentionally held back from their counterparts and are left to sit behind walls.
Moving ahead, inappropriate distribution of inheritance has also restricted women from enjoying their due share from their ancestors. Although Islam has long before allotted half the share of inheritance to women as available to men, as mentioned in Surah Nisa, women are still deprived of it. According to IPRI, Only 40.81 per cent of women get a share in inheritance in Pakistan. This is because the sons usually agree with their females to gain a share with their consent when it comes to heritage. Some, though, use force to usurp the property. Women, hence, in one way or the other, continue to suffer in terms of inherited wealth and property.
Keeping in mind the fact that gender inequality, unfortunately, is a global phenomenon, the world community has taken steps to tackle the situation head-on. The efforts of the United Nations (UN) are paramount in this regard. The Global body took upon itself the task of empowering women and promoting gender equality. United Nations organized four conferences to address the plight of women and to work on abolishing the root causes of gender inequality through UN Women organizations. Furthermore, the efforts of feminists cannot be overlooked in this matter. They are increasingly becoming vocal about women's rights. Metoo campaign is a primary case in point. However, the world community still needs to build on efforts to realize the dream of gender equality.
Now that it has been established that gender equality, even in the 21st century, is an elusive dream, it becomes imperative to propose specific steps to solve the problem of gender equality.
The compelling first step to alleviate women's plight is to set the seal on providing education for women. Education, as an important agent of socialization, will help women better understand their rights. Moreover, effective education would eventually help maintain women-friendly customs, rites, and rituals by eliminating gender-based violence and minimizing patriarchal traditions.
Identically, empowering women politically by ensuring a safe contest in the elections and prioritizing their say in the democratic process by strengthening their right to vote will help them emerge from the ashes. Moreover, galvanizing society for women's empowerment by actively recruiting and setting a stage for them to thrive in the socio-economic and political domains would help to combat the peril of gender inequality.
No country can ever truly flourish if it stifles the potential of its women and deprives itself of the contribution of half its citizens.

-Michelle Obama
Also, the constructive role of media is critical in this regard. The media should take the lead in terms of ushering in a culture of gender equality in all countries. Lastly, the implementation of pro-women laws is also essential. If implemented in both letter and spirit, pro-women rules will boost efforts to cultivate a culture of gender equality.
Critically articulated, Gender equality is still pie in the sky around the globe. Women are disadvantaged and marginalized in developing and developed countries alike. Organizations such as UN Women, Amnesty International, and Human right Watch are working closely with civil society organizations to achieve global standers for gender equality. However, in countries like Pakistan, women do not have to contend with the glass ceiling but the walls and barrios of every construction ham in them. As a result, gender equality continues to be a myth. Nevertheless, effective measures through education and new reforms to empower women in socio-economic and political domains will break the shackles of gender discrimination and make the dream of gender equality realizable.

All in all, in its most insidious form, gender inequality turns violent. Harmful gender norms are perpetuated at the highest level worldwide. In some countries, they become entrenched in laws and policies that fail to uphold or even violate girls' rights by restricting them from inheriting property, gaining education, and getting equal job opportunities. Pakistan, too, ranks very low on gender disparity. This is not just a major loss for Pakistan but for the entire world since gender inequality hampers the world from realizing its true potential. There is, hence, a dire need for the world to take adequate steps to eliminate the clutches of gender inequality. Promoting women's empowerment in socio-political and economic domains and implementing pro-women policies can certainly eliminate discriminative practices. Although the measures cannot bring change overnight, and the progress will likely be frustratingly slow, the steps will ensure accelerated and visible improvement if executed properly. Thus, collaborating efforts by UN programs and civil societies worldwide will surely make their way to turn the elusive dream of gender equality into reality.
Gender equality can only become a reality if we harness solidarity's transformative power across professions and borders.

–Emma Watson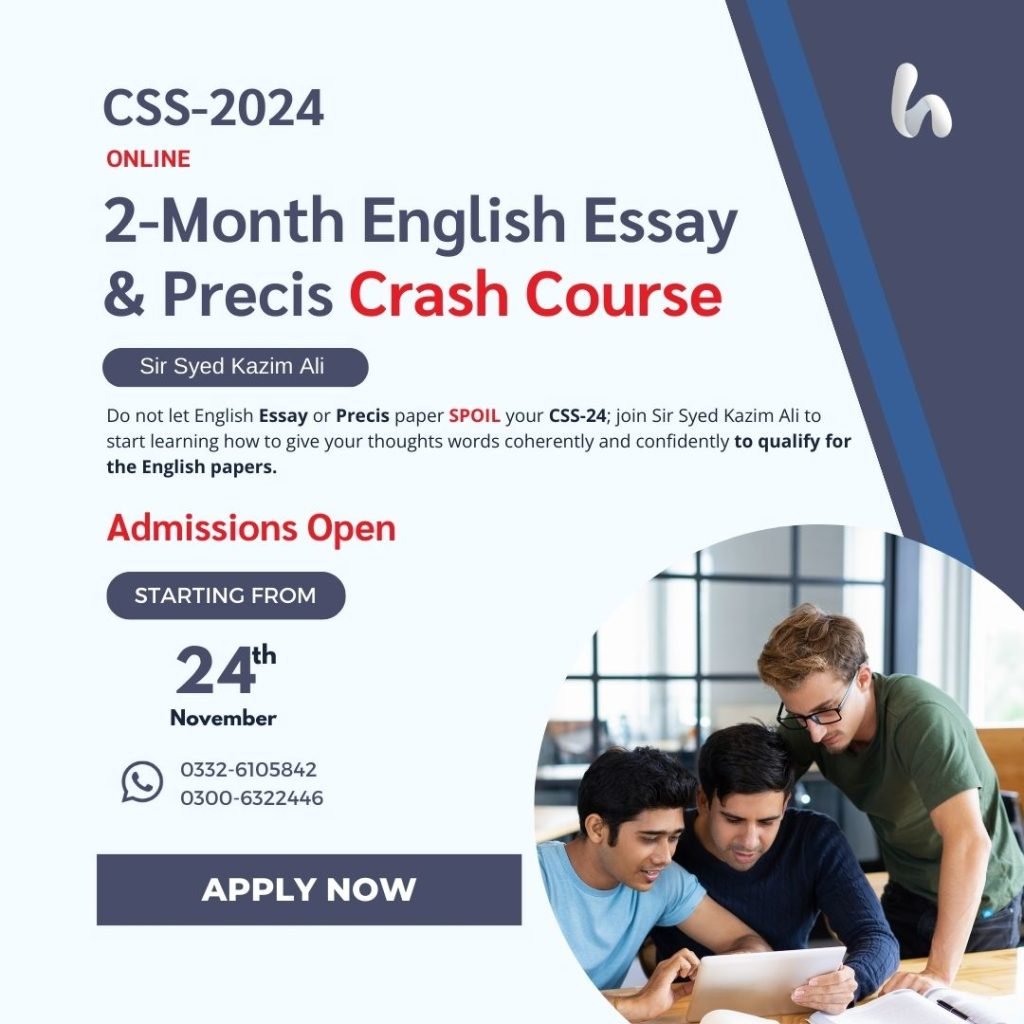 CSS Solved Past Papers' Essays
Looking for the last ten years of CSS and PMS Solved Essays and want to know how Sir Kazim's students write and score the highest marks in the essays' papers? Then, click on the CSS Solved Essays to start reading them.

CSS Solved Essays
CSS 2016 Solved Essays
Are you searching for CSS 2016 solved essays by Sir Syed Kazim Ali's students? Click on any of the topics to start reading the solved essays.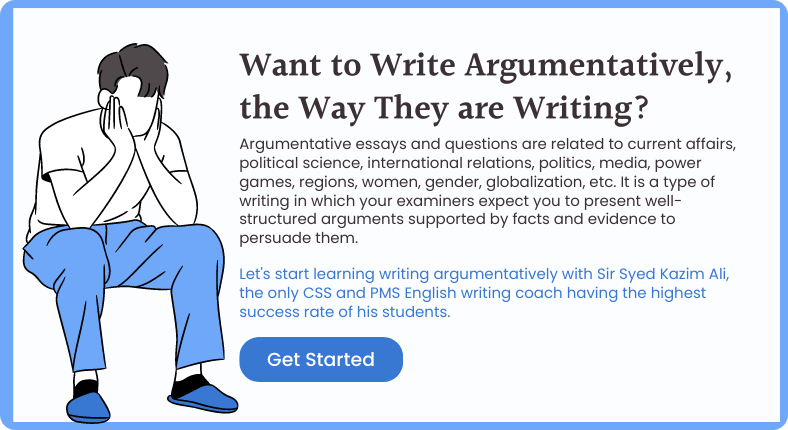 Articles Might Interest You!
The following are some of the most important articles for CSS and PMS aspirants. Click on any to start reading.