Check Your English Level Before Starting CSS & PMS Preparation! The First Free Online Standardized English Test for CSS and PMS Aspirants by Sir Syed Kazim Ali
About the Online English Test
The role of English written communication skills in the CSS and PMS preparation and qualifying for these examinations is critically crucial. Learning typical grammar from books such as Wren & Martin, etc., usually does not help aspirants learn to communicate with the examiners because typical grammar has nothing to do with the CSS and PMS examinations. However, writing and qualifying for the essay paper demands aspirants crack the topic, write the thesis statement, build a relevant outline, craft a concise and to-the-point introduction, and write arguments with appropriate evidence in the body paragraphs to make their examiners agree with their point of view. And all this can only be possible if aspirants know their level of English. Contrary to this fact, almost 99% of aspirants join academies or English coaches without judging their level of English. Consequently, they never understand how to give their ideas and thought words relevantly, fluently, and grammatically correct and, ultimately, fail their essays.
Remember, there are three types of competitive aspirants. The first type of them are those aspirants whose level of English is already good enough and do not need any teacher. Instead, they need just a guideline about what and how to do it. Second, there are those aspirants who even lack the basics of English. They are those aspirants who cannot even learn to give their thoughts words like their fellows unless they learn the basics first. Instead of revising the basics of English, they start believing that qualifying for the CSS and PMS is a hard nut to crack. The third category of aspirants are those with a good grip on Functional English but lack writing skills. These aspirants need expert English writing teachers rather than college-level teachers, qualifiers or officers.
Every time I open admission to an Extensive English Essay & Precis Course or a 2-Month Crash Course for CSS and PMS, thousands of aspirants start applying for admission without knowing their level of English skills. However, I always grant admission to a very limited number of aspirants who, at least, have a reasonable grip on functional English grammar. I do not grant admission to all aspirants because they lack the basics of the English language, and I know if they are granted admission, they will waste money. So, aspirants must know their English level before joining a teacher for their CSS and PMS preparation. If they do not consider this fact, they can easily get trapped by social media teachers, and you have already seen thousands of aspirants fail because of inept teachers who teach aspirants precis and essay papers within 10 to 30 days. Nevertheless, learning to communicate properly requires aspirants to give proper time, dedication, and a lot of practice.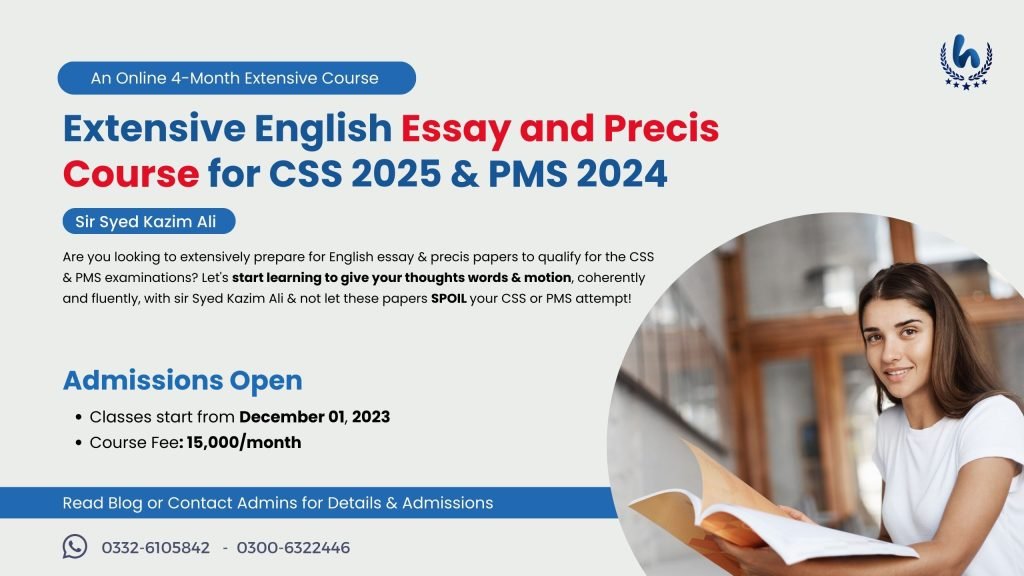 Overview of the Test
While learning English written communication skills, grammar is not the most important thing. Still, if you make many mistakes, you may become more difficult to be understood by the listener or examiner. Hardly anybody worldwide writes a foreign language perfectly, but you can communicate more successfully if you learn the art of writing from an expert teacher or work on your weak areas. To help thousands of aspirants know their level of English, I have designed the first free practical and standardized English language test. By taking this test, aspirants can easily get an assessment of their English level from home. This test will help you decide whether you need to join a teacher or what area you need to learn.
This test includes all the practical errors that aspirants make while writing, for example, sentence structuring, vocabulary, tenses, punctuation, prepositions, voices, narration, subject-verb agreement, articles, sentence correction, sentence completion, sentence improvement, and common errors, and fail their CSS and PMS essay and precis papers.
Important Features of the Test
This test is set to judge your English level, covering almost everything from grammar to writing for CSS and PMS aspirants.
This test doesn't cover grammar areas normally not taught at the elementary level.
Each question focuses on a particular area essential for competitive aspirants.
Each question carries a detailed logical explanation, explained by Sir Syed Kazim Ali.
This test is for serious aspirants who know English is the base for their CSS or PMS success.

How to get Answer key?
Sir Syed Kazim Ali, Pakistan's top CSS and PMS English essay and precis coach with the highest success rate of his students, has already explained all the answers. For the answer key and detailed explanation, contact Howfiv's admins on WhatsApp at 0300-6322446 or 0332-6105842.
Download The Test Now
Studying Competitive English with Sir Syed Kazim Ali Always Makes A Difference
Download The Answer Key With Explanations
CSS Solved Past Papers' Essays
Looking for the last ten years of CSS and PMS Solved Essays and want to know how Sir Kazim's students write and score the highest marks in the essays' papers? Then, click on the CSS Solved Essays to start reading them. CSS Solved Essays
CSS 2023 Solved Essays
Are you searching for CSS 2023 solved essays by Sir Syed Kazim Ali's students? Click on any of the topics to start reading the solved essays.
CSS Solved General Science & Ability Past Papers
Want to read the last ten years' General Science & Ability Solved Past Papers to learn how to attempt them and to score high? Let's click on the link below to read them all freely. All past papers have been solved by Miss Iqra Ali & Dr Nishat Baloch, Pakistan's top CSS GSA coach having the highest score of their students. General Science & Ability Solved Past Papers
Articles Might Interest You!
The following are some of the most important articles for CSS and PMS aspirants. Click on any to start reading.