Written by Syed Muhammad Hamza
The best opinion on the topic "Education is Indispensable for the Success of a State" by Syed Muhammad Hamza – student of Sir Syed Kazim Ali.

No other social institution plays a notable role as education in the sustainable development of a country. It is an evergreen investment that assists in uplifting society on social, political, and economic aspects. The educated society/communities have the power to craft their fate and push their nation on the way to prosperity. As per the World Bank, investing mainly in primary, secondary, and higher education sectors pays 20%, 14%, and 11% returns. Moreover, in the era of globalization, only those countries could be seen as prosperous and powerful that are ahead in education. An exemplary economic growth of East Asian countries, for which an upgraded education system is attributed, is evidence of it. It means education is a great weapon for a country to combat poverty, unemployment, bad governance, terrorism, and many such social evils. Unfortunately, Pakistan has been the victim of a poor education system. Its declining literacy rate is alarming for the polity. For a country to play a significant role in global politics, it is mandatory to strengthen its education system to come up with new scientific technologies and innovations.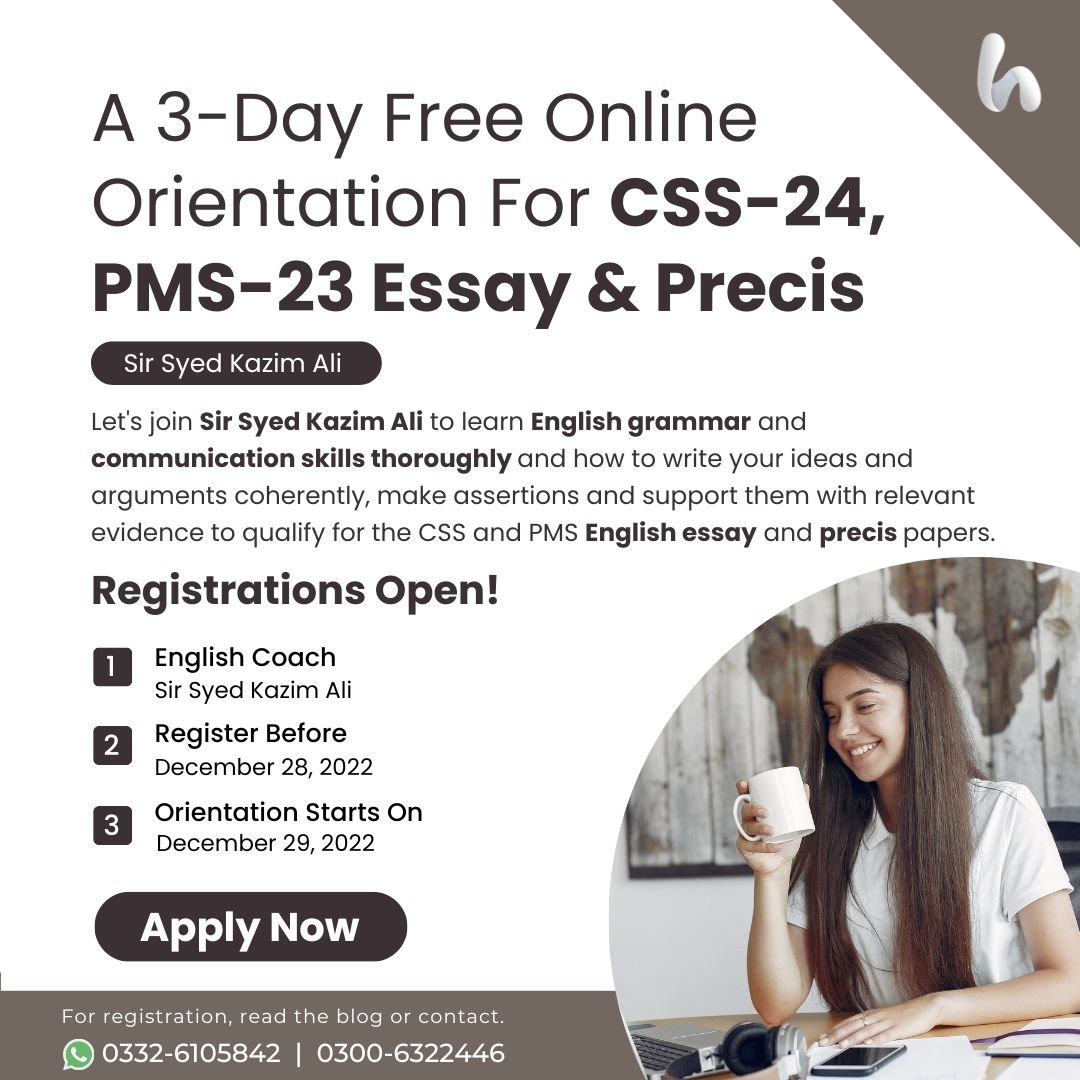 About the writer:
Syed Muhammad Hamza is one of Sir Syed Kazim Ali's students. He is enrolled in CSS, PMS English Essay & Precis Course and learning creative writing. Syed Muhammad Hamza lives in Karachi, Pakistan. He is a Civil Engineer by profession and wills to write on different environmental issues and social issues.
Name of the Student: Syed Muhammad Hamza
Qualifications: B.E Civil Engineering
Total Articles/Blogs: 1
Location: Karachi
English Coach: Sir Syed Kazim Ali
Course Taken: CSS, PMS English Essay & Precis Course
Available Online Courses
Are you looking to learn English communication skills to qualify for the CSS and PMS English essay & Precis papers? Let's join Sir Syed Kazim Ali and learn how to give your ideas and thoughts words, fluently and confidently.

CSS & PMS 2024 Extensive English Course