Compared to a CSP officer – who know nothing and have been the sole reason behind a number of failures each year, a professional subject specialist can be an asset for the intelligent preparation of the competitive exam. In addition, quality research papers and books and writing practice can serve the exam preparation purpose.
Can a CSP officer help prepare for the CSS, PMS exam is a question that concerns more competitive candidates than only prestige-seekers candidates. To a practical consideration, a CSP might inspire aspirants, but he cannot help to draw them up for the competition exam. CSS, PMS exam is highly channelized by professional subject specialists, the paper setter and paper checker. Being a non-teaching professional, a CSP officer can assist an aspirant with governmental institutes' structure but not with the subject dynamics. Today, CSS, PMS exam has become trendy among thousands of aspirants; consequently, CSP officers have also jumped into the coaching arena to make money by exploiting beginners in the name of preparation. However, suppose an aspirant aims to prepare himself for the competitive exam. In that case, quality research papers and books, together with the guidance of a subject expert – if available – and writing practice can serve to prepare oneself for the CSS, PMS exam. This blog would throw some light on the quality guidance for preparing for the CSS, PMS exam.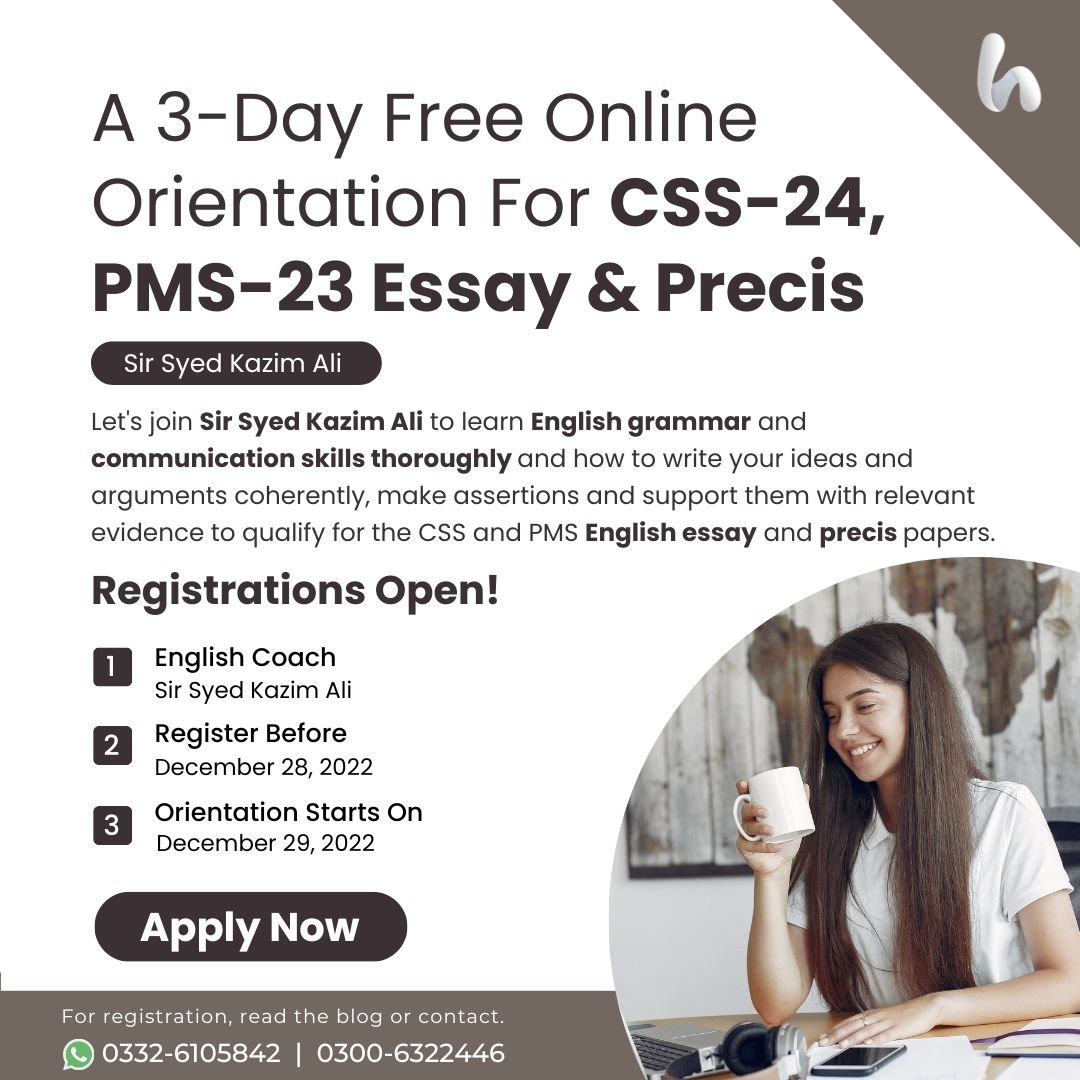 Currently, the CSS, PMS exams have attracted nearly 50,000 aspirants in Pakistan in the presence of burgeoning unemployment. The academy mafia fully exploits the situation. It hires CSP officers to get the aspirants taught by them. Such a display of cadre in front of the exam candidates functions only to inspire them, not make them able to withstand the competition. Ironically, not all, but a few CSP officers are solely concerned for incentives the academy pays to them. Therefore, students are merely left with financial and time wastage; whereas, the earners are busy advertising themselves. In addition, the aspirants become notes oriented rather than research-oriented, thus, lacking to meet the FPSC standards and failing their exams. There are multiple reasons why a CSP officer cannot help aspirants prepare for the exams.
First, a CSP officer limits the reasoning capacity of aspirants by providing them with his notes or self-made preparatory material. Owing to such an approach, aspirants find themselves comfortable and confident while drawing themselves up for the competitive exam. On the other hand, FPSC's remarks apropos candidates attempt for the essay or other subjects. Now, the examination body demands a research-oriented strategy to handle the subjects, requiring critical analysis than a limited approach worked earlier. Thus, instead of substandard preparatory material by a CSP, research articles from renowned research organizations can be beneficial for aspirants to come up with FPSC, PPSC codes.
Second, a CSP is more interested in telling the aspirants his acquisition and success stories than making them competitive. One who obtains good marks in any subject of the CSS, PMS exam becomes a mentor of that very subject. Consequently, he usually misguides the aspirants about the preparation required for cracking the competition exam. Most of the CSP officers view three-month exam preparation since they have also been through the same period for their preparation. This narrative distracts the aspirants from focusing on the subject dynamics as most subjects are unfamiliar. Hence, whenever FPSC announces the CSS result, the maximum number of failures are of these officers.

Lastly, who can help competitive aspirants to prepare themselves for the exam is therefore not hard to answer. There are a great number of think tanks and research institutes across Pakistan. Being rational and unbiased, these organizations have the research, review, and analysis public. Moreover, many quality books – mostly unassociated with the academies – from different writers and scholars are also available. These sources are the best to have oneself deep dive, into any subject, and, no doubt, this way to get prepared for the CSS, PMS exam takes more time than three-month tenure.
The competitive exam conducting bodies are, presently, keen to find a candidate capable of logical reasoning and critically analyzing the exam subjects. A CSP officer, on the other hand, limits the aspirants' capability to perform so. Therefore, quality helping material is the guideline aspirants need, which a CSP officer stays unable to deliver.
In a nutshell, it is false to state the rationality of a CSP officer as a mentor for CSS, PMS exam preparation in the availability of professional subject experts, standard helping books, and research papers. Moreover, aspirants remain exploited by the substandard coaching of a CSP officer and the academic culture. Thus, in the end, aspirants remain unable to prepare and get through the competitive exam.
About Khuleed-bin-Mehboob
Author's Bio: Khuleed is an engineer by profession. He is a competent writer working to assist the students of competitive exams. He is, moreover, a diversified freelancer who is capable of technical report writing skills and research work.

Aspirant of CSS, PMS 2023? Kindly, click on the ad below
Are you looking to learn English communication skills to qualify for the CSS and PMS English essay & Precis papers? Let's join Sir Syed Kazim Ali and learn how to give your ideas and thoughts words, fluently and confidently.

CSS & PMS 2024 Extensive English Course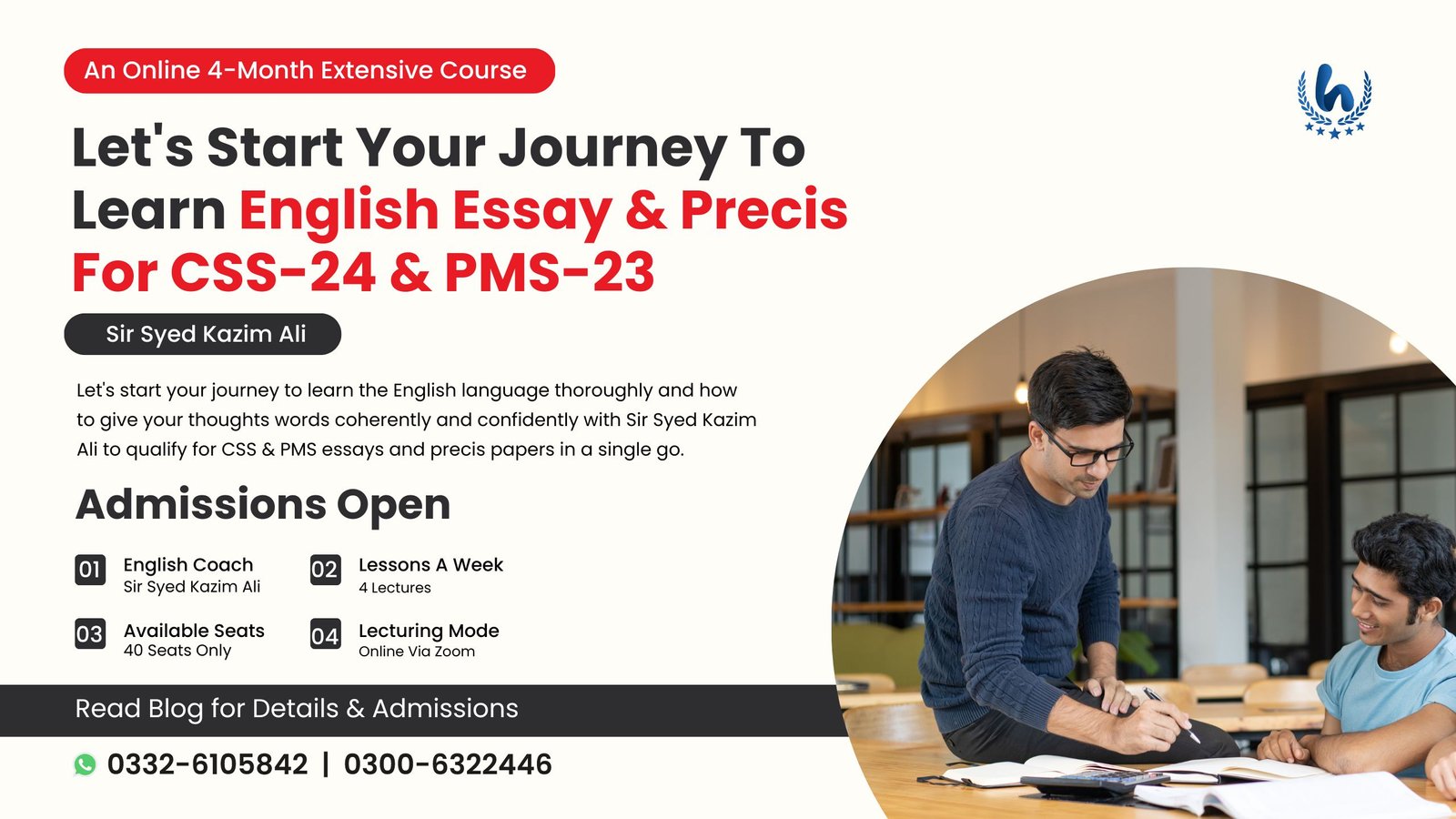 Articles Might Interest You!
Available Online Courses