CSS Political Science | Modi and his idée fixe with kauliya's Arthashastra
The following article of Political Science is written by Nazish Nussar, scoring the highest marks in compulsory subjects for years. This solved past paper question is uploaded to help aspirants understand how to crack a topic or question, how to write relevantly, what coherence is, and how to include and connect ideas, opinions, and suggestions to score the maximum.

Narendra Modi's idée fixe with kautliya's Arthashastra_ an Indian treatise on statecraft, which meant to advise the king on how to govern_ exhibits his urge to rule in absolutism. India; the world's largest democracy, shattered time and again, but the Gujrat genocide (2002) still haunts the contours of Bharat, where communal riots killed thousands. In a recent BBC documentary 'India: The Modi Question', London's former Secretary for Foreign Affairs Jack Straw indicted then Chief Minister of Gujrat for instigating riots and stopping authorities from maintaining law and order in order to punish the Muslim community. The two-nation theory and its notion have now been proven again in the Indian malign environment of extremism and fundamentalism. The Hindutva-taught BJP regime tells an untold story of hatred against Muslims and other 'depressed communities'. The secular agenda of Gandhi was banjaxed to the ground when Godse_ an RSS member with Hindutva ideology_ killed the former for his secularism.
History repeated itself, and many prime ministers or statespersons were subjected to communal rows, including erstwhile Indira Gandhi and her son Rajiv Gandhi. Yet the Indian government couldn't resist having a stern and high-handed attitude towards the minorities. Starting with scrapping articles 370 and 35-A, Modi's regime revoked the special status of Indian-held Kashmir. The recent Hijab Row that mainly instigated violence in southern India is also a breach of the fundamental rights of Muslims. The hard-line BJP rule is considered analogous to Mr Jones from 'Animal Farm'. When it comes to violence and aggression, the Indian ruler is seen in the front rows. Recently, the balance of power in the south Asia-Pacific is challenged by the so-called new 'defence budget' of India. Amidst the India-China border clash, the former increased the defence budget to $72bn. The south Asian giant employs 1.38 million people in its armed forces, with large numbers deployed along 3500km Chinese and 3323km Pakistani borders. In 2020, at least 24 soldiers were killed when the armies of Asian giants clashed at Ladakh, and most recently, in December, again clashes erupted in the eastern Himalayan region. However, the new defence budget is being considered a threat to regional security in South Asia, where nuclear arsenals are held by major stakeholders. Furthermore, Immanuel Kant's democratic peace is being historically questioned as the antagonist India waged various wars against its rivals. Hence Indian administration is considered a legacy follower of "Kautilya's Arthashastra", which according to Max Weber, is far more dangerous than Machiavelli's 'The prince'. In Arthashastra, various elements of power, including economic, military prowess, diplomacy, espionage, cultural traditions and public morale, are manipulated to rule in absolutism. In today's Indian policy, military prowess with $72bn, espionage with RAW, public morale manipulation with the promotion of biased and violent movie 'The Kashmir Files' and many additional steps are followed from 300 B.C. Indian Treatise.
Although the mentioned treatise gives an account of toleration towards other religious and ethnic communities, that chapter has been skipped intentionally by the fascist and totalitarian BJP regime. Instead of preparing for war and hoping for peace, the tractate recommends 'prepare for war and plan to conquer'. Simply put, today's India is either in a concealed and silent war with nuclear rivals or internal communities. The international community has called out the aggressive realpolitik of India, yet the power-hungry Modi regime retains its jingoistic propaganda. Hence, in today's liberal democratic world, Indian Hindutva tends to bring global despondency and anguish. In order to understand Modi better, Niccolo Machiavelli's words should be reconsidered as he propounded, "politics have no relation to morals". Thus, the Indian Prime minister lacks morals in all realms in order to enhance its vote bank or political mileage, and for that, he injures so severely that he doesn't fear any vengeance from political or communal counterparts.
Modi's background, his association with Rashtriya Swayamsevak Sangha (RSS) for decades, his Gujarat's tenure as a CM and the ethnic cleansing of Gujarat's Muslims is known to the world. That is why The wall Street journal published an article back in 2014 reporting that the US Commission on International Religious Freedom had denied Modi's entry based on 1998 laws on religious freedom that was breached during the 2002 grotesque Muslim killings. He is surer a living example of Hobbesian Leviathan_ where altruism is not considered a natural emotion and attack is considered the best defence. Incoming general elections in 2024 in India will decide whether the state wants to unlearn the learnt and go back to Gandhi's secularism or want to stay with the totalitarian Modi and his obsession to subdue internal and external adversaries with power.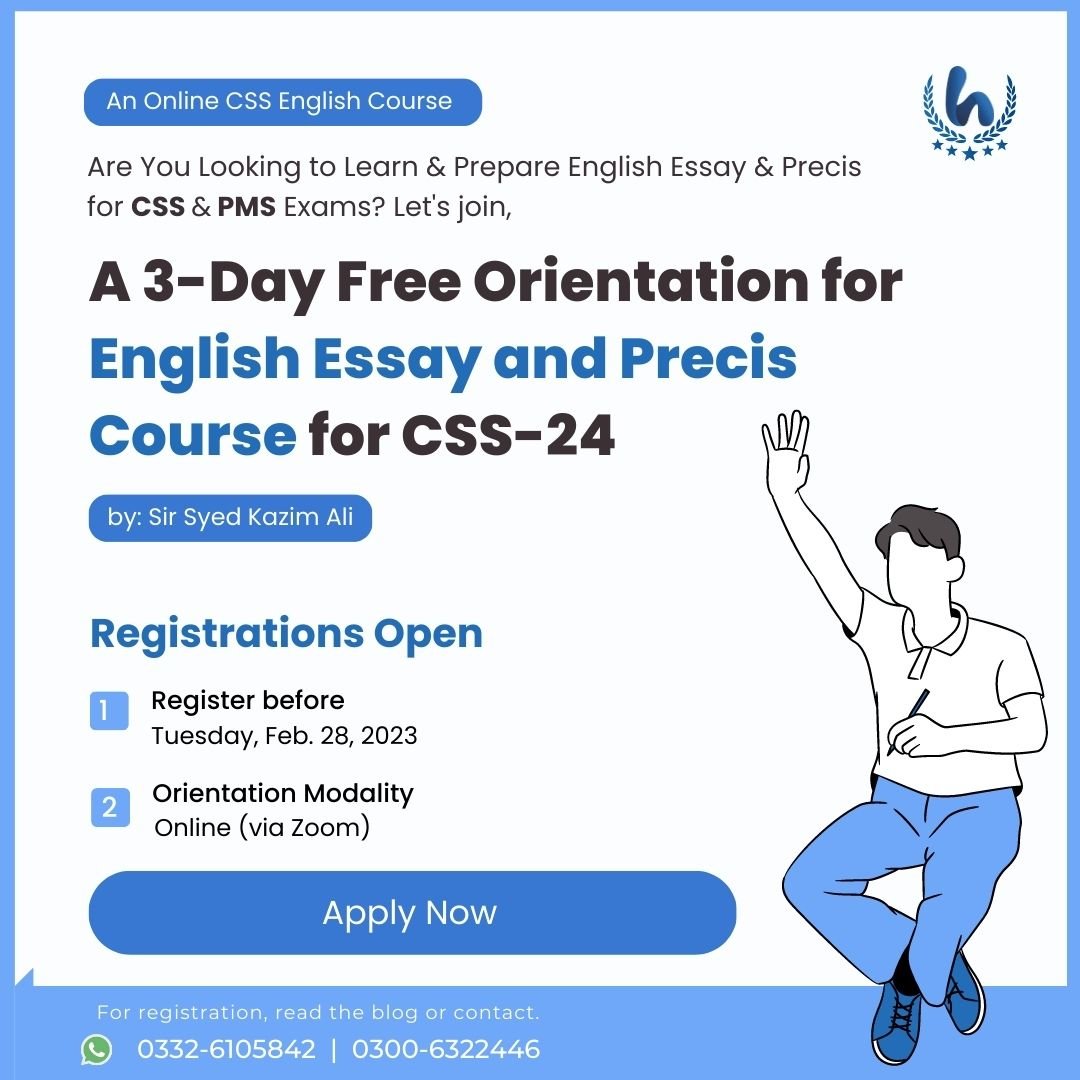 CSS Solved Past Papers' Essays
Looking for the last ten years of CSS and PMS Solved Essays and want to know how Sir Kazim's students write and score the highest marks in the essays' papers? Then, click on the CSS Solved Essays to start reading them.

CSS Solved Essays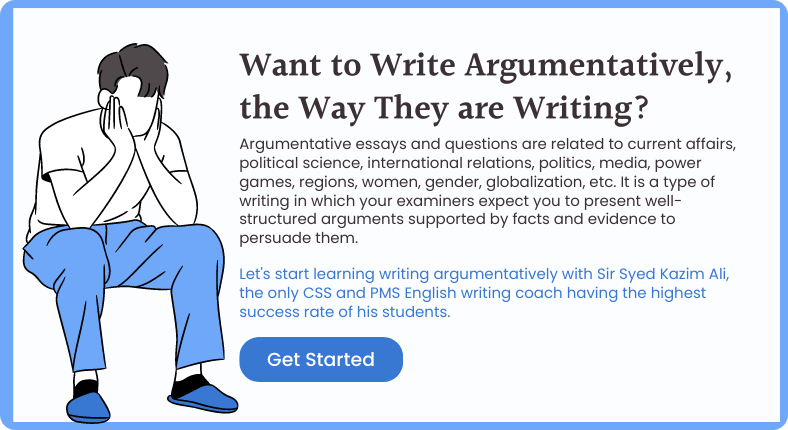 CSS Solved General Science & Ability Past Papers
Want to read the last ten years' General Science & Ability Solved Past Papers to learn how to attempt them and to score high? Let's click on the link below to read them all freely. All past papers have been solved by Miss Iqra Ali & Dr Nishat Baloch, Pakistan's top CSS GSA coach having the highest score of their students.

General Science & Ability Solved Past Papers
CSS Solved Pakistan Affairs Past Papers
Want to read CSS Pakistan Affairs Solved Past Papers and learn how to attempt them to score high? Let's click on the link below to read them all freely. All past papers' questions have been attempted by Sir Kazim's students, who scored the highest in the subject.

CSS Solved Pakistan Affairs
CSS Solved International Relations' Past Papers
Have you opted for International Relations in the CSS examination and want to score above 150? Then, click on the CSS Solved International Relations' Past Papers by Miss Abeera Fatima, the top IR scorer and the best IR coach in Pakistan.

CSS Solved International Relations Past Papers
Articles Might Interest You!
The following are some of the most important articles for CSS and PMS aspirants. Click on any to start reading.