CSS 2015 Solved Pakistan Affairs Past Papers | Critically Evaluate the Role of Pakistan in "The War on Terror".
The following question of CSS Pakistan Affairs 2015 is solved by Ayesha Abdul Sattar  under the supervision of Miss Nirmal Hasni. She learnt how to attempt 20 marks question and essay writing from Sir Syed Kazim Ali, Pakistan's best CSS and PMS English essay and precis teacher with the highest success rate of his students. This solved past paper question is attempted on the pattern taught by Sir to his students, scoring the highest marks in compulsory and optional subjects for years, and uploaded to help aspirants understand how to crack a topic or question, how to write relevantly, what coherence is, and how to include and connect ideas, opinions, and suggestions to score the maximum.

Outline
1- Introduction
2- Historical Perspective of Pakistan's Support for the Taliban
3- Pakistan's foreign policy post 9/11
4- Pakistan's Dual Policy and the challenges faced by Pakistan
5- Counterterrorism Operations within Pakistan
6- U.S.-Afghan Deal in 2017 and Pakistan as a Mediator
7- Prospects for Pakistan amid the US withdrawal from Afghanistan
8- Conclusion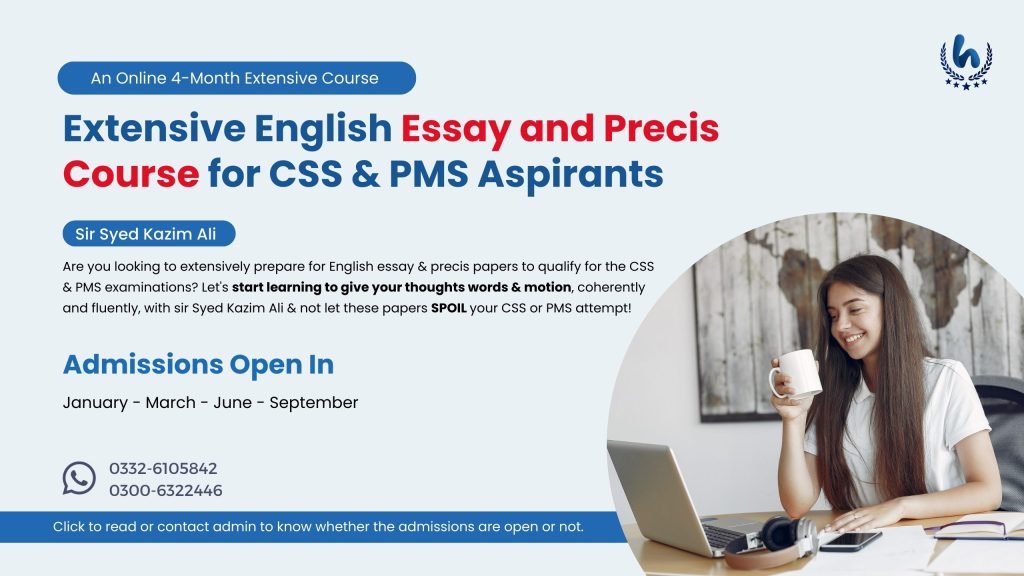 Answer to the Question
Introduction
The War on Terror, a defining global struggle of the century, has witnessed an intricate dance of alliances, strategies, and regional dynamics. Similarly, the events of September 11, 2001, marked a turning point in the US–US-Pakistan relationship. Following the horrific attacks on American soil, the US initiated its Global War on Terror. Pakistan, situated in close proximity to Afghanistan, emerged as a critical partner. Its strategic geographical location made it indispensable for US military operations in Afghanistan and for monitoring developments in neighbouring countries. Moreover, Pakistan's then-President Pervez Musharraf, in the immediate aftermath of the attacks, swiftly recognized the gravity of the situation and made the momentous decision to pivot away from its historical support for the Afghan Taliban. Thus, this marked the beginning of Pakistan's transformation from a tacit supporter of extremist groups to a frontline ally in the fight against global terrorism. Indubitably, the reasons behind Pakistan's alliance with the US were multifaceted. For instance, there was immense international pressure on Pakistan to join the global coalition against terrorism. Certainly, this pressure, combined with the dire consequences of non-cooperation, including economic sanctions and international isolation, compelled Pakistan to recalibrate its stance. Likewise, Pakistan had its own compelling reasons to abandon its support for the Taliban. For instance, the Pakistani leaders recognized that harboring and aiding extremist groups would ultimately destabilize the region and pose a grave threat to Pakistan's internal security. Hence, this realization, combined with the imperative of international cooperation, led Pakistan to embark on a new path in its alliance with the US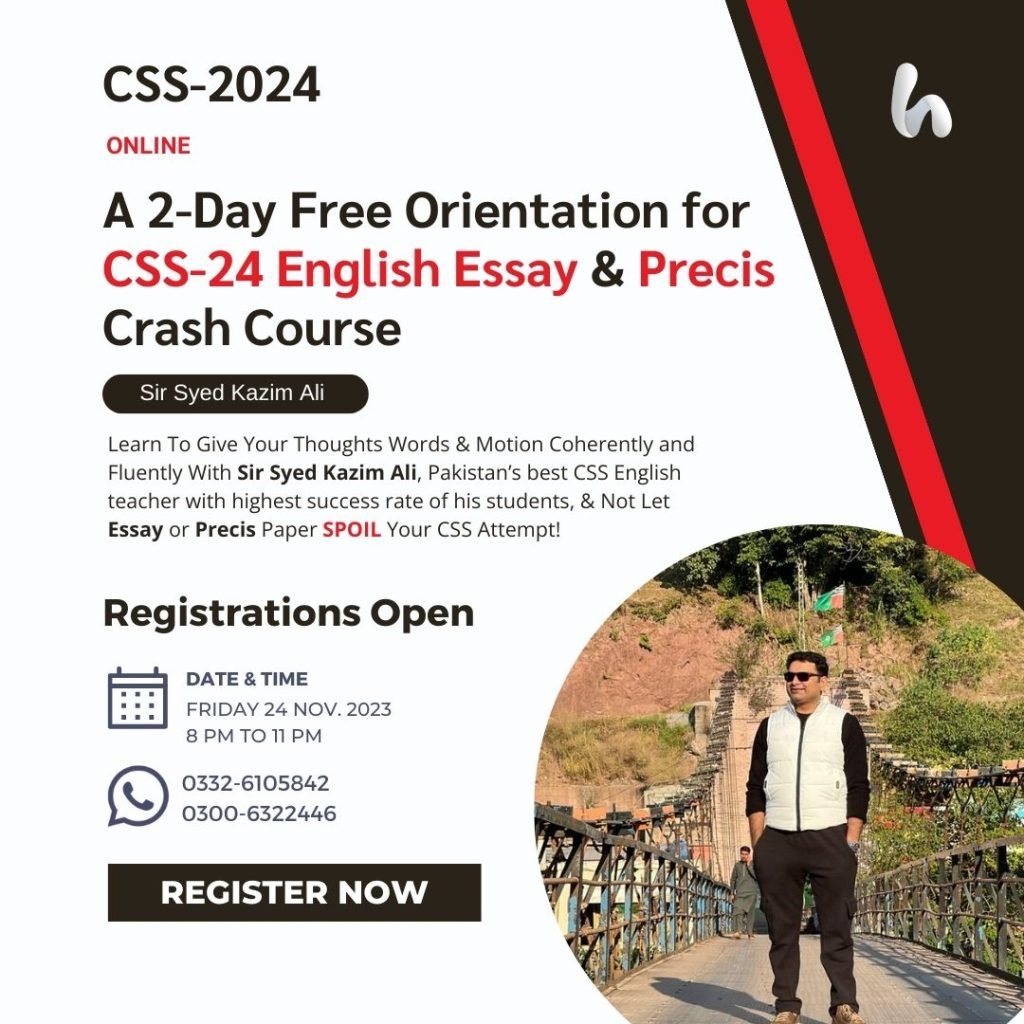 Historical Perspective of Pakistan's Support for the Taliban
Pakistan's historical support for the Taliban finds its roots in a complex interplay of strategic, ideological, and regional factors. It emerged during the turbulent years following the Soviet-Afghan War when Pakistan, with U.S. support, had backed Afghan mujahedeen against the Soviet forces. With Afghanistan plunged into civil war in the 1990s, Pakistan viewed the Taliban, a Pashtun-dominated group, as a means to bring stability to its western neighbor while ensuring a friendly government in Kabul, thereby securing its own strategic depth. This support included diplomatic recognition, military assistance, and the provision of sanctuary for Taliban leaders. Additionally, there were ideological affinities, as both Pakistan and the Taliban adhered to a strict interpretation of Islam. However, the consequences of this support would come to haunt Pakistan following the 9/11 attacks, leading to a fundamental shift in its policy as it aligned itself with the U.S. in the War on Terror.
Pakistan's foreign policy post 9/11
The 9/11 attacks were a seismic event that triggered a dramatic shift in Pakistan's foreign policy. The country's foreign policy underwent a profound transformation in the aftermath of the 9/11 attacks. The pivot was marked by a decisive shift from being a historical supporter of Afghan militants, including the Taliban, to becoming a crucial ally of the United States in the global War on Terror. This shift in allegiance was driven by a combination of international pressure, including the threat of military action against Pakistan and Pakistan's own strategic calculations. Pakistan intensified its cooperation in counterterrorism efforts, allowing the use of its territory for military operations in Afghanistan and undertaking significant military offensives against domestic extremist groups. Diplomatically, Pakistan played a pivotal role in facilitating peace negotiations between the Afghan government and the Taliban, aiming to find a political resolution to the Afghan conflict. However, this change in foreign policy also led to complex challenges, including strained relations with neighboring countries and a surge in domestic militant violence, underscoring the multifaceted nature of Pakistan's post-9/11 foreign policy landscape.
Pakistan's Dual Policy and the challenges faced by Pakistan
Pakistan's dual policy, often described as a policy of maintaining strategic depth while also being an ally in the War on Terror, has been a source of both strategic flexibility and significant challenges for the country. Moreover, Pakistan's dual policy allowed it to balance its interests in Afghanistan. Historically, Pakistan has seen Afghanistan as a key strategic buffer against its arch-rival, India. As such, it has sought to maintain influence in Afghanistan, which often involved supporting militant groups sympathetic to its interests, including the Afghan Taliban. This approach allowed Pakistan to exert leverage in Afghanistan and counter the influence of India, thereby securing its western border. However, this dual policy posed significant challenges when Pakistan became a frontline ally in the War on Terror following the 9/11 attacks. The United States and its allies demanded Pakistan's full cooperation in combating the Taliban, Al-Qaeda, and associated terrorist networks. This created a stark contradiction between Pakistan's historical support for certain militant groups and its newfound alliance with the U.S. In navigating these challenges, Pakistan had to strike a delicate balance.
Challenges emerged on multiple fronts:
Domestic Security: Pakistan's dual policy fueled the rise of extremist groups within its borders, and these groups turned their attention inward, causing instability and violence. Balancing its cooperation with the U.S. and addressing internal security concerns became a formidable challenge.
Regional Relations: Pakistan's approach strained its relations with neighbouring countries, particularly Afghanistan and India, which accused Pakistan of supporting cross-border terrorism. This strained regional stability and hindered diplomatic efforts.
Public Sentiment: Pakistan's policy shift was not uniformly supported by its populace. Public sentiment was divided, with some segments sympathetic to extremist ideologies. This created internal political challenges for the government.
U.S. Trust: Pakistan faced issues of trust with the United States, with accusations that elements within its security establishment were maintaining links with militant groups even as the country officially cooperated in the War on Terror.
Complex Mediator Role: Pakistan's role as a mediator in Afghan peace negotiations was complicated by suspicions about its commitment to a stable and peaceful Afghanistan, given its historical ties to the Taliban.
Counterterrorism Operations within Pakistan
Counterterrorism operations within Pakistan have constituted a pivotal element of the nation's strategy in the global War on Terror. These operations were initiated to tackle the multifarious extremist and militant groups that had entrenched themselves in Pakistan's tribal regions and urban centers. Notably, the Zarb-e-Azb campaign, a major military offensive launched in June 2014 in the notorious North Waziristan, sought the eradication of terrorist sanctuaries, the disruption of intricate networks, and the restoration of state control in this volatile region. Subsequently, Pakistan embarked on the Radd-ul-Fasaad initiative in February 2017, extending its counterterrorism efforts to target terrorists in other parts of the country, particularly in urban areas. This phase of the operation emphasized intelligence-based tactics, rigorous law enforcement, and the systematic dismantling of the infrastructure that supported militant groups. However, while these counterterrorism operations have made discernible strides in enhancing security, a nuanced evaluation reveals that they were not without their attendant challenges. Persistent allegations of human rights violations and accusations of complicity between elements within Pakistan's security apparatus and select militant groups cast a shadow on these efforts. Additionally, the intricate challenge of addressing the root causes of extremism, such as socioeconomic disparities and educational deficits, remains a protracted endeavor demanding long-term strategies.
U.S.-Afghan Deal in 2017 and Pakistan as a Mediator
The U.S.-Afghan deal in 2017, with Pakistan in the role of a mediator, marked a pivotal moment in the protracted Afghan conflict. The Quadrilateral Cooperation Group, comprising Afghanistan, Pakistan, the United States, and China, sought to initiate a ceasefire and direct negotiations between the Afghan government and the Taliban. Pakistan's involvement as a mediator was particularly significant due to its historical ties with the Taliban and its geographical proximity to Afghanistan. However, the peace talks faced a myriad of challenges, including the willingness of the Taliban to participate, the influence of external actors, and the intricacies of shaping a future political landscape for Afghanistan. While some progress was achieved, including brief ceasefires, the peace process remained fragile, marked by intermittent optimism and subsequent setbacks. This diplomatic endeavour set the stage for subsequent developments, such as the U.S.-Taliban agreement in 2020, but the path to lasting peace in Afghanistan remained fraught with complexities, reflecting the ever-evolving nature of the Afghan conflict and the roles played by regional stakeholders.
Prospects for Pakistan amid the US withdrawal from Afghanistan
The U.S. withdrawal from Afghanistan carries both opportunities and challenges for Pakistan. On the one hand, it opens up the prospect of greater regional stability if a peaceful political settlement can be achieved in Afghanistan. Pakistan, through its historical ties with the Afghan Taliban, can play a constructive role in facilitating negotiations and maintaining stability in its Western neighbour. Moreover, increased regional connectivity through potential trade routes and energy projects, particularly the China-Pakistan Economic Corridor (CPEC), may enhance Pakistan's economic prospects. On the other hand, there are concerns about potential spillover effects, including the resurgence of militant groups and increased security challenges along the Pakistan-Afghanistan border. Additionally, Pakistan's relationships with key regional players, including the United States, India, and Iran, are likely to be impacted by the evolving situation in Afghanistan. Pakistan's foreign policy and security posture in the post-U.S. withdrawal era will need to be adeptly navigated to harness the opportunities while mitigating the associated risks.
Conclusion
In conclusion, the impact of the War on Terror on Pakistani society has been profound and multifaceted, with a range of negative consequences including religious intolerance, vigilantism, and resentment toward state institutions. The issue of missing persons remains a troubling unresolved challenge. Pakistan's future continues to be shaped by the specter of terrorism, both domestically and in its foreign policy. As international forces withdraw from Afghanistan, the country faces a critical juncture in assessing the long-term impacts of terrorism and formulating a comprehensive strategy to address this scourge and its underlying factors. Despite the predominantly negative repercussions, there are glimpses of potential positive outcomes, including greater self-sufficiency, regional cooperation, and reforms in key areas. However, the urgency of realizing the gravity of the terrorism problem and forging a national and public consensus to combat it cannot be overstated. Failure to do so risks allowing the snowballing menace of terrorism to engulf Pakistan in ever-deepening turmoil.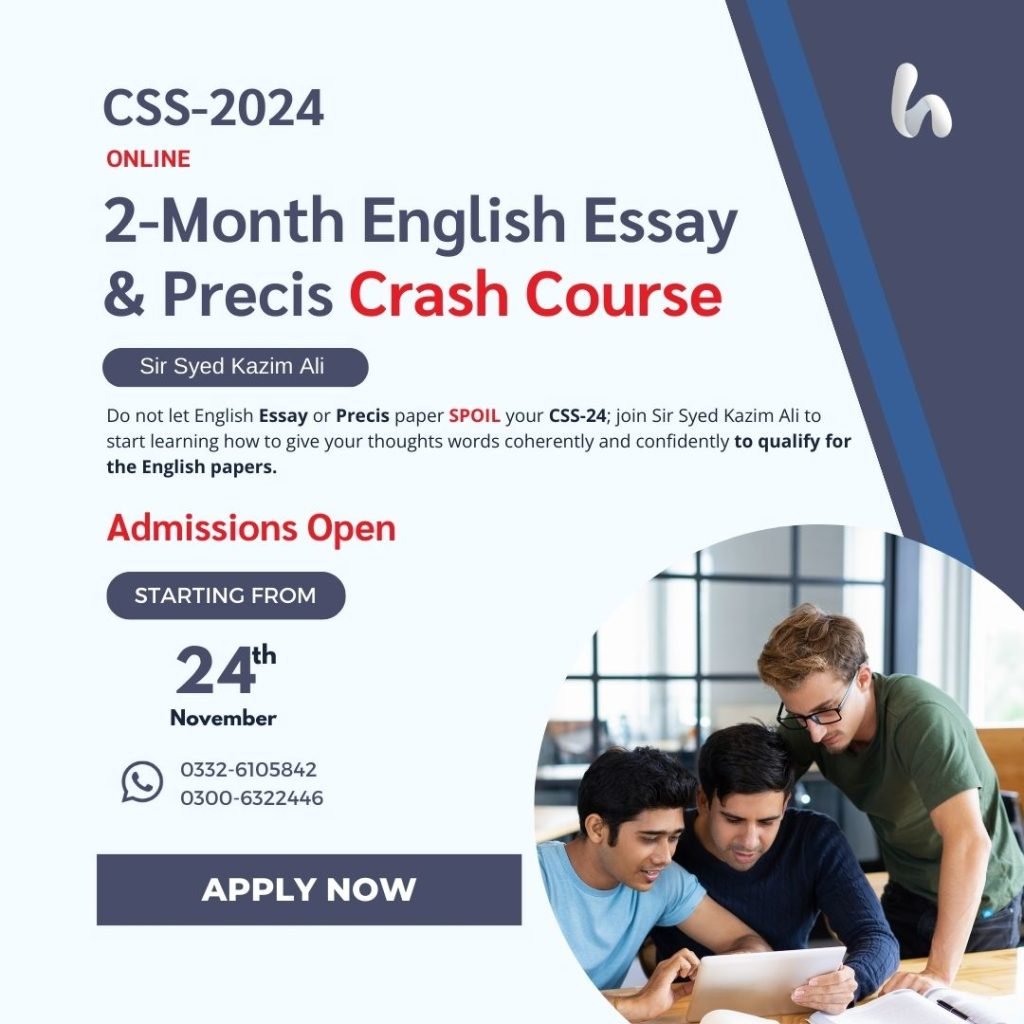 CSS Solved Past Papers' Essays
Looking for the last ten years of CSS and PMS Solved Essays and want to know how Sir Kazim's students write and score the highest marks in the essays' papers? Then, click on the CSS Solved Essays to start reading them.

CSS Solved Essays
CSS Solved General Science & Ability Past Papers
Want to read the last ten years' General Science & Ability Solved Past Papers to learn how to attempt them and to score high? Let's click on the link below to read them all freely. All past papers have been solved by Miss Iqra Ali & Dr Nishat Baloch, Pakistan's top CSS GSA coach having the highest score of their students. General Science & Ability Solved Past Papers
Articles Might Interest You!
The following are some of the most important articles for CSS and PMS aspirants. Click on any to start reading.