The following article, "Online Learning: Effectiveness and Challenges" is written by Syed Muhammad Hamza, a student of Sir Syed Kazim Ali. Moreover, the article is written on the same pattern, taught by Sir to his students, scoring the highest marks in compulsory subjects for years. Sir Kazim has uploaded his students' solved past paper questions so other thousands of aspirants can understand how to crack a topic or question, how to write relevantly, what coherence is, and how to include and connect ideas, opinions, and suggestions to score the maximum.

In a world wired for connectivity, online education emerges as the bridge spanning continents and unlinking minds in the pursuit of enlightenment. The online mode of learning acts as an odyssey of learning, with the internet as a ship in the sea of knowledge and information. Being more accessible and cost-effective, online learning provides numerous opportunities for seekers and curious minds to explore the depth of hidden facts of nature. Moreover, setting apart all the challenges faced in traditional learning styles, like geographical hindrances and lack of equal, qualitative learning opportunities, online learning boosts the digital skillset of the learners. However, online learning may spiral out to be a challenge sometimes for its users. The shortfall of continuous motivation and discipline might be demotivating for online learners. Similarly, digital distraction and the absence of social interactions end up pushing online learners into the swamp of dissatisfaction and frustration. But despite a few challenges, there are advanced features available in online learning, like ad-block and screen timing. It may certainly emerge as a way to address the challenges associated with it. Therefore, there is no doubt in saying that online learning is not only convenient but often more effective than traditional classroom instruction.
"The future of higher education lies with online learning, and wherever digital goes, so goes the nation."

– Jeffrey Selingo.
Before delving into the debate about how online learning is more effective and convenient than traditional classroom instructions, it is imperative to understand what really is meant by online learning and traditional classroom. The term traditional classroom instructions refers to the conventional way of learning and education within the premises of a classroom. The interaction of teachers and students in a traditional classroom is the basic characteristic of it which helps the students learn and grow. On the other hand, online learning is about getting educated or learning through digital technologies and the internet. It also includes access to resources, e-books, and online courses available using the internet–enabled devices. Hence, by understanding these terms, one aspect is for sure unravelled: online learning is a much greater domain than the traditional classroom system.
Now that it is clear what the terms traditional classroom instructions and online learning mean, it is time to unleash the arguments to portray how online learning is more effective and convenient.
To begin with, online learning helps in boosting the digital literacy of learners. Amid the boom of digitization in every realm of work, the need for digitally capable and literate individuals is highly appreciated at times of job recruitment. This capacity is inculcated especially in online learners. As evidenced by the article titled 'Educational Measurement', there has been a fourfold increase in the number of digitally literate people across the world after COVID-19. This example itself justifies the argument that online learners are more digitally literate for a reason: the troubleshooting and technical problems they face during their phase of learning build their capacity to be adept in digital skills.
"Education is no longer a one-time event but a lifelong experience. Online learning helps people retrain for new careers, learn new skills, and build new businesses." – John Donovan.
Moreover, the best part of online education, which makes it stand out compared to traditional classroom instruction, is it is accessible from any nook and corner of the world. The geographical restraints, which have always been a barrier to providing equal opportunities, have been effectively curbed in online learning. It has emerged to be the best way in which millions of people may learn skills, making knowledge or information not entangled to a certain region or continent. For instance, Coursera, a renowned education platform, has confirmed that about 77 million people will benefit from its online courses across the world by 2021. Yet, this report for sure confirms that online learning is effective in a way that it is easily accessible. In fact, at home, comfort and a quality education help curious minds.
"Online learning is not bound by the constraints of time and space. It opens up a world of possibilities for both students and educators."

– Eric Burns
Next on the list of the inclusive characteristics of online learning is its feature of being extremely cost-effective. A person who wishes to earn a certified course or degree from a university located in the other corner of the world may easily access it at minimal cost from his own country. The expense of accommodation, transportation, and resources are cut off in online learning. Just a smart device with an effective internet service is enough for the learners to enjoy their lectures from their own town. As a matter of fact, there have been multiple universities and education institutions in Asia and Europe that offer different courses on their online forums at a quarter fee compared to the on-campus course. Hence, there is no doubt that online education, due to its cost-effectiveness, leads the traditional classrooms. 
Additionally, online learning also unleashes the door to self-discipline. Whereas in the traditional education system, discipline is imposed on the students through restrictions and a set of regulations, online learning is all about taking responsibility. It teaches a student time management and strategic planning, making an individual well-planned. At the same time, where a traditional classroom engraves its instructions and discipline in an individual, online learning gives an opportunity for discipline and self-control in an environment of freedom. Ultimately, online learning is more effective when it comes to perseverance and being proactive as the student has to manage his study by himself within the flexible environment of learning.
Furthermore, online learning is also a guarantor of networking opportunities. Different online discords and groups are open for every eager learner to join and ask and share their knowledge to grow together. Moreover, the emergence of the wave of webinars, especially after the outbreak of the pandemic, has been a source of intercultural exchange and interaction, building a more globalized and integrated society. In the same vein, the availability of alumni networking in online learning also opens a way for the seniors to share their memories and experiences about the education platforms for the students ahead of their admissions. Hence, there is no denying that online education is effective in a way that it provides networking opportunities as well.
At last, in the realm of education, there has been a transformative shift from the age-old approach of one-size-fits-all to the customized and personalized learning experience that is provided by online learning platforms. Compared to the traditional learning mechanism, where rigid curricula and monotonous teaching methods are bounding its influence, online learning provides tailored education experiences to cater for the needs and preferences of the learners. The one-size-fits-all approach has been fading with the rise of online learning platforms, embracing a diverse and intricate tapestry of an individual's online learning journey. Therefore, it proves that online learning is more effective by providing customized learning experiences to all individuals.
However, there are also some challenges faced by online learners in their online learning courses. First, online learners are prone to digital distractions. It is evident through the article published in the Mental Health American Association journal, which shares the stats of the survey, reflecting that about 78 per cent of people on online platforms have a focus span of fewer than ten minutes. The major reason behind the description in the article is the digital distractions in the form of social networking sites and advertisements. These distractions also make it difficult for the learners to keep themselves motivated as they fail to complete their targets.
Similarly, online learners have also been observed to be introverts. Though online learning provides an opportunity for an individual to learn comfortably at home, it affects their socializing habits. At the same time, traditional classrooms serve as a hub for learning social values, norms, and customs through social interactions. It could also be concluded that online learning makes fewer contributions to building a vibrant and social fabric of society.
In the same manner, online learning is not suitable for all individuals. The prerequisite of self-discipline and self-motivation is not possible for all in the odyssey of online learning. As a result, students get easily demotivated and end up in frustration. Therefore, where there are very few checks applied to the learners in online learning, the very characteristics of online learning become a challenge for the students to keep themselves motivated and self-disciplined.
Though the challenges faced by online learners are dynamic, the solution to them also needs to be vast and comprehensive. Therefore, the recent technological advancements and innovations are aimed at solving the problems of online learners. The online platforms are inculcating new advanced technologies like machine learning and artificial intelligence to make the learning atmosphere more interactive for the students. This is how the issue of interaction of students increases. Moreover, the day-by-day advancement in technology is also helping the platforms to be more user-friendly, addressing the exact needs of the students.
Moreover, to mitigate the issues of distractions, which are ubiquitous in the digital age, ad block and screen time features are tools to fix their problem. With the help of ad block features, which are now usually incorporated by online learning platforms, irrelevant advertisements are filtered out. Similarly, the screen time helps the learners to manage their time effectively. This also promotes healthy online habits in online learners and minimizes digital distractions. Hence, by curbing the issue of distractions, the benefits of online learning may be gathered more effectively.
Undoubtedly, motivation is the driving force in education, and online learning has been found to be the best way of achieving it. By creating engaging content, the learners are captivated. The conduct of competitions in a certain course at the global and regional level promulgates the online learners to be active and motivated. In addition to it, such opportunities help the learners to showcase their talent and instil in them a sense of achievement. The certified courses are the best example of how a great many learners get boosted by these activities.
To conclude, online learning is cost-effective and convenient. It instils in its learners characteristics like self-motivation and self-discipline that are not achieved fully in traditional classroom instructions. Moreover, the effectiveness and inclusiveness of online learning are evident from the flexible environment and personalized learning. Since education is about engraving instruction in learners, the system or medium through which learners get education must be customized and tailored to the needs and issues of every individual. One of the best ways is through online platforms, which promise to be in many ways for effective learning compared to traditional classrooms.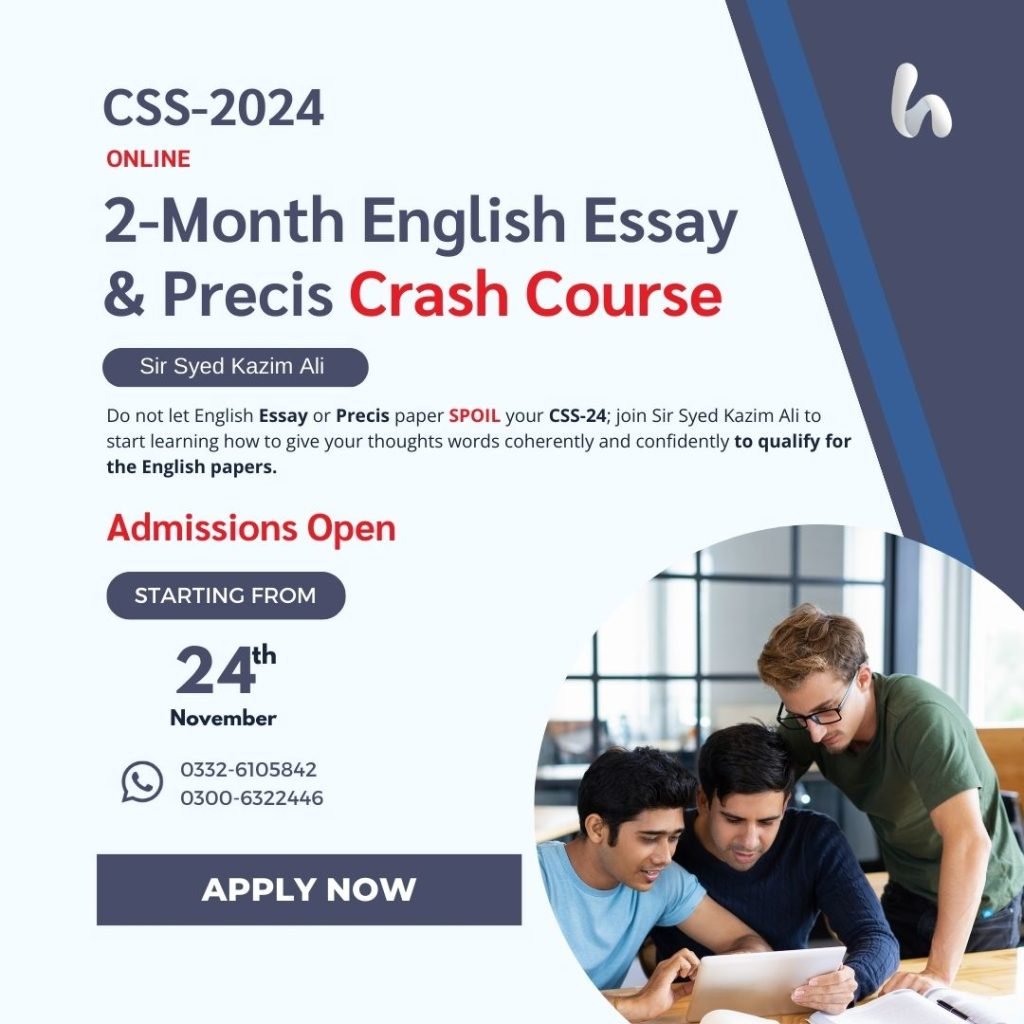 CSS Solved Past Papers' Essays
Looking for the last ten years of CSS and PMS Solved Essays and want to know how Sir Kazim's students write and score the highest marks in the essays' papers? Then, click on the CSS Solved Essays to start reading them.

CSS Solved Essays
CSS Solved General Science & Ability Past Papers
Want to read the last ten years' General Science & Ability Solved Past Papers to learn how to attempt them and to score high? Let's click on the link below to read them all freely. All past papers have been solved by Miss Iqra Ali & Dr Nishat Baloch, Pakistan's top CSS GSA coach having the highest score of their students. General Science & Ability Solved Past Papers
Articles Might Interest You!
The following are some of the most important articles for CSS and PMS aspirants. Click on any to start reading.