Not let your kid waste his time in unproductive activities; let's get him registered for the Howfiv E-Writing Camp for Little Champs and make him learn creative writing so that he can get his ideas published faster with us and develop a personality that you always want.

Writing is a medium of communication where one represents oneself through physically or electronically inscribed words and symbols. It is the most important way of communication; by using it, a person transfers his thoughts and ideas to even those he has never met or seen. Without any doubt, the ability to write meaningful sentences, lines, paragraphs, and then blog, which readers can easily understand, helps children maintain positivity, sharpen their intellect, and think purposefully. In addition, when children start expressing their innate ideas, viewpoints, and opinions through writing, they strengthen their critical and analytical thinking. However, kids who get their writings published not only achieve excellence in their lives but also have a far larger recognition. So, learning writing skills, engaging in a brainstorming activity, outlining ideas, writing them fluently and getting them published on the internet always help youngsters and kids sharpen their cognitive abilities and enhance their thinking capabilities. It has been a psychologically and scientifically proven fact that kids who learn writing skills early achieve high academic success. Considering all these things, Sir Syed Kazim Ali, an internationally recognized and Pakistan's top English language coach, has recently introduced an E-Writing Camp for Young Champs. The camp aims to help children (Grade 4 to 7) learn writing skills.
Unfortunately, in Pakistan, little work has been done in this area. The few schools that conduct creative writing courses have almost remained unable to deliver optimally. Additionally, they are either too costly or located too far away that only a limited number of parents can approach them. As a result, even highly potential kids start playing games, watching cartoons, fighting on trivial matters with their siblings, and getting away from their cultural norms and values – pushing their educated and curious parents into a constant mental dither. Besides, the stuff kids watch on the internet: YouTube, Facebook, Instagram, etc., has also its hand in demoting their intellect. In this situation, joining the E-Writing Camp for Little Champs is a good idea. Howfiv – the biggest LMS in Pakistan – has decided to bring you a virtual writing camp for your young champs to save them from the boredom of monotonous summer holidays. Rather than waking up late, spending their days doing summer vacation homework; texting their friends; sitting idle; playing useless games, your kids would have a chance to channel their energies into productive and intellectual activities.
Why Are Writing and Blogging Important for Children?
Although writing has been an essential part of a child's education, comprehending, answering, or explaining questions, in general, demonstrates significantly how detailed and sophisticated their writing skills are. However, it is unfortunate that most parents force their children to cram books, which, although help them score good grades, demotes their intellect and ability to think differently. As a result, even highly talented kids who score distinctions in Matriculation or Intermediate become dumb or fail their MDCAT entrance exams or even competitive exams. On the other hand, children who are apt to give their ideas wording or blogging are quite different from others. They become creative, thankful, and reasoning ones. They learn how to communicate their innermost thoughts and express their expressions words. Learning written communication skills or blogging not only help students in school but also help them in their practical life. Writing blogs, stories, articles, or short essays helps children develop a certain level of thought organization. They process their ideas, outline them, write sentences to paragraphs, and convey to their readers their thoughts efficiently. Hence, writing sharpens children's senses and their ability to think critically in an organized manner and helps them communicate with the world in a more meaningful manner.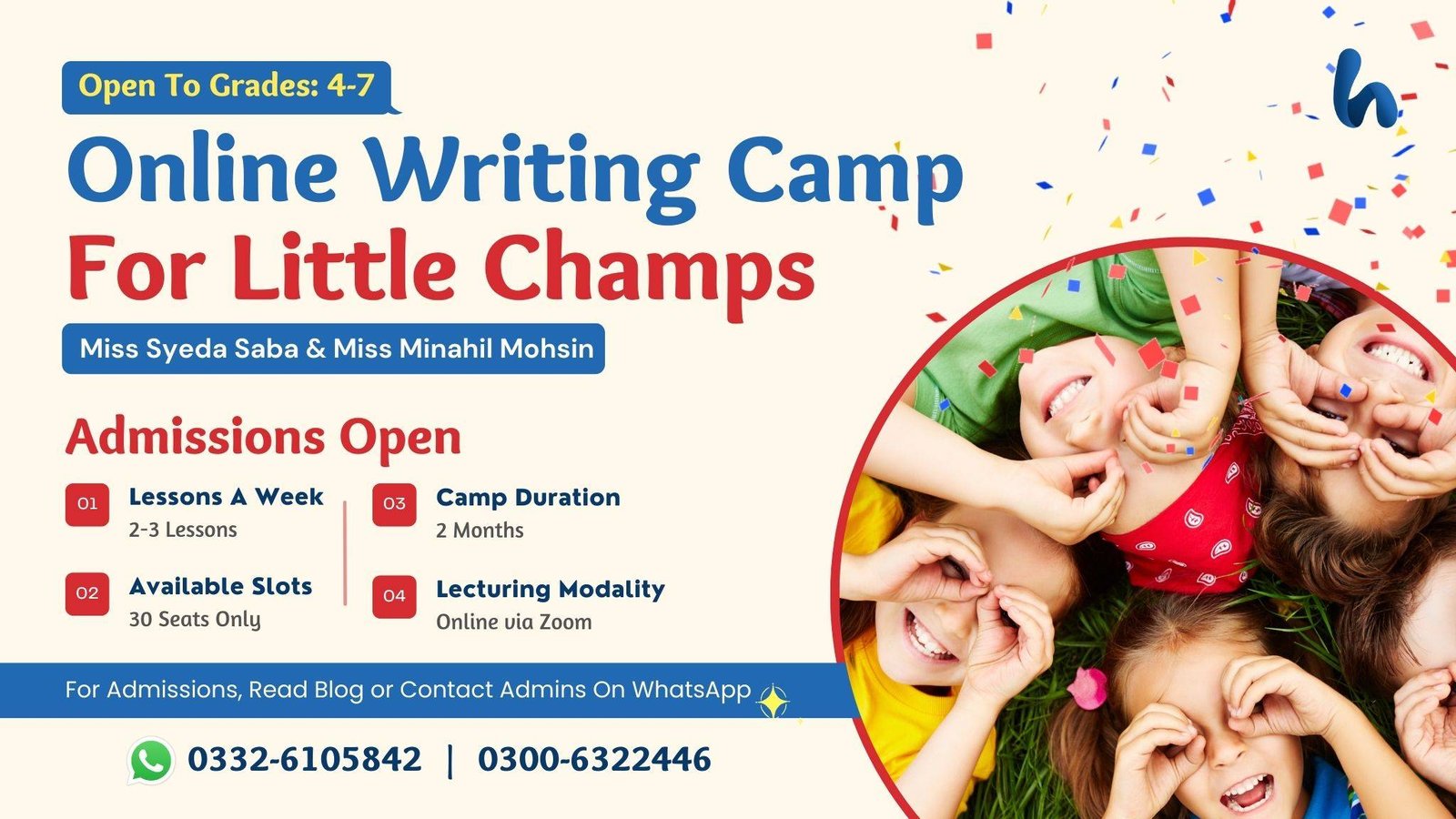 What do you think would be more interesting for your kid; playing the latest FIFA on his PlayStation or learning writing skills to become a young blogger? If your answer is obvious, you are one of the worried parents looking for ways to get your kids to indulge in healthy and productive activities so they can grow intellectually. And if that is the case, you have landed in just the right place because Howfiv has resolved the issue by introducing an E-Writing Camp for Little Champs to help them learn how to write, what to write, and how to communicate with the world though blogging. This online camp does not only help your kids develop some crucial life skills through e-socializing but also helps them learn creative writing skills and publish their ideas online with us. Moreover, unlike other summer camps offered in the country, the E-Writing Camp for Little Champs, set by psychologists and expert mentors, aims to work on your kids' three areas: mind, body, and spirit.
Course Details
Coach Name(s)
Miss Syeda Saba
Miss Minahil Mohsin
Sir Syed Kazim Ali
Course Availability
All Year
Course Registration Deadline
None
Course Starts On
1st of the Each Month
Lecturing Modality
Online (Via Zoom)
Course Duration
2 Months
Classes A Week
3 Classes
Available Seats
30 Seats
Maximum Class Size
15 Students
Camp Fee
Rs. 5,000/-
Camp Fee (for registered students' siblings)
Rs. 3,000/-
Admin's WhatsApp No#
0300-6322446
0335-8651525
0332-6105842
What Will Your Child Learn In The E-Writing Camp for Little Champs?
Along with teaching English grammar basics, tenses, narration, voices, vocabulary, and sentence structuring, the camp exclusively teaches your children the following:
✓ How to generate an idea
✓ How to get a focus on the generated idea
✓ How to gather information about the generated idea
✓ How to outline the information
✓ How to develop plot ideas into a story, blog, or short essay
✓ How to prepare a rough draft of the blog, story, or short essay
✓ How to introduce a character in writings
✓ How to write blogs and social media content
✓ How to publish a blog on a website
✓ How to design a blog featured image
✓ How to promote blogs
After this, your children will also learn how to:
✓ Develop a unique writer's voice and perspective
✓ Stimulate out-of-the-box thinking
✓ Enhance artistic expression
✓ Express thoughts clearly
✓ Develop a critical appreciation for different writing styles.
✓ Edit and revise their own work
✓ Understand the point of view
✓ Use essential vocabulary
✓ Have fun writing an exciting story
✓ Imagine futuristic or fantasy worlds
✓ Consider tense and perspective
✓ Organize ideas
✓ Express themselves clearly
✓ Use transitions
✓ Write simple, structured paragraphs
✓ Vary sentence structures
✓ Use repetition, adverbs, extended and metaphors
✓ Use sound in their writing
✓ Practice freewriting
✓ Write great dialogue
✓ Gather ideas
How to Join the Howfiv E-Writing Camp for Little Champs?
In order to join the E-Writing Camp for Little Champs, you have to apply for it. Whether you are parents or elder brother or sister, you can apply for the camp by following the procedure.
1- Guardian Name
2- Mother Name
3- Father Name
4- Guardian Contact Number
5- Guardian WhatsApp Number
6- Guardian Email
7- Child(s) Name(s)
8- Child(s) Ages
9- Child(s)' Class
10- Child(s)' School Name
11- City
12- Or Any Special Note About Your Child
Send all these particulars to the admins, they will add you in the WhatsApp group. And further details will be shared there.
To ensure that you, the parents, are in the loop, Howfiv has arranged an orientation session where you would be able to interact one-on-one with the camp's instructors – the brains behind the mega project. Hence, you would be able to get your queries answered and ensure yourself about the quality of what we have brought for you. Our expert panel would brief you regarding the activities and their psychological, spiritual, and physical significance. Then, if interested to join, you would be asked to share your kid's name, age, school name, class, city, and some basic information about yourself.
Please note: Only parents can apply for the orientation and register their kids for the E-Writing Camp for Little Champs.
Kids' Blogs Might Interest You!
Click any of the story to start reading it.