The following article is written by Aqsa Khan, a student of Sir Syed Kazim Ali. Moreover, the article is written on the same pattern, taught by Sir to his students, scoring the highest marks in compulsory subjects for years. Sir Kazim has uploaded his students' solved past paper questions so other thousands of aspirants can understand how to crack a topic or question, how to write relevantly, what coherence is, and how to include and connect ideas, opinions, and suggestions to score the maximum.

Technology is integrated into every facet of human life in a way that it plays a transformative and pervasive role in society. Many technology platforms underpin democratic processes, bringing digital democracy into a digital-driven society. Digital democracy, more or less known as e-democracy, is the practice of digital tools that foster democratic culture and civic engagement. In contemporary times, where people have nearly lost their faith in conventional patterns of democracy, social media, the embodiment of visual space, has emerged as a powerful means that enhances democratic engagement and government affairs at the grassroots level, influencing the development of digital democracy. It strengthens democracy by facilitating political discourse, improving access to information, and contributing to decision-making. For instance, mass protests broke out in 2019 in many parts of the world, from Hong Kong to Algeria and Lebanon, in which social media played a crucial role in mobilizing citizens to demand greater accountability and democratic rights from their governments. Despite various shortcomings of social media, such as increasing misinformation, populism, and polarization, it has become an essential means to uplift democracy. By addressing these challenges and using social media as a valuable tool in political and democratic discourse, the world would switch to liberating ideas and evolving political and democratic processes. This essay elucidates the meaning of digital democracy and the role of social media in influencing political participation in advancing democracy.
"Digital Democracy is not just about using technology to improve democratic processes; it's about using technology to empower people to be active and engaged citizens in shaping the future of their society."
– Stephen Downes
To understand the idea of how social media impacts democratic culture, it is pertinent to shed light on the concept of digital democracy. Digital democracy is the promotion of democratic rules and procedures through digital technology or the adoption of technology in the governance process. The concept has been highlighted by the digital activist Steven Clift. Moreover, it can also be known as civic-tech, e-democracy, or open government. Over the last forty years, various constellations have been observed in the evolution of digital democracy, including electronic democracy, virtual democracy, and web 2.0 /network democracy. Clearly, digital democracy has become the tool for strengthening information flows among citizens and facilitating participation. Therefore, the perspective of political participation has shifted from the traditional to the digital world. Social media has played a significant role in political debate and civic engagement, prospering digital democracy. In this respect, digital democracy provides a virtual space for the modern community to participate in democratic norms effectively.
Evidently, the current situation of democracy paints a grim picture in many countries. Traditional democracy lacks legitimacy and social ties. Moreover, it faces various challenges, such as declining political participation, weakening of social ties, and increasing scepticism and intolerance towards political institutions, parties, and politicians. According to the Economist Intelligence Unit report, "among 167 countries, 116- almost 70 per cent- recorded a decline in their democratic index score since 2020." The situation has worsened after the outbreak of the Covid-19 pandemic, leaving democracy in a state of malaise. The UK-based research has shown that people have growing concerns about the effectiveness of government and democracy. Moreover, the lack of involvement of citizens in policymaking has grown public doubts. As a result, people have started seeking new forums for debate and political participation. Undoubtedly, digital democracy has emerged as a silver bullet for the democratic backsliding and betterment of government. It has not only shifted political communication from the hands of a few elites to common citizens but also empowered them to participate in democratic procedures without any barriers. Therefore, digital democracy has become essential in the contemporary era of digitalization.
To begin with, social media has increased the participation of people in government decision-making processes. Through social media and digital platforms, people have greater opportunities to express their opinions and share diverse perspectives regarding government policies, influencing and affecting political decisions and public policies. Moreover, social media has eliminated the barrier of autocratic regimes that restrict citizens from expressing their opinions and thoughts openly. For instance, the European Citizens' Initiative (ECI) is a social media platform aimed at increasing direct democracy by enabling EU citizens to participate directly in the development of EU policies. Through these platforms, people express their opinions regarding climate change, elections, and other issues, and governments formulate policies accordingly. Therefore, social media improves public participation in shaping government policies and enhancing democratic values.
Moreover, social media platforms have provided citizens with much better political and government information provision, retrieval and exchange, which is the greatest achievement of digital democracy. Besides, people get information on social media platforms when any government impose a ban on mass media to keep people unaware of their illicit policies or to contain any protest. For instance, during Sudan's 2019 uprising, social media platforms (Twitter, Instagram, Telegram, and Facebook) gave people an alternative source of information and an opportunity to organize and rebel against their government. Through social media, people share the latest information with a large number of people without any barriers or restrictions. As a consequence, social media is an influential tool to keep people updated about their democratic rights and increase their awareness about the political situation.
Over and above, Social media has enabled citizens to experience direct democracy by enhancing transparency and accountability of government and political representatives. Some countries have initiated many digital processes that allow people to get access to information about the expenditure of government initiatives, reforms on several issues, and changes in any sector. For instance, Estonia, a northern European state, is one of the countries that introduced e-voting, e-licensing, e-services, e-banking and e-commerce at the larger level in her democratic process. Through these initiatives, people can participate in online voting and many other services. As a result, people not only save their time and energy but also achieve a standard of transparency and efficiency through democratic channels.
In addition, Social media platforms have become a medium for social movements where citizens raise their voices against the injustices done to them. In many countries, several groups face discrimination in various forms, including gender discrimination and racial discrimination. Governments remain unable to address their grievances and deprive them of their democratic rights. Through social media, people around the globe show solidarity with others and raise their voices to get justice for these marginalized groups. For instance, social media facilitated the campaign of #BlackLivesMatter in solidarity with a black man, George Floyd, who was killed by police in cold blood. Many people raised their voices in support of George Floyd, owing to which the police officers were arrested. Therefore, social media is a tool through which marginalized groups secure their democratic rights.
Apart from social movements, social media has proved to be a powerful tool for organizing revolutionary movements by mobilizing mass protests to turn down autocratic regimes. In many countries, many tyrannical governments impose strict reforms and suppress citizens, imposing a ban on their political activities. However, social media provides a platform for people to vent their feelings against government policies. Moreover, these masses assemble themselves through social media platforms and record their protests. For instance, social media platforms were credited with helping to shift power during "Arab Spring", a wave of unrest that first began in Tunisia in December 2010 and swept through the Arab region, leading to the overthrow of four Arab heads of state, where power seemed to be shifting from authoritarian regimes to citizens. Therefore, social media has provided a platform for people to overcome the tyranny of governments by enhancing their connectivity.
Last but not least, Social media has bridged the gap between citizens and politicians, making it feasible for people to engage with them. In conventional democracy, people remain distanced from politicians to convey their grievances and engage in real-time debates and discussions with their local administrators, whereas digital democracy has changed the political landscape, providing the public with this opportunity. Moreover, politicians become more active on social media platforms during elections to disseminate their ideas and share the political programs that they will implement. For instance, according to the report of Twiplomacy 2018, "187 world leaders with 951 accounts – 372 personal and 579 institutional accounts – on Twitter. They reach out to over 400 million followers." As a consequence, political participation has increased through social media platforms in a way that paves the way for smooth democratic norms.
Although there are multiple potential benefits of social media for political participation, it has certain limitations on the flip side, which impede the attainment of true democratic ethos. First, Social media has become a misinformation chamber where people share fabricated news and spread hate speech, leading to serious consequences for decision-making processes. It makes people biased against other groups, diffusing hatred among the masses. For instance, in the UK's EU referendum, some Leave supporters used misinformation on social media regarding Islam, where some sections of the Leave campaign- including UKIP leader Farage, based on a so-called "Muslim invasion "affecting so-called British identity & values. People, especially miscreants, attain their agenda through such tactics, creating differences among people. Therefore, social media has eroded people's trust in political and democratic processes.
Second, Social media has become a spy platform used by autocrats for the surveillance of citizens to prevent the emergence of a democracy promotion movement. In several countries, autocratic rulers strictly control social media to follow the activities of their citizens and keep them in check. When people express their opposing opinions regarding the policies and initiatives of the government or protest against it, the authorities follow the person and arrest them. Moreover, such governments censor information and remove content against them. For instance, during the unrest that swept through Iran at the end of 2017, mass surveillance operations on social media significantly aided the authorities' ability to identify, track, arrest, and imprison protesters. As a result, people are deprived of the right to freedom of expression, which hampers the democratic growth in the country.
Third, Social media has turned into an instrument for interfering with and manipulating the democratic processes through the use of Bots. Various government activities take place on social media platforms, such as e-petitions and e-voting. However, many people and groups manipulate these outcomes for self-interests through the use of bots, creating fake followers and users. For instance, in 2016, the CIA claimed Russian involvement in US elections, manipulating the outcomes through the use of Bots. External powers also interfere in such methods to disturb the democratic processes of the country. As a consequence, the use of bots not only manipulates the outcomes but also deprives people of their choices.
To top it all, social media has raised the level of populism and polarization through echo chambers. Echo chambers expose people to information, ideas, and knowledge that reinforce or amplify their existing opinions and perceptions. It causes people to become polarized to certain beliefs and ideas, leading them to extremism. Many politicians take benefit of the situation and infuse opposing views regarding other parties. For instance, Bernie Sanders in the United States and Boris Johnson and Jeremy Corbyn in the United Kingdom promote divisive narratives of "them" versus "us", which became common among their followers through echo chambers. As a result, the diversity in democratic norms is lost, and people become biased and intolerant towards other citizens.
In the present era, where digital democracy is prevailing in many developed and developing nations, Pakistan has also strived to shift towards digital democracy from conventional democratic norms. In this regard, the government has implemented policies, such as The Road to Naya Pakistan, 2018, to increase the connectivity of people with the government and attain their democratic rights more efficiently. For instance, in the 2018 elections, major parties of the country used social media platforms, especially Twitter and Facebook, for their campaigns to convey their manifesto to the citizens. However, there are certain impediments to the country's attainment of real democratic values, such as illiteracy and disparity at the digital and technological levels. To tackle the issues and attain the goal of digital democracy, the government needs to implement its policies, including Digital Pakistan Policy 2021, in true spirit. Therefore, if digital democracy prevails thoroughly, it supports the democratic culture in the country, addressing democratic issues on many fronts.
In brief, digital democracy has become the 'new normal' by replacing many traditional democratic processes. Through social media platforms, political participation has increased not only in developed countries but also in developing countries. The practice of services through social media platforms has strengthened the democratic values of the countries. Nevertheless, there are myriad setbacks of social media, which impede the progress of democratic practices. If these challenges are addressed timely, countries around the world will become digitally well-equipped states, ensuring transparency, accountability, inclusivity, and mass participation.
To sum it up, technology has changed the political landscape in today's digitalized world. Unlike traditional democratic processes, where people remain unaware and distanced from their democratic rights, digital democracy has bridged this chasm and increased civic engagement through social media. From e-petition, online discussions, e-voting, and decision-making, digital democracy has become integrated into all spheres of government procedures, helping democracies to develop in leaps and bounds. Nevertheless, there are certain shortcomings of social media, such as propagating misinformation and promoting populism and popularization, which cause democratic backsliding. Moreover, digital democracy is still a far cry in many developing countries, where the internet is not accessible to everyone. Therefore, it is essential to utilize technology to strengthen democratic culture and empower citizens. Using social media effectively would encourage public participation and flourish democracy by leaps and bounds.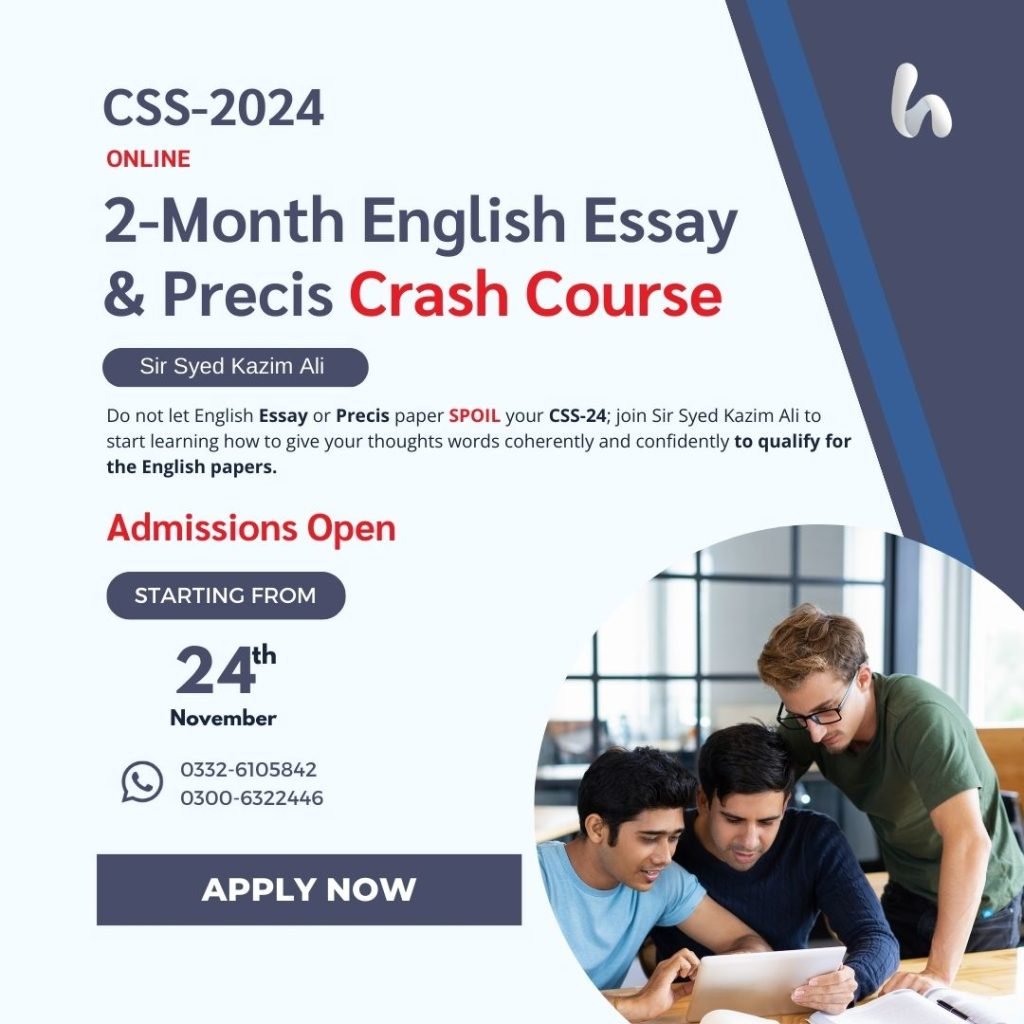 CSS Solved Past Papers' Essays
Looking for the last ten years of CSS and PMS Solved Essays and want to know how Sir Kazim's students write and score the highest marks in the essays' papers? Then, click on the CSS Solved Essays to start reading them.

CSS Solved Essays
CSS Solved General Science & Ability Past Papers
Want to read the last ten years' General Science & Ability Solved Past Papers to learn how to attempt them and to score high? Let's click on the link below to read them all freely. All past papers have been solved by Miss Iqra Ali & Dr Nishat Baloch, Pakistan's top CSS GSA coach having the highest score of their students. General Science & Ability Solved Past Papers
Articles Might Interest You!
The following are some of the most important articles for CSS and PMS aspirants. Click on any to start reading.