Write a 200 words paragraph on The Impact of COVID-19 On Global Education | The following topic was asked in the English Precis and Composition Paper of PMS 2020
Minahil Mohsin has attempted this 200-word paragraph on the given pattern, which Sir Syed Kazim Ali teaches his students, who have consistently been qualifying their CSS and PMS essays. The paragraph is uploaded to help other competitive aspirants learn how to write a 200-word paragraph; how to put arguments in it; how to connect sentences and give transitions; how to write a topic sentence; how to put evidence within the paragraph.

The Paragraph Starts From Here!
The COVID-19 pandemic has profoundly impacted global education, affecting students, teachers, and educational institutions in unprecedented ways. For example, first, to contain the spread of the virus, schools and universities around the world were closed, leading to the widespread adoption of remote learning. Second, with schools closed, distance learning has become the norm for many students, with classes being conducted online using platforms such as Zoom, Google Classroom, and Microsoft Teams. Third, remote learning has exposed existing inequalities in access to technology and the internet, with students in low-income or rural areas being particularly affected. Fourth, teachers have had to adapt quickly to remote learning, leading to increased workloads and stress levels. Finally, there are concerns that the shift to remote learning may result in learning loss, especially among students who lack access to technology or have limited support from parents or guardians. In fact, the pandemic has significantly impacted students' mental health, with increased levels of stress, anxiety, and depression being reported. Nonetheless, to address these challenges, governments, schools, and universities are exploring new approaches to education, including blended learning models that combine remote and in-person instruction and investing in technology and internet infrastructure to ensure that all students have access to remote learning. In conclusion, the impact of COVID-19 on education has been significant and widespread, and it requires continued effort and collaboration to ensure that students can continue to receive a high-quality education in the face of the pandemic.
Want to Read PMS Punjab 200-Word Solved Paragraphs?
If you are looking for the last PMS Punjab solved 200-Word paragraphs, let's click on any of the links given below to start reading them and learn how to write them.
CSS Solved Past Papers' Essays
Looking for the last ten years of CSS and PMS Solved Essays and want to know how Sir Kazim's students write and score the highest marks in the essays' papers? Then, click on the CSS Solved Essays to start reading them.

CSS Solved Essays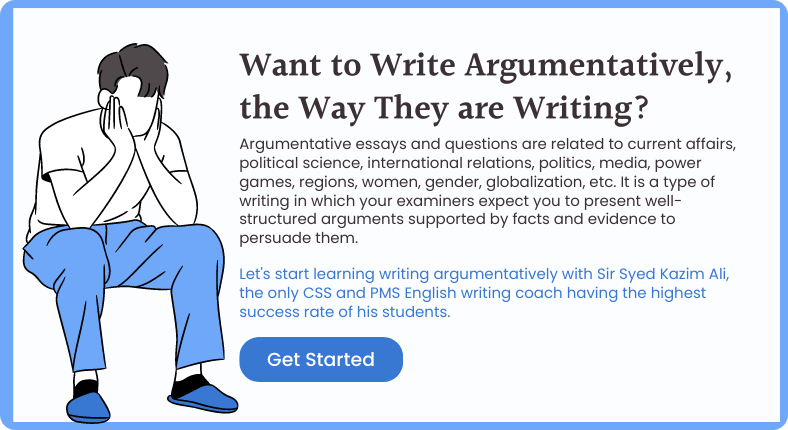 CSS Solved General Science & Ability Past Papers
Want to read the last ten years' General Science & Ability Solved Past Papers to learn how to attempt them and to score high? Let's click on the link below to read them all freely. All past papers have been solved by Miss Iqra Ali & Dr Nishat Baloch, Pakistan's top CSS GSA coach having the highest score of their students.
CSS Solved Pakistan Affairs Past Papers
Want to read CSS Pakistan Affairs Solved Past Papers and learn how to attempt them to score high? Let's click on the link below to read them all freely. All past papers' questions have been attempted by Sir Kazim's students, who scored the highest in the subject.

CSS Solved Pakistan Affairs
CSS Solved International Relations' Past Papers
Have you opted for International Relations in the CSS examination and want to score above 150? Then, click on the CSS Solved International Relations' Past Papers by Miss Abeera Fatima, the top IR scorer and the best IR coach in Pakistan.

CSS Solved International Relations Past Papers
Articles Might Interest You!
The following are some of the most important articles for CSS and PMS aspirants. Click on any to start reading.