Write a 200 words paragraph on Climate Change and its Impacts on Pakistan | The following topic was asked in the English Precis and Composition Paper of PMS 2020
Miss Rimsha Mureed has attempted this 200-word paragraph on the given pattern, which Sir Syed Kazim Ali teaches his students, who have consistently been qualifying their CSS and PMS essays. The paragraph is uploaded to help other competitive aspirants learn how to write a 200-word paragraph; how to put arguments in it; how to connect sentences and give transitions; how to write a topic sentence; how to put evidence within the paragraph.

The Paragraph Starts From Here!
Climate change has impacted Pakistan significantly, leading to various environmental, social, and economic challenges. For example, first, Pakistan has started experiencing an increase in average temperatures, leading to more frequent heatwaves and droughts, damaging crops and reducing water availability. Second, the country's monsoon patterns are becoming more intense, leading to increased flooding and landslides that cause significant damage to infrastructure and homes. Third, changes in precipitation patterns and increased evaporation due to rising temperatures are reducing the availability of fresh-water country-wide, putting pressure on agriculture and industry. Fourth, climate change is causing displacement of populations in the country, as people are forced to move from areas affected by droughts, floods, and other environmental disasters. Lastly, climate change has also led to decreased crop yields and reduced livestock productivity, putting pressure on the agriculture sector and food security. However, to address these challenges, Pakistan has to take some steps to reduce its greenhouse gas emissions and adapt to climate change's impacts. That includes investing in renewable energy, improving water management, and promoting sustainable agriculture practices. In addition, the government is working with international organizations and other countries to increase its capacity to respond to the impacts of climate change. Conclusively, climate change is a significant challenge for Pakistan, which requires continued effort and international cooperation to mitigate its impacts and to build a more sustainable future for its citizens.
Want to Read PMS Punjab 200-Word Solved Paragraphs?
If you are looking for the last PMS Punjab solved 200-Word paragraphs, let's click on any of the links given below to start reading them and learn how to write them.
CSS Solved Past Papers' Essays
Looking for the last ten years of CSS and PMS Solved Essays and want to know how Sir Kazim's students write and score the highest marks in the essays' papers? Then, click on the CSS Solved Essays to start reading them.

CSS Solved Essays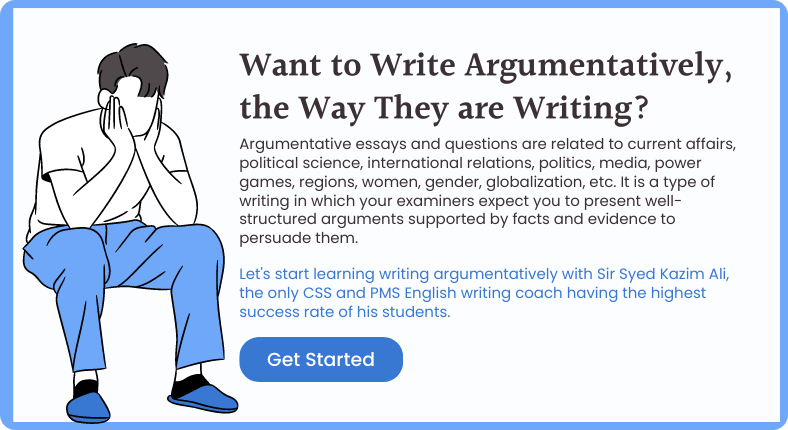 CSS Solved General Science & Ability Past Papers
Want to read the last ten years' General Science & Ability Solved Past Papers to learn how to attempt them and to score high? Let's click on the link below to read them all freely. All past papers have been solved by Miss Iqra Ali & Dr Nishat Baloch, Pakistan's top CSS GSA coach having the highest score of their students.
CSS Solved Pakistan Affairs Past Papers
Want to read CSS Pakistan Affairs Solved Past Papers and learn how to attempt them to score high? Let's click on the link below to read them all freely. All past papers' questions have been attempted by Sir Kazim's students, who scored the highest in the subject.

CSS Solved Pakistan Affairs
CSS Solved International Relations' Past Papers
Have you opted for International Relations in the CSS examination and want to score above 150? Then, click on the CSS Solved International Relations' Past Papers by Miss Abeera Fatima, the top IR scorer and the best IR coach in Pakistan.

CSS Solved International Relations Past Papers
Articles Might Interest You!
The following are some of the most important articles for CSS and PMS aspirants. Click on any to start reading.