Chicken broast, a traditional dish of Pakistan, is one of the most flavoursome dishes that fascinates everyone to serve it on fancy dinner tables, lunches, kitty parties, hi-teas, and much more. Scroll down and you would be amazed how easy and delicious the broast recipe can be.
Chicken broast, indeed, is one of the most loved foods in Pakistan. Many people like to serve it at dawat's, parties, festive dinners, and hi-tea's. The right combination of spices and love can definitely beat the taste of any restaurant's dine-in. Moreover, the recipe is supplementary to cheer the happiness of something special around makes a person drowning in the wonderful feeling of festivity, and to brew the feeling of empathy associated with near and dear one's. Thus, to uplift the outlook of one's dining it must be added in the main course meal.
To prepare marinade: 15 minutes
Frying Time: 45-50 minutes
Total time (For preparation): 60-65 minutes
Ingredients of Chicken broast
10 Servings
For Marination:
2-3 Kg Chicken (Drumstick and Thigh pieces)
3 ½ tablespoon ginger garlic paste
3-5 green chillies (small or medium sized)
4-5 lemon squeezed or 10 tablespoon of Lemon juice
4 tablespoon vinegar
3 tablespoon soya sauce
1 cup curd/ yogurt
2 Cups of cornflour
1 tablespoon oil (for marination)
Spices:
2 tablespoon red chilli flakes
1 tablespoon red chilli powder
3 ½ tablespoons of Chicken Tikka Masala
1 tablespoon Chicken Tandori Masala
2 Tablespoon Knorr crispy fried chicken (optional)
1 tablespoon Chaat Masala
1 tablespoon salt
½ teaspoon baking powder
½ teaspoon yellow food color
How to make crispy chicken broast?
Step 1: Pre-marination preparations
In a chopper (or mortar/pestle) add 10-12 cloves of garlic, 3-4 pieces of ginger, and 4-5 green chillies. Make an even mixture out of these ingredients.
For smooth marination, apply horizontal cuts on the chicken pieces.
Step 2: Marination stage
For this delicious chicken broast recipe, take a large bowl and add Chicken pieces. Now add lemon juice, ginger-garlic and crushed green chilli paste, and mix well with a spatula. While mixing these items add vinegar, soya sauce, curd and one cup of cornflour in it.
Step 3: Add spices and mix
In a plate add all spices to prepare a balanced-spices mixture for marination purposes. Add them on priorly-handled chicken and mix well until the yellow colour starts getting on marinated material. At this stage add one tablespoon of oil, and set aside for at least 4-5 hours.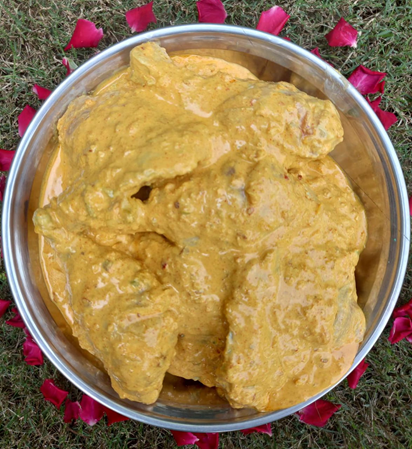 Step 4: Deep Fry
To make a super crispy chicken broast add another cup of cornflour (i.e. 1- cup). Take a pan, add oil for deep frying, and heat it on a medium flame. When oil starts getting warm add 3-4 pieces in it and fry until it changes its colour.
Step 5: To Serve
After all the chicken pieces are cooked, start plating by adding a few lettuce leaves on one corner of the plate. At that moment put chicken pieces one by one and serve with easy peasy mint chutney/sauce. Add finely cut lemon pieces on chicken for a wonderful presentation. Here and now your chicken broast is ready.
Bonus tips for marination:
Try to marinate chicken overnight to enhance its taste
Add 1 cup corn flour before frying to make it super crispy
Use big sized chicken pieces (because the size of pieces got shrunk during frying that looks clumsy)
Apply cuts on chicken to give it extra coverage of marinade.
Bonus tips for frying:
To give the broast, a nice golden color, keep the temperature of oil moderate to avoid extra dark color, and semi-cooked from inside that seems distasteful.
Add just 3-4 pieces in one go for marvelous taste and super crunchy servings.
You can check its state with the help of folk (i.e. cooked or uncooked).
Hence, nothing mesmerizes the guests more than a freshly served chicken broast. What else one needs if a heavenly-cooked and appetizing broast, served with fries and mint chutney, is right in front of him. Indeed, a wholesome course meal stuffed with vibrant spices, chopped garlic-green, and red chilli flakes right on top of its layers is enough to refresh the mood of a foodie person. The given recipe makes chicken broast terrific in taste, extremely aromatic, and delightful that can beat any rotisserie's chicken.

About Umamah Safder, the Food Reviewer:
Umamah Safder is a student of Sir Syed Kazim Ali. She, being a food reviewer, belongs to Rawalpindi. Being a food blogger in the twin cities, she has been actively involved in exploring the cities' cuisine. Reviewing the famous dishes and speciality of restaurants is her aspiration to guide tourists and visitors of the area that usually take the route of Islamabad, Rawalpindi, and Abbottabad to travel towards northern areas. Moreover, she is a good cook and shares delicious recipes with her readers. If you are interested in knowing the good restaurants, famous dishes, and culture enriched cuisine, follow Umafah The Reviewer on YouTube, Instagram, Facebook, Twitter and LinkedIn to keep yourself updated about the best restaurants in Rawalpindi and Islamabad.