Footwear selection, an important part of one's personality, presents a complete idea about a person's character even without uttering to him a single word. Selection of the shoes proves very helpful in getting the clue of one's mood, thoughts, and feelings even on a specific day or at a specific event. In addition, footwear choice is also a mirror image of a person's personality.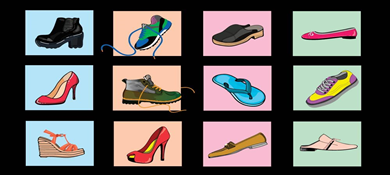 The selection of shoes is a complete depiction of a person's personality. It is an emblem of insubstantial passion. Moreover, shoes have a magical influence to change one's personality. Most people take shoe selection for granted and never bother to take care of their choice. In real, by paying little attention to it, they can improve their personality significantly. There are many types of shoes, which depict the nature and temperament of a person. Some of the shoes' types and their meanings: "Flat shoes-A Hidden Leader", "High heels-I am In charge Here", "Flip flops-Laid Back Person", "Ankle boots-An Aggressive Person", "Work boots-An Good Planner", "Sporty shoes-A Goal-Oriented Person", "Clogs-Nurturing and Outdoorsy", "Flashy shoes-Work Hard and Have Excellent Taste", "Wedges-Self-confident", "Mule-Enjoy Being the Centre of Attention", and "Sneaker buffs-Get along with Everyone". Furthermore, here are the details of different types of shoes, which tell about a person's personality more explicitly.

Flat Shoes: A Representation of Leading Qualities
Flat shoes are a clear representation of the idea that a person who wears flat shoes behaves like a leader. In addition, he has the nature to make sure that everything should proceed properly. Besides this, this shape of shoes also indicates that a person wearing them has a modest nature, which means he does not look for any appreciation or attention rather he works hard.
High heels: A Symbol of Leader
Heels are the symbol of attention grabber either at work or any other event. Wearing "High Heel Shoes" means that person has an element of efficiency in himself and tries to take things under his control. In other words, he proves himself a confident and assertive person by showing his leading attributes. Moreover, he takes sensible decisions and analyzes matters deeply. Here one can relate to the "Victoria's Secret Models" who were overlooking the "Catwalk" in High heels.

Flip flops: A Depiction of Cool Personality
Flip flops are shoes, which have an indication of meaning in themselves. These are the type of shoes, which feels a person more comfortable, relaxed, and a little sluggish. In addition, a person who uses flip-flops makes himself happy and proceeds in life smoothly. Besides this, these kinds of persons have the attributes of being friendly, sociable, and impulsive.
Ankle boots: An Illustration of Belligerent Person
Ankle boots are shoes that portray a sense of aggressiveness. It means a person wearing "Ankle boots" has aggressive nature. Likewise, he considers himself a confident, strong, and dissolute person. Apart from this, he makes others feel that they are safe in his company, and he enjoys the feeling of being the center of attention with his lively attributes.

Work boots-A Portrayal of an Amazing Organizer
These are the type of shoes, which illustrate that a person who wears them is an amazing organizer. Furthermore, these people like to make different plans even before the time. In addition, they examine the circumstances deeply and proceed accordingly. Besides this, they always proceed in a direction that they remain prepared for any kind of unpredicted happenings.
Sporty shoes: An Interpretation of Goal-Oriented Person
Sporty shoes are indicating the sense of sports, which means people who wear sporty shoes have sports' related attributes. Moreover, they have rational, goal-oriented, well-planned, and self-assured personalities. In addition, they have a huge capability of multitasking as they keep their eyes on the strategies that help them to achieve their goals. Last but not least, they are the most active, energetic, and curious people without having any age boundary.
Flashy shoes: A Social and Friendly Person
Flashy shoes are the type of shoes that cannot remain unnoticed. This is the reason that an introverted, reserved, and shy person avoids wearing them. This is a type of shoes, which forces others to notice the person who wears them. Likewise, a person who wears these shoes likes to attract others and shows that he is a brave, courageous, and bold person.
Sneaker buffs: A Depiction of Versatile Personality
This is a type of shoes which presents that a person who wears them has a versatile personality. He never bothers about age and always feels comfortable in every age group. Besides this, he makes friends and socializes with people of all ages. Furthermore, the people who wear sneaker buff have a strong will and keen interest in exploring different things. Apart from this, they are energetic and never care about the age of the people in their company.
In a nutshell, shoes are a prominent part of one's personality. These are part of communication that communicates everything about a person's personality even without saying a single word. In addition, the right selection of shoes plays a vital role in personality development and portrays one's image in society accordingly. One should select shoes with consideration and conscious effort. Last but not least, a person should give priority to the selection of shoes, which makes him feel comfortable and easy to move. As a result, it will automatically help him to maintain his confidence and provide a sense of being a decent personality within society. Therefore, conscious selection of shoes for everyone is quite an important phenomenon for presenting a healthy personality.