These 10 mysterious places are not only the best options for a tour but also provide you with some interesting historical facts.
Hundreds of century's human history have produced many phenomenal monuments that still hypnotize visitors today. There are many places in the world, historic quite mysterious, that are a must-see. Furthermore, these places provide a chance to know about the history of ancient civilization and culture. Moreover, World heritage day is celebrated every year on April 18, having the basic purpose to spread awareness among peoples about cultural diversity, additionally, teach them different ways to preserve ancient culture. This blog basically advises some mysterious places that a person must visit because these places are not only mysterious but also tell about historical facts and some fascinating facts about ancient culture. Likewise, these places provide knowledge about the cultural diversity, creativity and wisdom of man.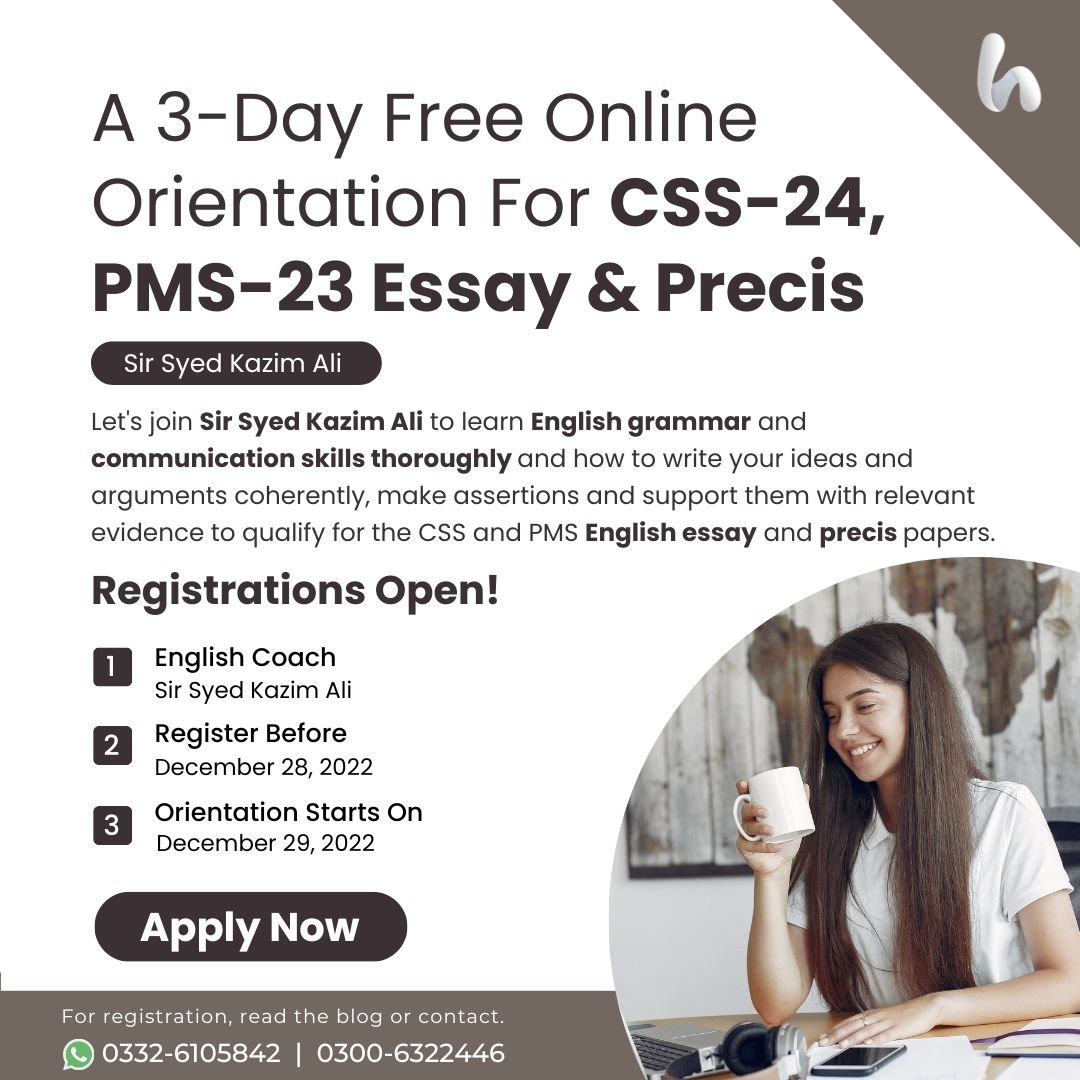 1 The Terracotta Army
The terracotta army gouges from Emperor Qin's mausoleum. It takes an area of 20,000 square meters and having three main pits. Basically, it consists of almost 8000 horses, 100 chariots and 40,000 bronze weapons. With a height of 1.75 averages, the warriors look strong and active. Moreover, generals, warriors and chariots, all are standing rank wise. Their uniform and hairstyle also vary with respect to rank. The positions of the whole army show their management skills and an example of their war tactics. Viewing these army figures and weapons, you can estimate the strategic mind of Emperor Qin, which he used to unite his country and defend his people. You must visit to know about Qin's fantastic and strategic army history.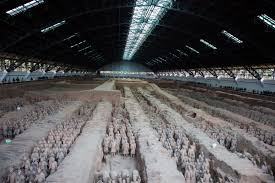 Location: Lintong District, Xi'an, Shaanxi, China
How to get there: Buy tickets from Xi'an railway station in 7 Yuan and it takes almost 1 hour and 50 mints and you will be there.
2. Stonehenge
Stonehenge is a prehistoric monument that almost spreads over 11 hectares. It is basically a circle of 50 standing stones, weighing 50 tons each stone.it is hypothesized that there is a burial mound because archaeologists discovered almost 63 human skeletons in 2013. Currently, some experts suggested that may be this place is used as an altar for ancient civilizations. To feel the beauty and mysterious look of Stonehenge, you must visit on midsummer's days especially at sunrise.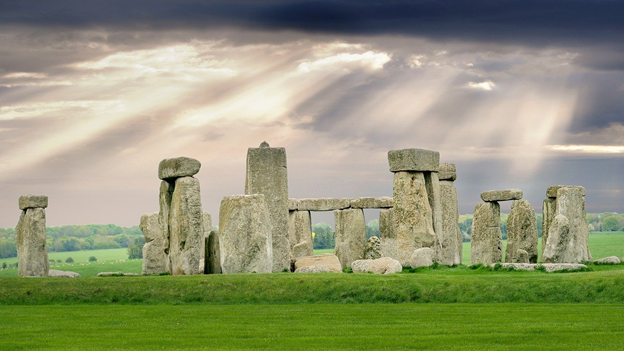 Location: Amesbury, Wiltshire, England
How to get there: In London, buy tickets from Waterloo to Salisbury and it takes almost 1 hour or half an hour and you will be there.
3. Maeshowe
A Neolithic chambered cairn that is 7.3 meters high and looks like a hill, covered with hay. It was built from flagstones, rectangular stairs with a symmetrical shape entrance. Moreover, the passage is designed in such a way that the sunlight of midwinter, light up the interior of the tomb. The most important fact about Maeshowe is that it is older than the pyramids of Pharaoh in Egypt. For a captivating view of honeycomb and green coloured hay especially at sunrise, you must visit in midwinter. It is a quite mysterious place that tells you the old historic passage tomb.
Location: Mainland, Orkney
How to get there: If you are in Orkney, Scotland, you can easily go by bus, ferry or taxi. It is more important to book in advance from Maeshowe visitors Centre.
4. The Great Pyramid of Giza
The great pyramid of Giza, also known as the pyramid of Khufu is the largest and oldest pyramid complex and the largest stone architecture ever in history. Archaeologists believe that this complex was built between 2566 and 2589 BC. Mysterious sculpture of Sphinx made up of limestone. There is a lot of confusion about the construction of these pyramids that how the heavy stones shifted at such high altitudes in ancient times. It is said that Pharaoh Khufu was on a tour to inspect his mausoleum, the sphinx construction idea came into his mind and he ordered to build it. The Sphinx is 20 meters high and 57 meters wide. The visit to this mysterious great pyramid provides you with interesting facts about history.

Location: Egypt
How to get there: If you are in Cairo, take a bus from Tahrir square and then from the bus stop to the pyramids, you can take a horse or camel ride to travel next, which is not a large distance.
5. The Summer Palace
The Summer Palace is situated in Beijing, China. It is the largest preserved garden in the world. It is also known as the garden of restful peace which is known as "Yihe Yuan" in the Chinese language. It is a complex of gardens, lakes, and hills. Historical evidence tells that in 1860, the British burnt down the nearby old summer palace, and looted it in the second opium war, French were also with them. In short, the summer palace is a great natural place to visit. You must visit this mysterious and natural place to know some interesting historical facts.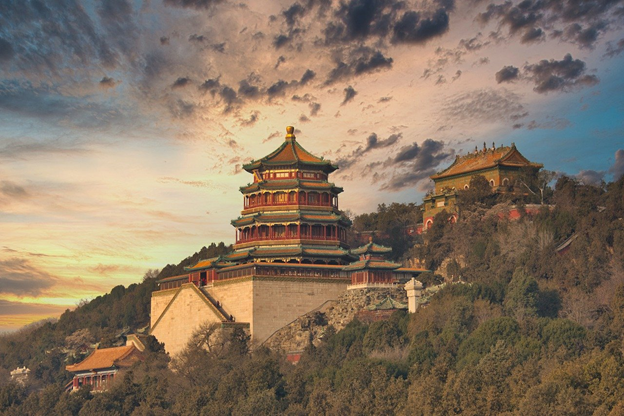 Location: Haidian District, Beijing, China
How to get there: There are two ways to get there. You may buy bus tickets from East, West, and North, gates. Currently, to the New Palace Gate: Take bus 74, 374, or 437, and get off at Xin Jian Gong Men (Yiheyuan New Palace Gate) Station. You can get there through the subway.
6. Easter Island
Easter Island, or Rapa Nui, is composed of three volcanoes; the triangle-shaped island is one of the foremost concealed islands within the world. Just like the Juan Fernandez Islands, Easter Island may be a region of Chile within the Southern Pacific Ocean. Isolated because it is, individuals around the world keep running to this little island because it is domestic to a few hundred legendary antiquated human statues – the moai. The moais are giant carvings, with the tallest taking off upwards of 21.6 meters. Interestingly, a few moais wear gigantic stone caps, which remained a riddle for a long time. A British archaeological group found out that the stone materials utilized for carving the caps were from a quarry that had never been investigated and the caps are an image of control.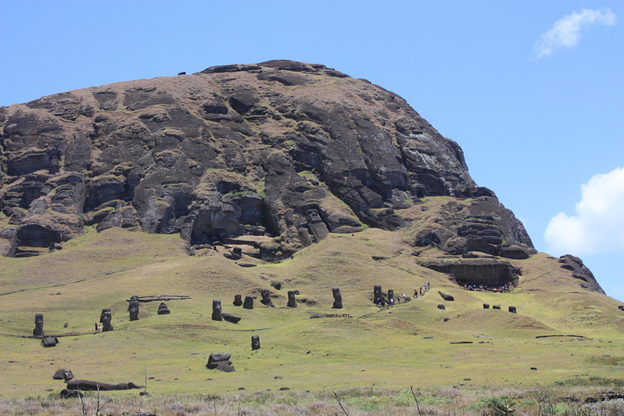 Location: Chile
How to get there: If you are in Santiago, Chile. Only 1 flight, named LAN airlines flies daily from Santiago to Easter Island.
7. Machu Picchu
Machu Picchu may be a well-preserved pre-Columbian Inca town tall up within the Andes Mountains of Peru. This awe-inspiring antiquated city was never found by the conquering Spaniards and was for all intents and purposes overlooked until the early portion of the 20th century. As the foremost critical archaeological location in South America, Machu Picchu, with its one of a kind area and legendary root, could be a major traveller draw as the exceptional image of the Inca empire. In 1983, Machu Picchu was announced a UNESCO World Legacy Location and is one of the few locales that has been recognized around the world for its normal and social legacy.
Location: Peru
How to get there: you can easily approach Machu Picchu by train from Cusco and then by bus towards the entrance of town.
8. Chichen Itza
Chichen Itza, arranged in south-central Yucatán State, Mexico, is considered a destroyed Maya city. The location, 3 kilometres long and 2 kilometres wide possesses a region of 10 square km. Chichen Itza means "At the mouth of the well of the Itza" With several hundred old buildings, Chichen Itza could be a famous archaeological location of Maya and Toltec cultures. The southern portion of the location is the ancient Chichen region, which is accepted to have been built between the seventh and 10th centuries. The new Itza sculpture and carvings Northern area depicts the pure Toltec culture. You must visit to know about the amalgamation of two cultures.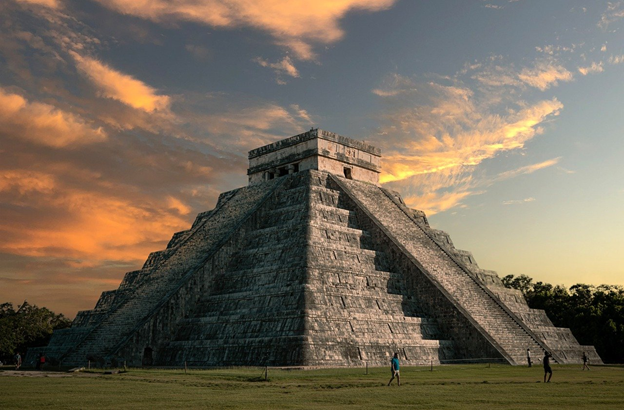 Location: Yucatan, Mexico
How to get there: In Mexico, from Cancun or Merida city, you can easily hire a car or taking a Chichen Itza tour. It almost takes 2-3 hours and you will be there.
9. Underwater Pyramids in Portugal
In 2013, an immense submerged pyramid was found by a fisherman within the Azores, an independent locale having a place in Portugal. Found approximately 1,500 kilometres west of Lisbon, the structure measures 60 meters in height. An intensive investigation propelled by the Portuguese Naval force is underway. It's accepted that the pyramids may be a remnant of the misplaced city Atlantis, and progressed amazing ancient civilization. These underwater pyramids are mysterious rather interesting to visit.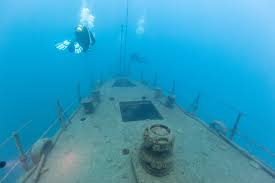 Location: Azores Islands, Portugal
How to get there: If you are in Portugal, travelling towards Azores Island through fairy is the best option and the cheapest source of travel.
10. Por-Bazhyn
Por-Bazhyn was first explored in 1891, as a ruined structure, which is situated in the southern part of Russia's Tuva, almost a dozen miles away from the Russian border with Mongolia. Excavations at Por-Bazhyn have recommended it bears a striking likeness to locales having a place to the Tang Tradition (618-907), which are illustrated by its rectangular establishment, matched staircases connected to the building façade, vertical pillars, carved bars and ceramics titles. Archaeologists hypothesized that this location was a summer palace for Tang Princess Ningguo.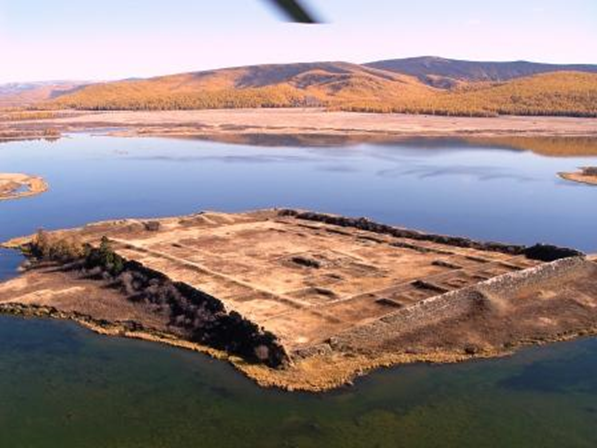 Location: Tuva, Russia
How to get there: If you are in Russia, from Tuva Republic you can visit with any local person otherwise it's difficult to visit this ruined structure.
Conclusions
In conclusion, the above mentioned 10 mysterious places are not only the best options for the tour but also provide you with some interesting historical facts. It would be a great opportunity for an adventurous mind person to visit and learn from history and know about the wisdom and creativity of man. The locality and travel guide has also been provided, which may be helpful for you to decide a suitable place according to your interest.
Are you looking to learn English communication skills to qualify for the CSS and PMS English essay & Precis papers? Let's join Sir Syed Kazim Ali and learn how to give your ideas and thoughts words, fluently and confidently.

CSS & PMS 2024 Extensive English Course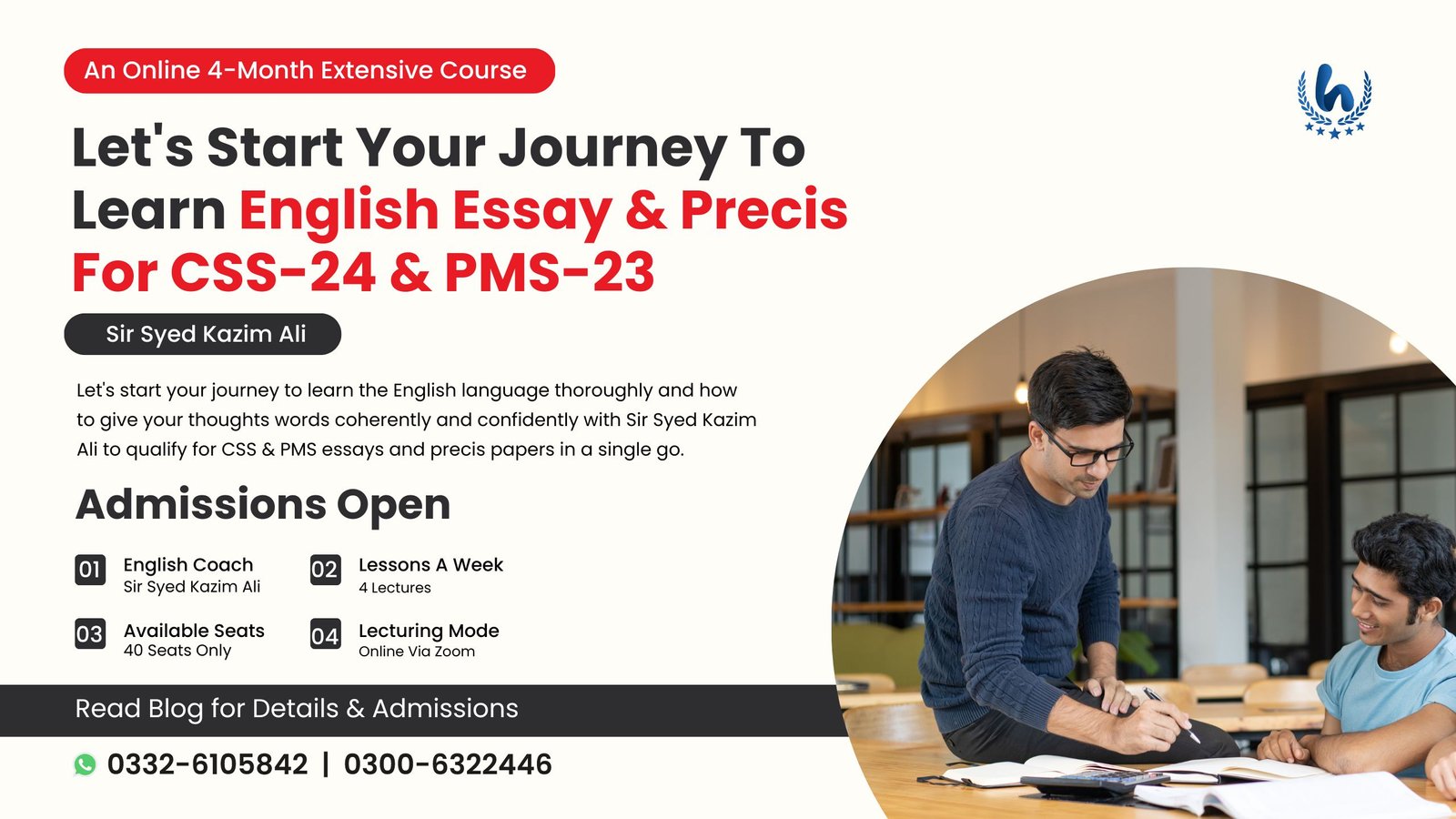 About Iqra Ishaq
Iqra Ishaq is a student of Sir Syed Kazim Ali. She is a science teacher by profession. She has done her Master's in Zoology and M.Phil in Wildlife and Ecology. However, her passion fuels her to fulfil her dreams to become a writer, coach, and researcher. With time, she is steeping forward and achieving her little milestones through hard work and consistency. She explores and writes on different niches: science, environment, fashion and beauty. Moreover, being an expert zoologist, she has also started solving the CSS, PMS, and F.sc past papers, zoology and biology, to help thousands of students. She is solving these questions on the given pattern and techniques of Sir Syed Kazim Ali, and the way she attempts questions has been helping aspirants score the maximum marks.