In our society, it is common practice to prefer international and costly branded medicines to generic ones. However, you can save some cash without compromising medicine efficacy, safety, and quality.
Brand names of the medicines are given by the manufacturers, while generic names of the medicines are based on their action and chemical nature. A brand name has a specific generic name depending on which active ingredient is present in the dosage form. Whereas a generic name has different brand names based on which pharmaceutical company is formulating that medicine. For example, paracetamol is a generic name. However, Panadol®, Calpol®, Tylenol®, Panaram®, Vamol®, and Pracmol® are the brand names of the paracetamol available in Pakistan. Ibuprofen is the generic and brand name of the medicine available in the market.
Drug Regulatory Authority of Pakistan (DRAP) directed all the provincial governments to ensure that medicines can only be prescribed with their generic names by doctors in all private and public healthcare units in November 2021. It is a common practice in developed nations like U.S. and U.K. It was recommended due to the malpractice in the country, where pharmaceutical companies are accused of offering high financial incentives to medical practitioners to promote their brands over others.
| | | |
| --- | --- | --- |
| Generic Medicines | | Branded Medicines |
| Not Sold under the manufacturer's name. | | Sold under a manufacturer's name. |
| Formulated after the patent expires. | | Protected by patent laws for a specific period. |
| Economical because it depends on others' research. | | Expensive because it is developed after research. |
| Formulation and chemical composition are precisely like branded medicines. | | The chemical composition is formulated by the researchers of the company. |
Table by Sumaira Faiz
According to the U.S. FDA (Food and Medicine Authority), generic medicines should be in the same dosage forms (tablets, capsules, syrups), have the same strength (5mg, 500mg), have similar efficacy, and have equivalent safety as their respective brand medicines. However, when a new medicine introduces in the market after almost ten years of meeting rigorous safety and efficacy standards, it becomes the intellectual property of the innovator company. It enjoys patent rights for 20 years and the sole right to manufacture and sell at the desired price in the market. On completion of 20 years, other companies begin to manufacture that medicine with their generic names, and then the price decreases as new competitors arise.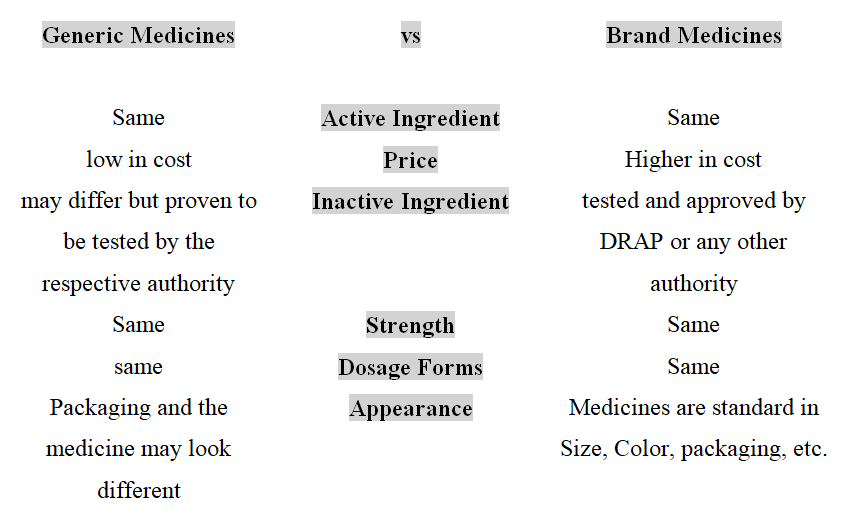 The accessibility of over-the-counter medicines (medicines that do not require a prescription and can be obtained from pharmacies or medical stores) with their generic names can be more economical and pocket friendly to consumers in these high inflation days. The appearance, like colour and size, can be somewhat different from the brand names. However, there should not be any difference in the active ingredient, strength, efficacy, and safety.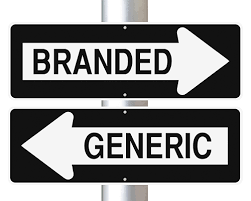 Pharmacists can counsel which generic over-the-counter products should be as effective as the original. However, a consumer may choose one product over another because of appearance, taste, consistency, or other characteristics.