Long necks of giraffes are truly fascinating for everyone. However, nobody probably knows that the giraffes and humans amazingly have the same number of neck bones.
The neck of a giraffe, just like humans, consists of seven bony cervical vertebrae. Although the giraffe's neck is about eight feet high, the total numbers of vertebrae are only seven (C1-C7), the same number as humans have. However, unlike humans, each vertebra in the neck of the majestic ruminant is around thirty times longer and more flexible. Hence, the large vertebrae link together to form the famous long necks we all adore. Surprisingly, the giraffe towers over the rest of the ruminants in the world, and about half of the height comes from its neck.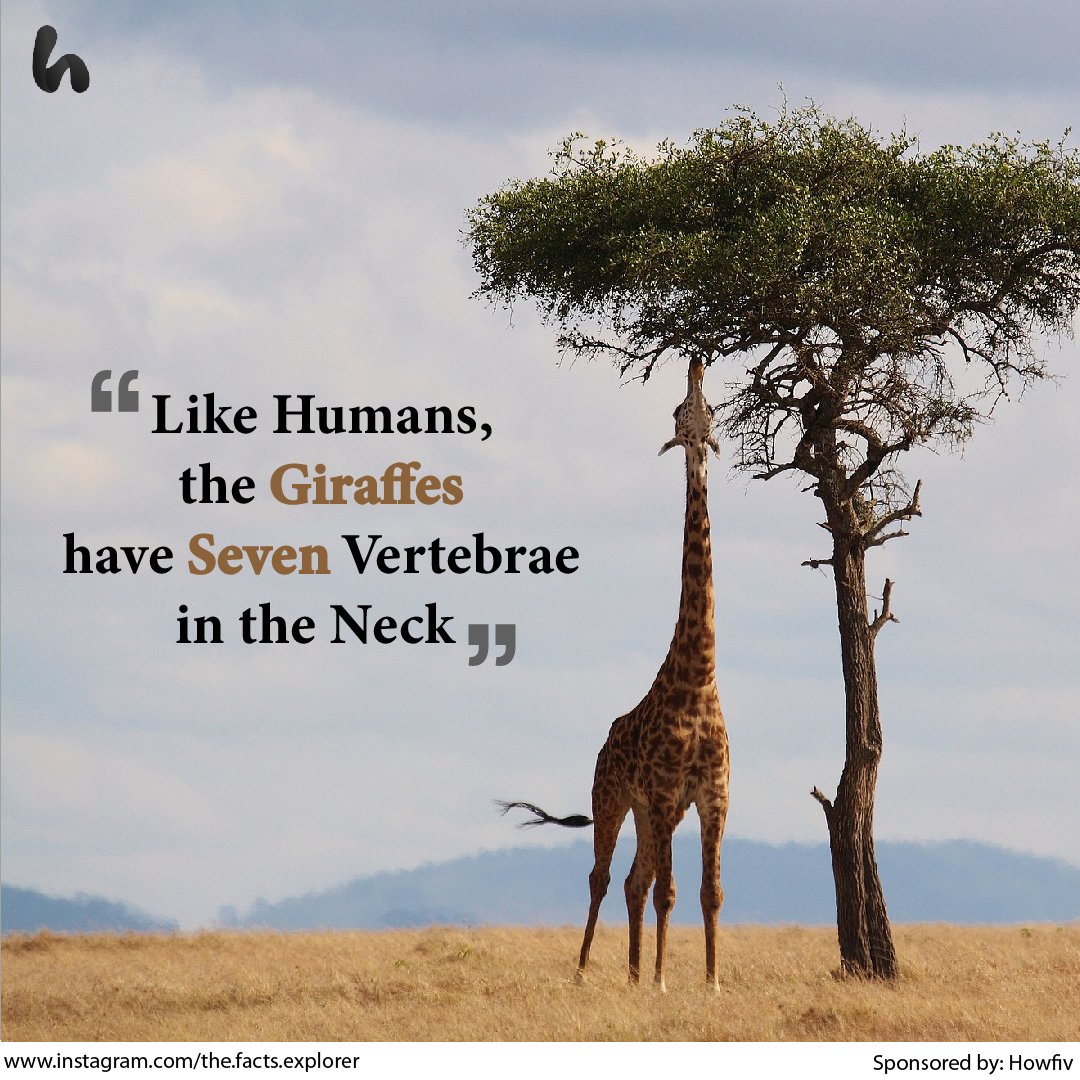 Moreover, the giraffe's neck is way more flexible than human scrag because its cervical vertebrae are joined together by ball and socket joint, offering a 360- degree rotation and permitting the giraffe to extend its head almost perpendicular to the ground. As a result, many scientists believe in the existence of eighth cervical vertebrae (C8) in the giraffe's neck, which allows such high mobility. However, it is the first thoracic vertebrae (T1), not the C8, which makes the neck highly flexible, and permits the giraffe to extend its head almost perpendicular to the ground.
Contrarily, in humans, necks are relatively way less flexible and short despite possessing equal numbers of cervical vertebrae to the giraffes. Lastly, giraffes use necking, a behaviour in which giraffes swing their long necks against each other to compete with other giraffes. Thank God humans don't have such long flexible necks because necking would have been a prevalent act in their daily lives. Therefore, humans should be aware of the dwarfness of their channels before interfering with their necks in other person's matters.
"Do you know? It takes me 2 hours a day to write such an exciting fact for you so that I could help you know the best around the world. And it will take you just a single click to share the fact with your family and friends. If you like the fact, kindly help me spread my work across Pakistan. To share is to educate."

A Polite Request by Iqra to All of Pakistani People

About Iqra Ali, the Facts Explorer:
Iqra Ali has been Pakistan's youngest facts explorer. Unfortunately, social media bloggers and vloggers promote low-quality products and brands just for PR packages; she researches and explores different niches: travel, fashion, technology, food, spices, clothing, cosmetics, etc., and explains them into facts to help her readers decide the best. Besides being a professional portrait and wedding photographer, she has covered many weddings in Punjab and portrayed many famous personalities on demand. She has been recognised among thousands of her readers because of her unique writing style and honest reviews, making her readers smile, be well-informed, and lively. If you are also interested in knowing the most amazing, unique, and striking facts about Pakistan and the world, follow her on Instagram, Facebook, and LinkedIn to keep yourself updated about the happenings around you.
More Facts by Iqra, the Facts Explorer