Do you think only owls can see in the dark? But, beholden to night vision technology, humans can now see even at the darkest nights. Night vision technology has revolutionized humans sight, especially in the dark. Let me explain to you how it enables humans to see in the dark.
Night vision technology(NVT), using night vision devices, allows one to see in environmental conditions with little or no light. Since World War II, the military has used night vision technology for navigation, surveillance, and locating enemy targets at night. However, today, many private investigators and business people use the NVT operating cameras to monitor the surroundings. Night vision Technology works on the principle of converting infrared light into visible light through a channel of photocathode and phosphor. As infrared light has a wavelength longer than visible light, it cannot be detected by the naked human eye. Hence, it needs to be converted into visible light. For this purpose, the first step is the entrance of infrared light waves from a dark environment into a Photocathode- converting infrared light waves into electrons- through the front lens of the night vision device. The emitted electrons then strike the phosphor screen, which converts electron energy into visible light energy. Thus, the human can see and analyze the produced visible light via an eyepiece.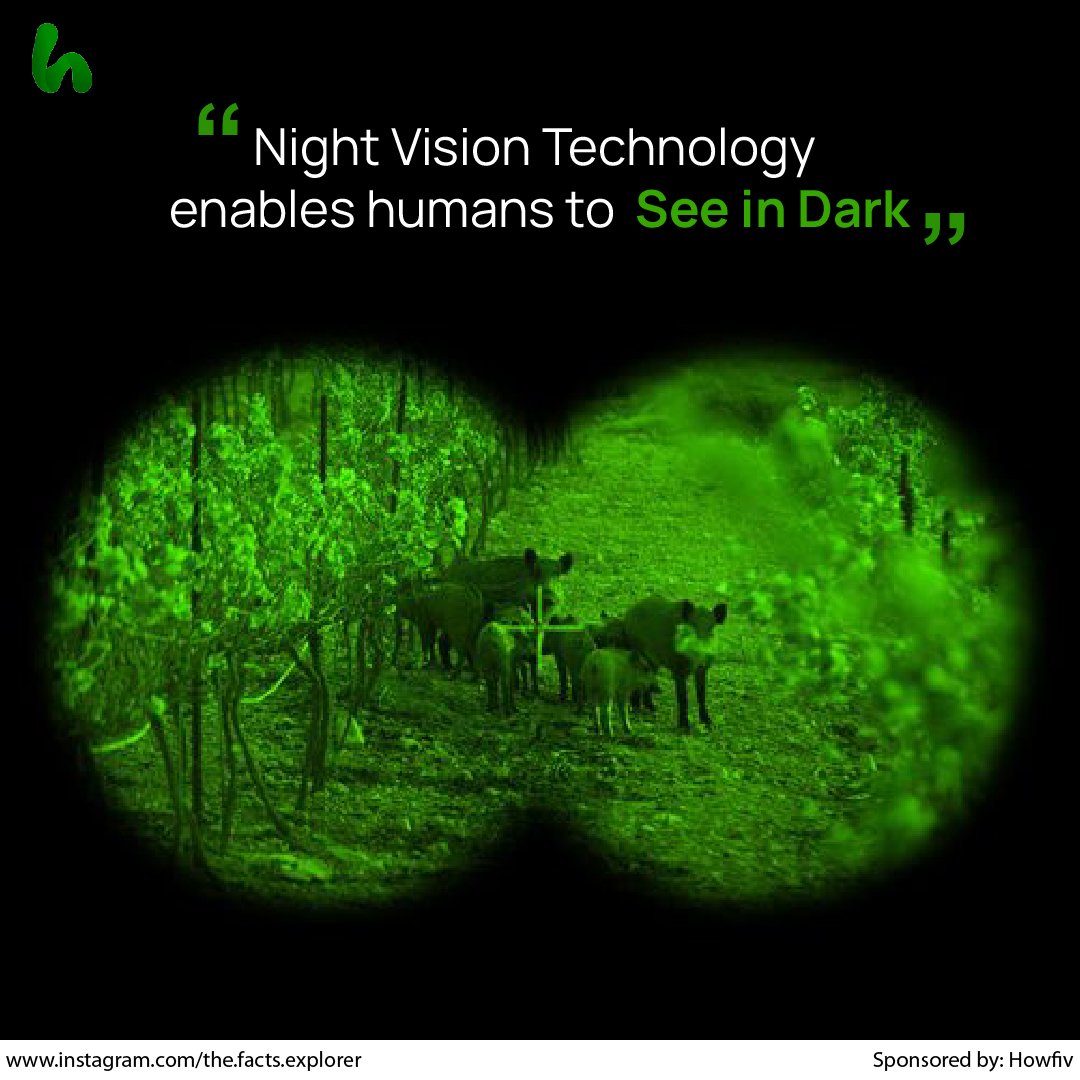 Previously, only the green images could be obtained from night vision technology because human vision can differentiate between many more shades of green than any other colour. However, now devices with white phosphor are also available that can produce black-and-white images. Under night vision technology, generally, three main types are explained: image intensifier night vision, digital night vision devices, and thermal imagers. However, they all work on the same abovementioned procedure.
Hence, in the modern-day, as the night vision devices are no longer limited for military uses, people can use them every day to discover the unique dark world, camp and hunt at night, and satisfy their curious thoughts.
"Do you know? It takes me 2 hours a day to write such an exciting fact for you so that I could help you know the best around the world. And it will take you just a single click to share the fact with your family and friends. If you like the fact, kindly help me spread my work across Pakistan. To share is to educate."

A Polite Request by Iqra to All of Pakistani People

About Iqra Ali, the Facts Explorer:
Iqra Ali has been Pakistan's youngest facts explorer. Unfortunately, social media bloggers and vloggers promote low-quality products and brands just for PR packages; she researches and explores different niches: travel, fashion, technology, food, spices, clothing, cosmetics, etc., and explains them into facts to help her readers decide the best. Besides being a professional portrait and wedding photographer, she has covered many weddings in Punjab and portrayed many famous personalities on demand. She has been recognised among thousands of her readers because of her unique writing style and honest reviews, making her readers smile, be well-informed, and lively. If you are also interested in knowing the most amazing, unique, and striking facts about Pakistan and the world, follow her on Instagram, Facebook, and LinkedIn to keep yourself updated about the happenings around you.
More Facts by Iqra, the Facts Explorer