CSS Solved Criminology Past Papers | Discuss the role of FIA in controlling organized crimes in Pakistan.
The following question is attempted by Sobia Kausar, the top scorer in the CSS Criminology paper. Moreover, the answer is written on the same pattern, taught by Sir to his students, scoring the highest marks in compulsory subjects for years. This solved past paper question is uploaded to help aspirants understand how to crack a topic or question, how to write relevantly, what coherence is, and how to include and connect ideas, opinions, and suggestions to score the maximum.

Question Breakdown:
In this question, the examiner has asked two things to explain. Firstly, elucidate the role of FIA. Secondly, Pakistan is facing multiple social problems nowadays, and organized crimes are one of them. So, in this context, the examiners want your opinion on how FIA is playing its effective role in controlling organized crimes in Pakistan. In order to answer this question, you must have to raise at least 8 to 10 arguments with valid and relevant evidence and vice versa. Moreover, if you want to fetch a good score in criminology, then it is pertinent to apply relevant theories so that your question gets maximum weightage and fetch you good marks. Furthermore, I have written a comprehensive and brief outline and solved the question to help you break such questions down, deal with them, and attempt them on paper. If you read it carefully, you will know how I scored the highest marks on the paper.
Outline
1- Introduction
2- What are organized crimes?
3- Historical perspective of FIA
4- Significance of FIA
5- Investigative powers of the FIA:
6- FIA's approach to controlling organized crime
7- How FIA is playing its effective role in Controlling these Organized crimes in Pakistan
✓Drug trafficking
✓Smuggling of migrants
✓Money laundering
✓Trafficking in firearms
✓Corruption
✓Some aspects of Cyber crimes
8-Challenges faced by the FIA in controlling organized crimes in Pakistan
9- Conclusion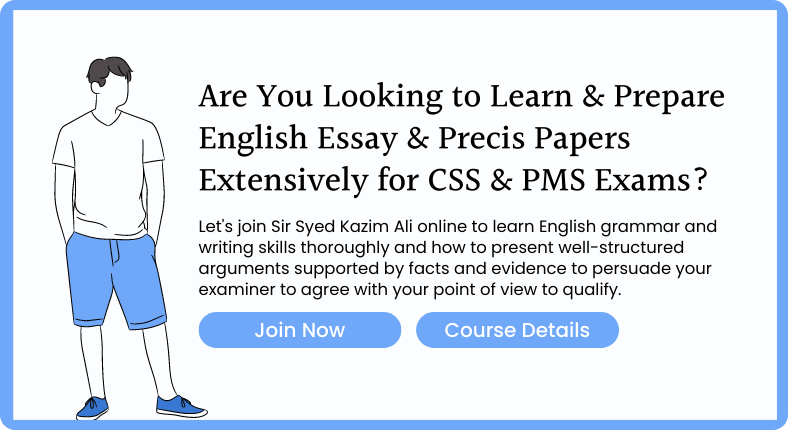 Introduction:
Crime is a complex matter which changes its dynamics in different cultures, and times. People think, deal with, and treat crimes in different ways. This is where the concept of crime control and prevention agencies arises. In preventive criminology, prevention is the first line of defence against crimes. In Pakistan, various high frequency organized crimes are being reported in the last decade. To curb this dilemma, the crime-controlling organization, Federal Investigation Agency (FIA) came into existence, which is playing its role effectively to control these crimes on a priority basis. FIA has brilliantly played its role in promoting the culture of merit in different governmental institutions by eliminating corruption and discouraging the formation of groups that would involve in heinous crimes later on. Thus, its role in controlling organized crimes is phenomenal.
What are organized crimes?
Organized crimes are the complex of highly organized enterprises set up to engage in illegal activities. Such organizations engage in offenses such as theft, fraud, robbery, kidnapping for ransom, and the demanding of "protection" payments.
Under the United Nations (UN) Convention against Transnational Organized Crimes, an "organized criminal group" is defined using four criteria:
A structured group of three or more persons that were not randomly formed.
The group exists for some time.
It acts in concert with the aim of committing at least one serious crime.
To obtain, directly or indirectly, a financial or another material benefit.
Historical Perspective of Federal Investigation Agency:
A Federally controlled Police Establishment first came into existence in 1942 during the Second World War to take up investigation of corruption, rampant in the Supplies and Procurement Department of the then Government of India. It was named a Special Police Establishment. After its Independence in 1947, it was named as Pakistan Special Police Establishment (PSPE). The requirements of the Federal Government regarding investigations of criminal offenses kept on increasing and Mr. G. Ahmad in his report on "Police Reforms", submitted to the Cabinet on 07-04-1972, recommended the establishment of a Federal Police Organization to deal with Smuggling, Narcotics, Currency offenses, Enforcement of Laws relating to Foreigners, Immigration & Passports and offenses having an inter-provincial ramification. Consequently, the FIA Act, 1974 (Act-VIII of 1975) was promulgated on 13-01-1975, bringing Federal Investigation Agency into existence. It works under the Ministry of Interior. It also takes international operations with close coordination and cooperation of "INTERPOL". The Director General of FIA is given the administration under section 4 (2) of the constitution.
Significance of Federal Investigation Agency (FIA):
FIA is a border control, criminal investigation, counter-intelligence, and security agency under the control of the interior secretary of Pakistan, tasked with investigating jurisdiction on undertaking operations against terrorism, espionage, federal crimes, smuggling as well as infringement and other specific crimes.
Investigative powers of the FIA:
FIA has the legal authority to investigate federal crimes as well as other transborder crimes. It has the power to search and seize evidence. If this department has found any suspicious evidence, then it has the legal authority to wiretap phones and monitor electronic communication. Apart from this it also works in cooperation with international law enforcement agencies such as ''INTERPOL''.
FIA's approach to controlling organized crime:
The techniques used by the FIA while controlling organized crimes are as follows.
Intelligence gathering
Surveillance and monitoring
Undercover operations
Raids and arrests
Prosecution and conviction of criminals
How FIA is playing its effective role in controlling these Organized crimes in Pakistan?
In control of drug trafficking, FIA is holistically playing its role. For this purpose, FIA is working in close collaboration with other governmental agencies such as the Anti-narcotic force and United Nations Office on Drugs and Crime (UNODC) to combat drug trafficking and related crimes. The Drugs Act, of 1976 provides the basis of enact such situations. In addition to its enforcement efforts, the FIA also raises awareness about the dangers of drug abuse and addiction through public education campaigns. These campaigns aim to educate the public about the negative effects of drug abuse and the importance of staying away from drugs.
Human trafficking is one of the burning issues at national and international levels. It is, therefore, being focused on by the Government accordingly. A steering committee has been established in the Ministry of Interior to monitor and review combating efforts against human trafficking. The Joint Secretary (Security) of the Ministry of Interior has been declared as a focal point for the coordination and exchange of information. FIA being the lead Agency has established Special Unit to be called Anti Trafficking Unit (ATU) at FIA headquarters to deal with all matters relating to human trafficking more effectively. FIA performs its action according to the Prevention of Smuggling of Migrants, Act 2018. It is reported that 13,602 off-loaders and 41,309 deportees were recorded in Inter Border Management System of FIA in 2021.
To curb money laundering in Pakistan, FIA is working in collaboration with the State Bank, the Financial Monitoring Unit, and the Securities and Exchange Commission of Pakistan. To make its performance more effective, FIA has established an Anti-money laundering (AML) cell which is responsible for investigating and gathering information regarding money laundering cases. In addition to this, FIA also works in close collaboration with international agencies such as Financial Action Task Force (FATF) to prevent money laundering. The Anti-Money Laundering Act, of 2010 deals with such cases.
As Pakistan, Terrorism has affected the country for a few decades. Trafficking in firearms has played major role instability of the country's peace. To address this issue, the FIA is actively involved in investigating cases of firearms trafficking and working to prevent the illegal import, export, and possession of firearms in Pakistan. The agency has a specialized Anti-Terrorism Wing (ATW) that is responsible for investigating cases related to terrorism, including those involving illegal firearms. To make it more doable, FIA is working closely with other law enforcement agencies, such as Police, customs, and intelligence agencies to identify and punish the involved authorities. The Pakistan Arms Ordinance, 1965 has given instructions to FIA.
Some aspects of Cybercrimes:
Cyber Crime Wing, formerly known as National Response Centre for Cyber Crime (NR3C), has been added to FIA's mandate to deal with growing complaints of cyber-crimes. It has specialized units which investigate complaints received from individuals, the corporate sector, and the government department relating to cyber-crimes. It also safeguards cyberspace against any misuse or abuse. Cyber Crime has taken many initiatives to educate the nation about the seriousness of Cybercrimes. It issues advisory Notes and alert messages against cyber threats through social media. Cyber Rescue 1991 is also providing 24/7 services to help the victims of Cyber Crime.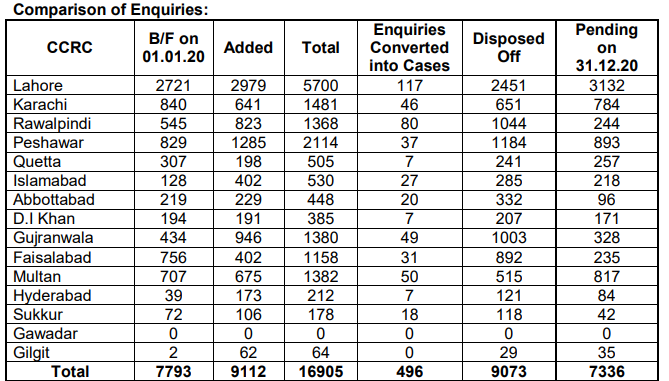 Since its inception, Pakistan has been facing corruption in all spheres. Therefore, it is necessary to curb this as early as possible. FIA is playing a major role in controlling corruption, fraud, and embezzlement-related cases. The FIA plays a vital role in controlling corruption in Pakistan through various measures, including:
Investigation and Prosecution: The FIA investigates and prosecutes corruption cases involving public officials, politicians, and private individuals. The agency has the authority to investigate money laundering, bribery, embezzlement, and other financial crimes.
Prevention and Awareness: The FIA raises awareness about corruption and its negative impact on society through campaigns and educational programs. It also works to prevent corruption by conducting audits and monitoring financial transactions to ensure compliance with anti-corruption laws.
International Cooperation: The FIA collaborates with international agencies, such as the United Nations Office on Drugs and Crime (UNODC), to exchange information and expertise in combating corruption.
Asset Recovery: The FIA is also responsible for recovering assets obtained through corrupt means, including funds held in offshore accounts and properties purchased with illicit funds.
Challenges faced by the FIA in controlling organized crimes in Pakistan:
Various challenges act as a barrier to the performance of the FIA. Some of them are.
Corruption within the agency
Lack of resources and funding
Inadequate training and technology
Political interference
Conclusion:
In a nutshell, the overall performance that has been shown by the FIA is tremendous. Besides all the barriers, FIA is expanding its popularity with each passing day. The role of FIA in controlling organized crimes cannot be denied. It is the outcome of the tireless efforts of FIA that the rate of organized crimes in Pakistan has been reduced drastically. After witnessing the performance of FIA, the people of Pakistan are putting their trust in FIA for resolving many issues. Now, there is a dire to address the challenges that compromise the efficiency of FIA on a priority basis so that it can work in the best possible way in the future.
CSS Solved Past Papers' Essays
Looking for the last ten years of CSS and PMS Solved Essays and want to know how Sir Kazim's students write and score the highest marks in the essays' papers? Then, click on the CSS Solved Essays to start reading them.

CSS Solved Essays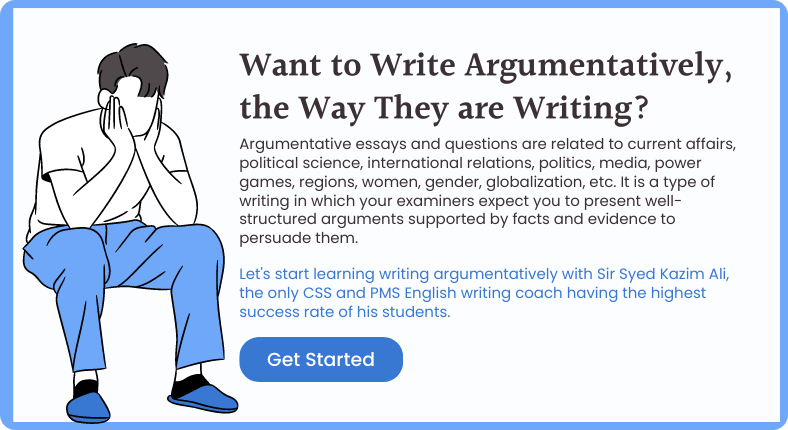 CSS Solved General Science & Ability Past Papers
Want to read the last ten years' General Science & Ability Solved Past Papers to learn how to attempt them and to score high? Let's click on the link below to read them all freely. All past papers have been solved by Miss Iqra Ali & Dr Nishat Baloch, Pakistan's top CSS GSA coach having the highest score of their students.

General Science & Ability Solved Past Papers
CSS Solved Pakistan Affairs Past Papers
Want to read CSS Pakistan Affairs Solved Past Papers and learn how to attempt them to score high? Let's click on the link below to read them all freely. All past papers' questions have been attempted by Sir Kazim's students, who scored the highest in the subject.

CSS Solved Pakistan Affairs
CSS Solved International Relations' Past Papers
Have you opted for International Relations in the CSS examination and want to score above 150? Then, click on the CSS Solved International Relations' Past Papers by Miss Abeera Fatima, the top IR scorer and the best IR coach in Pakistan.

CSS Solved International Relations Past Papers
Articles Might Interest You!
The following are some of the most important articles for CSS and PMS aspirants. Click on any to start reading.