CSS Solved 2020 Business Administration Past Paper | Discuss that Management is an Evolutionary Process. Substantiate your answers through commenting on Contributions made by Taylor, Weber and Mayo.
The following question is attempted by Miss Nimra Masood, the top scorer in CSS Business Administration papers. Moreover, the answer is written on the same pattern, taught by Sir to his students, scoring the highest marks in compulsory subjects for years. This solved past paper question is uploaded to help aspirants understand how to crack a topic or question, how to write relevantly, what coherence is, and how to include and connect ideas, opinions, and suggestions to score the maximum.

Topic Breakdown:
Topic: Management Theorists and Evolution
Subject: Principles of Management
Business management has been through an evolutionary process for decades. From focusing on task-oriented functions to prioritizing human relations, management has progressed significantly. A clear understanding of management theories assures the CSS examiners of a good understanding of the subject.

Introduction:
Management is one aspect of science that has continued to evolve since its evolution. The evolution of Management can be divided into four parts: Pre-Scientific Management, Classical Management, Neo-Classical Management and Modern Management Era. Throughout all four stages of evolution, management has inculcated new concepts and ideas in its practices. Classical theorists like Fredrick Taylor focused on the organizational structure to achieve organizational goals. Neo-Classical Theorists like Elton Mayo focused on human relations within the organization for the accomplishment of goals. At last, Modern management thinkers like Max Weber focused on the impact of the environment on the organizational output. Thus management has gone through a very long process of evolution and is still unfinished.
Evolution of Management in Different Eras:

1) Pre Scientific Management Era: (Before 1880)
Major Contributors
Charles Babbage
Robert Owen
Concept:
Management has been in practice in one form or the other since the existence of civilizations. Every system of governance is based on management. Robert Owen in 1828 advocated that workers be treated as human beings, which were under immense exploitation by then. He further minutely observed the factors that influenced productivity. Later on, Charles Babbage came up with his own contributions insisting that precise knowledge, observation and measurement were key to effective decision-making.
2) Classical Management Era: (1880-1930)
Major Contributors
Henri Fayol
F.W.Taylor
Frank and Lillian Gilberth
Concept:
The classical management era is divided into two groups
A- Process Management School
This group of management theories believes in dividing human resources into groups for organizing experience so that practice can be improved. According to this group, the process remains the same in all group activities. Henri Fayol is considered the father of this school of thought. He laid down 14 principles of management that are universally applicable.
B- Scientific Management School
The second school of thought in the classical management era is scientific management which believes in careful observation, objective analysis and innovative outlook. Fredrick Taylor is considered the father of this school.
✓ Contribution Made by F.W.Taylor
Taylor made the first organized effort to study management in a scientific way. His work mainly revolves around improving efficiency. Taylor put forward the following principles of Scientific Management:
1. Replacing the old rule of thumb with a scientific approach to each worker's activity
2. To introduce formal scientific methods of training and recruiting the workforce.
3. Collaboration among the workforce is necessary
4. Equal division of work and responsibility among the management and workers.
✓ Major Contributions
1. Broke down each goal into smaller tasks and examined how the best workers performed these tasks
2. Analyzed time management by examining the number of activities performed by workers each day.
3. Developed a task management system for the first time in which employees and management were both given clear directions.
3) Neo-Classical Management Era: (1930-1950)
The third phase of evolution is the neo-classical management school of thought. As competition grew and business expanded, the companies desired for even higher efficiency level. This school of thought further illustrated classical management by emphasizing the need for building strong emotional bondage. The era has two further schools of thought.
Major Contributors
Elton Mayo
Maslow
Mcgregor
A. Human Relations School:
This school of thought was a natural response to some of the issues related to the scientific management school of thought. This theory recognized that social factors were a source of power in the workplace. Elton Mayo is considered to be the founder of this school
✓ Contributions made by Elton Mayo:
Hawthorne's studies examined how economic benefits and physical conditions affected worker output. The outcome depicted no significant relationship
In the second trial, Mayo examined the influence of "Psychological factors" he concluded:
New social settings resulted in greater efficiency
Workers restricted output to adhere to group norms.
The organization is not merely a formal arrangement in fact a social system revolving around behavioural science.
B. Behavioral Sciences School:
This school emerged after 1940 and is a further refinement of the human relations school. Maslow is the biggest contributor to this school. Behavioural science is a combination of psychology, sociology and anthropology. This group focused on the study of motivation, leadership, group dynamics and Participative management. Thus this group focuses on producing new insights rather than new techniques.
4) Modern Management Era: (1950 onwards)
The most recent and diversified form is Modern Management Era. This school of thought has many subgroups such as: Social System School, Decision Theory School, Quantitative management school and Contingency approach model. The most important of all these is the Social System School
Major Contributors
Max Weber
Chester Bernard
Lyndall Urwick
✓ Contributions of Max Weber
Stressed that social scientists could only understand collectives by understanding the actions of individuals.
He contributed to the development of the legal-rational model of leadership.
Gave the concept of Bureaucratic organizations:
Clear division of labour
A clear hierarchy of authority
Formal rules and procedures
Conclusion:
To conclude, management has been and is currently going through a process of evolution. Every new school of thought has modified the previous one by adding a new dimension. While scientific management focuses on traditional work procedures, the neo-classical school added to it by diverting focus towards psychological and environmental factors. The latest of management schools, known as modern management, focuses on minute details that could add towards its efficiency. The management process, although has come to a great leap, still has room for improvement.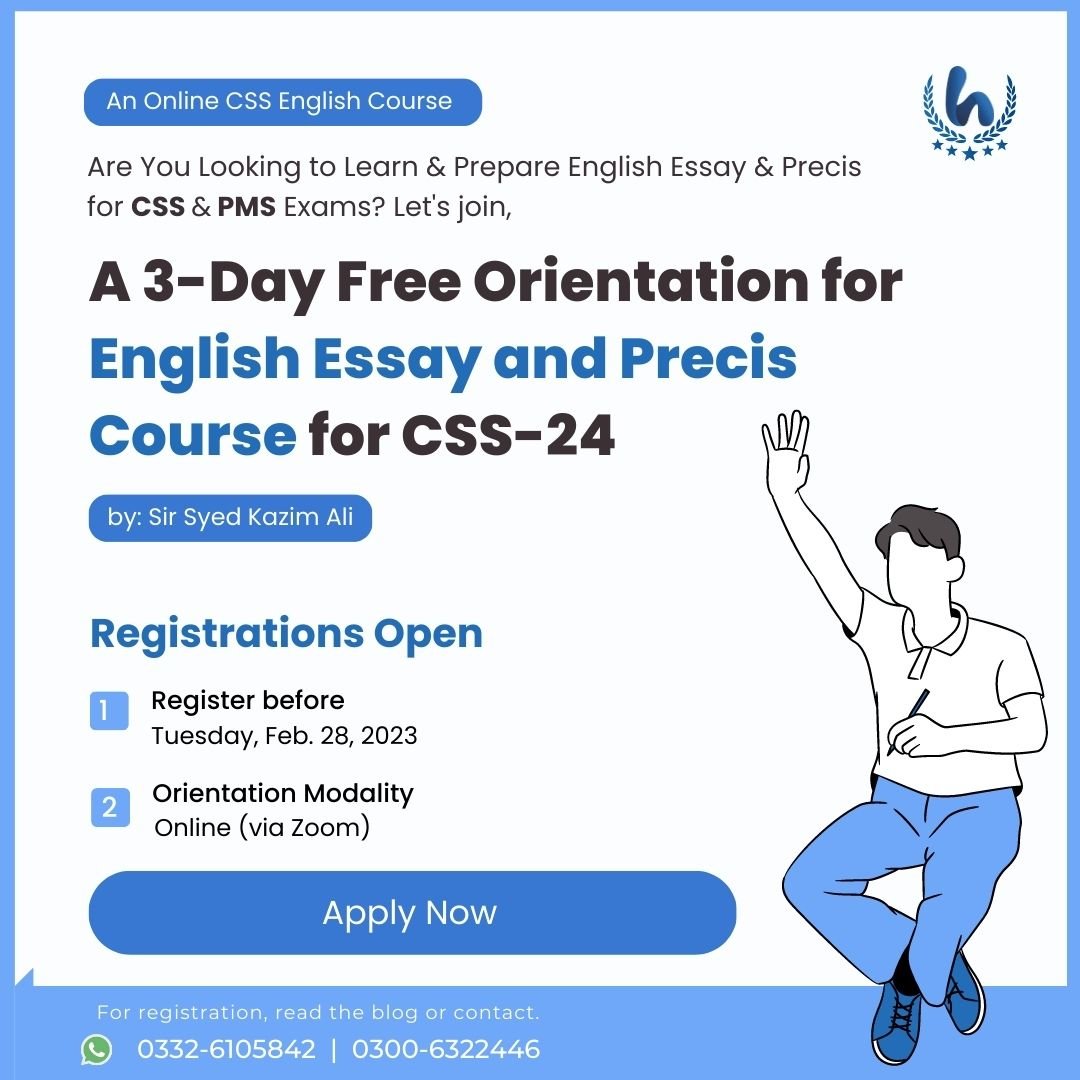 CSS Solved Past Papers' Essays
Looking for the last ten years of CSS and PMS Solved Essays and want to know how Sir Kazim's students write and score the highest marks in the essays' papers? Then, click on the CSS Solved Essays to start reading them.

CSS Solved Essays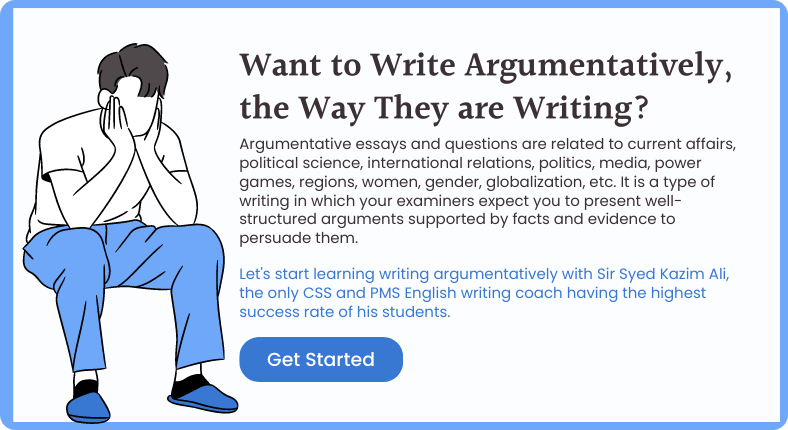 CSS Solved General Science & Ability Past Papers
Want to read the last ten years' General Science & Ability Solved Past Papers to learn how to attempt them and to score high? Let's click on the link below to read them all freely. All past papers have been solved by Miss Iqra Ali & Dr Nishat Baloch, Pakistan's top CSS GSA coach having the highest score of their students.

General Science & Ability Solved Past Papers
CSS Solved Pakistan Affairs Past Papers
Want to read CSS Pakistan Affairs Solved Past Papers and learn how to attempt them to score high? Let's click on the link below to read them all freely. All past papers' questions have been attempted by Sir Kazim's students, who scored the highest in the subject.

CSS Solved Pakistan Affairs
CSS Solved International Relations' Past Papers
Have you opted for International Relations in the CSS examination and want to score above 150? Then, click on the CSS Solved International Relations' Past Papers by Miss Abeera Fatima, the top IR scorer and the best IR coach in Pakistan.

CSS Solved International Relations Past Papers
Articles Might Interest You!
The following are some of the most important articles for CSS and PMS aspirants. Click on any to start reading.