Written by Anum Saba
How did Sir Syed Ahmed Khan map the political and constitutional history of Pakistan by presenting his agenda, which was based on nothing but based on education, to uplift socio-economic and political conditions of Indian Muslims?
Behind the inception of the ideological basis of Pakistan's constitutional and political system, Sir Syed Ahmed Khan transformed education layout and let the entire Muslims out from the socio-economic and politic turmoil, notwithstanding of how he is perceived. He was one of the most sagacious and persuasive persons in the turbulent history of undivided India to take up Muslims' case and his long-life journey as an Islamic reformer and educationist was, is still, a testament to his dedication. Moreover, the agenda he presented and supported through his actions didn't only help to initiate movement of Pakistan but also left an indelible mark on the constitutional history of Pakistan. He does not only work for the betterment of Muslims to uplift their socio-economic status but also provides them with modern education that was preliminary based on how to live under new circumstances and handle uncertain conditions. Some of his dedicated work that paved a way to Pakistan's existence and its political struggle are listed below.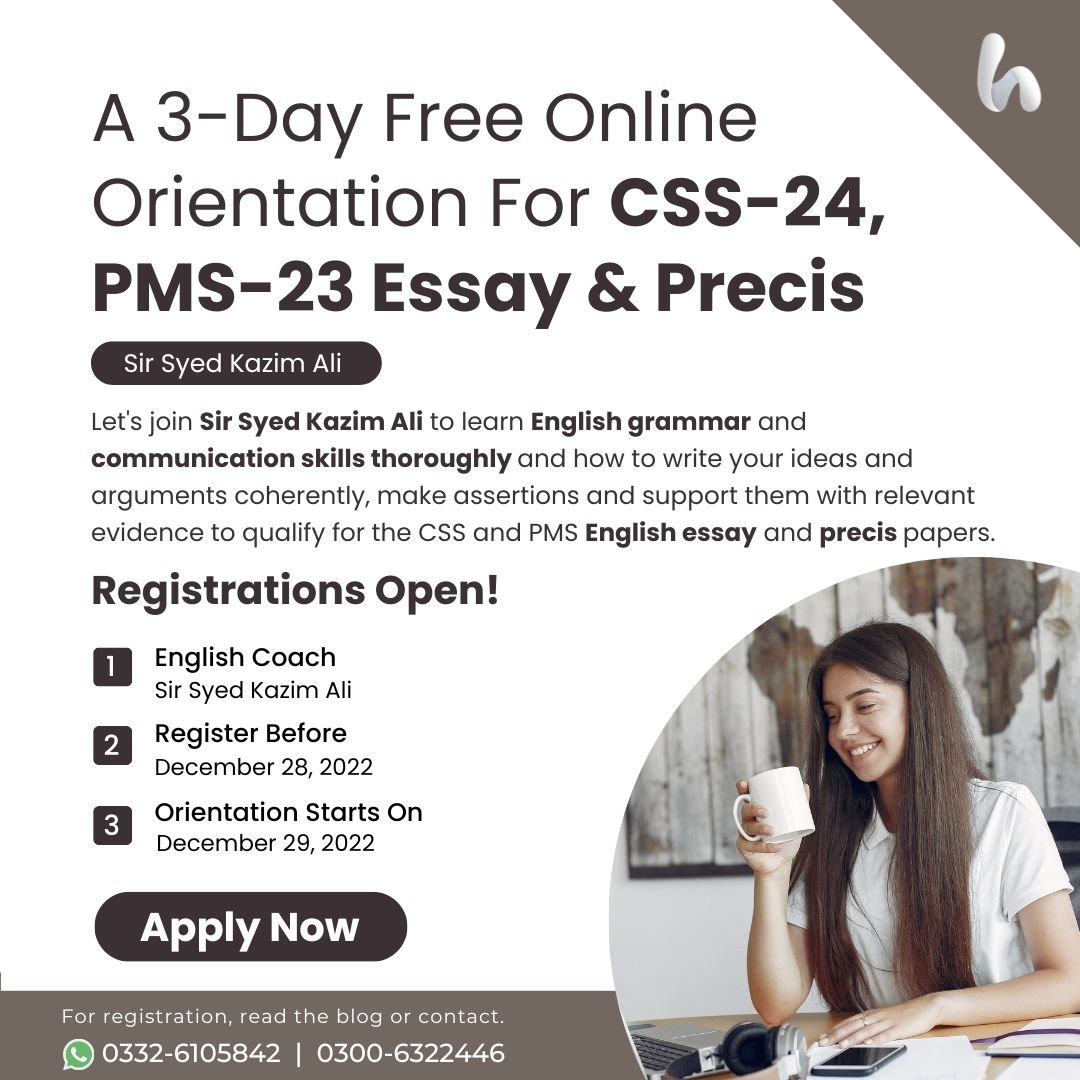 Modern Education
Abstain from politics
Safeguard of the Religious Freedom
Two Nation Theory
Modern Education:
Sir Syed Ahmed khan, as a wise and foresight person, after observing that Muslims lag in modern and technical education that will lead them to nothing but to socio-economic and political disparity. After analyzing the British system, he emphasized Muslims to get the English language education to compete with them. For this purpose, he established many renowned schools where either Muslims or non-Muslims are allowed to get benefited. His main initiative was to make Muslims able to get government jobs and high status in the society that will eventually end the deprived situation of Indian Muslims. Along with this, it also helps them to understand the politics and other social impacts of life.
At CSSPrepForum, we upload solved papers, essays, and current affairs blogs daily. To read the best with us, let's connect with us
Twitter
Facebook
Instagram
Abstain from politics:
Sir Syed Ahmed Khan stopped the Muslims from indulging in politics as Muslims were unaware of the new political setup that would only escalate new tensions for Muslims. Refrain from political activities was merely for the betterment of Muslims who are already facing challenging circumstances. Staying away from practical politics and understanding how it is going to circumvent the conditions for Muslims. At the start, it was not good for Muslims to indulge in politics but try to learn who to live under British rule and how to uplift their status in society.
Safeguard of the religious freedom:
Sir Syed Ahmed khan does not only work for the education, betterment but also on religious terms. He was an open and broad-minded person, but his work for religion uplift was also remarkable. He started publishing essays on the Holy Prophet (PBUH) and also write the answers of a British writer who in his book not write good about the Holy Prophet (PBUH). He, as an Islamic reformer who played his part to elevate the Islamic conditions of Muslims as well as collaborate with Christians to show them how beautiful our dean is.
Two Nation Theory:
Sir Syed Ahmed Khan was, is still, considered as the founding founder of the two-nation theory. Through his continuous efforts, he becomes able to realize Muslims that Hindus are not loyal to them. Hindi-Urdu controversy paved the way towards the demand of separate homeland where Muslims can be lived according to their own values and culture. Muslims were, are still, an independent entity with their norms and values. Muslims were deprived of basic necessities of life. He felt after some time conditions will worsen for the Muslims; moreover, he laid his foundation on education and social awareness to eradicate the problems of that day Muslims. It helped Muslims map the political and constitutional road that helped them in different aspects of life and eventually led to the creation of Pakistan.
Critical Analysis:
Nevertheless, Sir Syed Ahmed Khan, an intellect, was the person who concreted Pakistan's basis. He crucially examined the importance of modern education and provided it to the Muslims. In the darkest hour of Muslims, he comes as the light of hope and courage that helped them revive their lost glory. He teaches the Muslims to curb the tower of miseries by getting modern education and staying away from politics. Soon after the war of independence till his death, he worked for the glory of Muslims that ultimately leads to the organizational and legitimate agenda of Pakistan.
Conclusion:
Sir Syed Ahmed Khan, undoubtedly, formed the ideological basis of Pakistan through Ali-Gar movement that also helps to upraise the socio-politic and monetary conditions of undivided Indian Muslims. It is perceived to have deep impacts of him in the constitutional and political formation of Pakistan. It is he who first guided the Muslims to learn how to live under these disastrous situations, get modern education, and stay away from politics. The movements taken by Sir Syed Ahmed Khan left a significant change in Muslims, revived their hope, confidence, and showed them news ways to live an honourable life. He road mapped the socio-political future of the Muslims.
Are you looking to learn English communication skills to qualify for the CSS and PMS English essay & Precis papers? Let's join Sir Syed Kazim Ali and learn how to give your ideas and thoughts words, fluently and confidently.

CSS & PMS 2024 Extensive English Course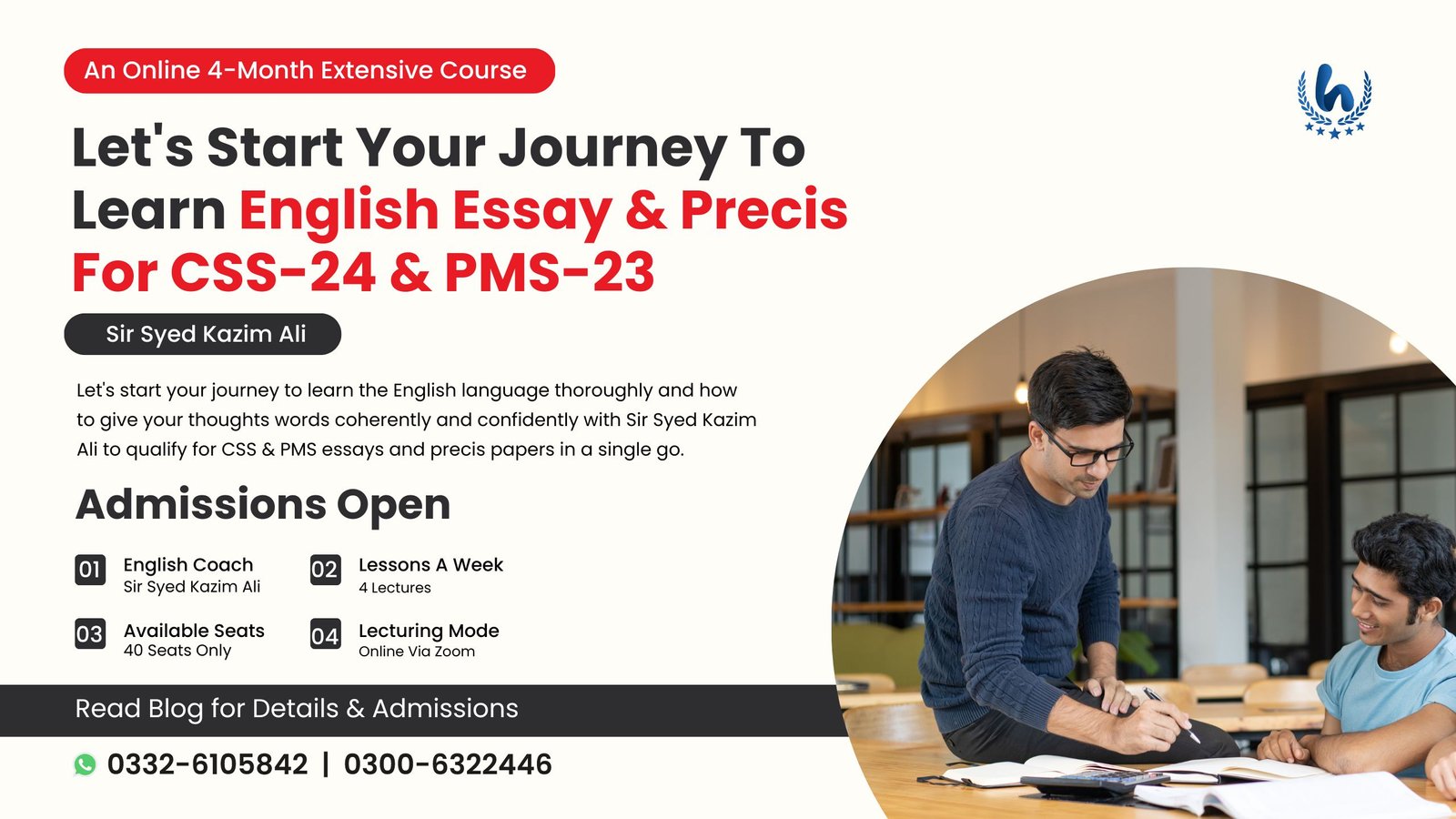 About the writer:
Miss Anum Saba is one of the bonafide students of Sir Syed Kazim Ali. She has completed her 4.5 month-course on Online Creative English Writing and Advanced Grammar under his patronage. Having done graduation in computer science and courses in creative English writing, she loves writing blogs and articles on various topics: current affairs, everyday science, technology, beauty, cooking, and entertainment.
Name of the Student: Miss Anam Saba
Qualifications: BSCS
Total Articles/Blogs: 18
English Coach: Sir Syed Kazim Ali
Course Taken: Creative English Writing & Article Writing
Like other competitive students, If you have a story to tell, guidance to help, knowledge to educate, or a perspective that can help CSS aspirants daily, welcome to CSSPrepForum. It is free to get your opinions, viewpoints, judgements, and thinking published, whether it is a blog, article, essay, application, letter, precis, comprehension, MCQs, or anything that helps competitive youth of Pakistan. CSSPrepForum is a place that let you connect with thousands of competitive readers, and helps your voice heard across the community. Let's start writing and get your voice heard to those who are looking for you. Email Your Write-ups at csspreps@gmail.com
At CSSPrepForum, we upload solved papers, essays, and current affairs blogs daily. To read the best with us, let's connect with us
Twitter
Facebook
Instagram